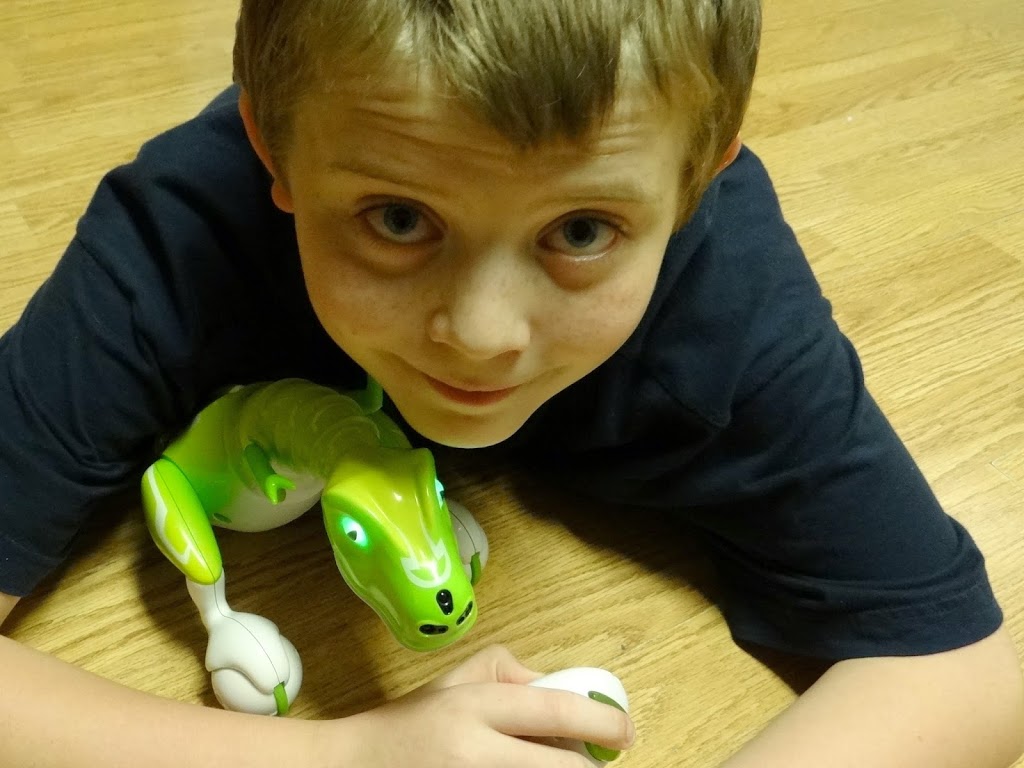 This is a sponsored conversation written by me on behalf of Zoomer. The opinions and text are all mine.
When we were visiting the Indiana cave regions recently and naturally, checking out some of these magnificent underground caverns, my youngest son remarked that it would be so cool to find a dinosaur in one of them and take it home.  Well, we didn't find the real thing, but we did find a formation that looked a lot like a dragon, so that appeased him a bit!
His fascination with dinosaurs started at a very young age and is certainly not an anomaly, a peek at pop culture and the entertainment industry reveals a long history of enchantment with our gigantic reptilian predecessors.  We might not be able to find him a live dinosaur, but thanks to Spin Master, we have a much safer, playful and fun ZOOMER DINO pal to enjoy in our home!

Boomer, the amazing Zoomer Dino, is an electronic toy that uses a method called True Balance Technology to perfectly balance on two wheels as he interacts with your child and his environment.  Check out how very cool this little guy is by watching our very first test run right out of the box:
As you can see, Boomer the Zoomer Dino does a lot more than simply roam around.  He has incredibly realistic dinosaur movements, fun sounds including roars and even burbs!, and changing eye colors to indicate his moods.  Green means Boomer is happy: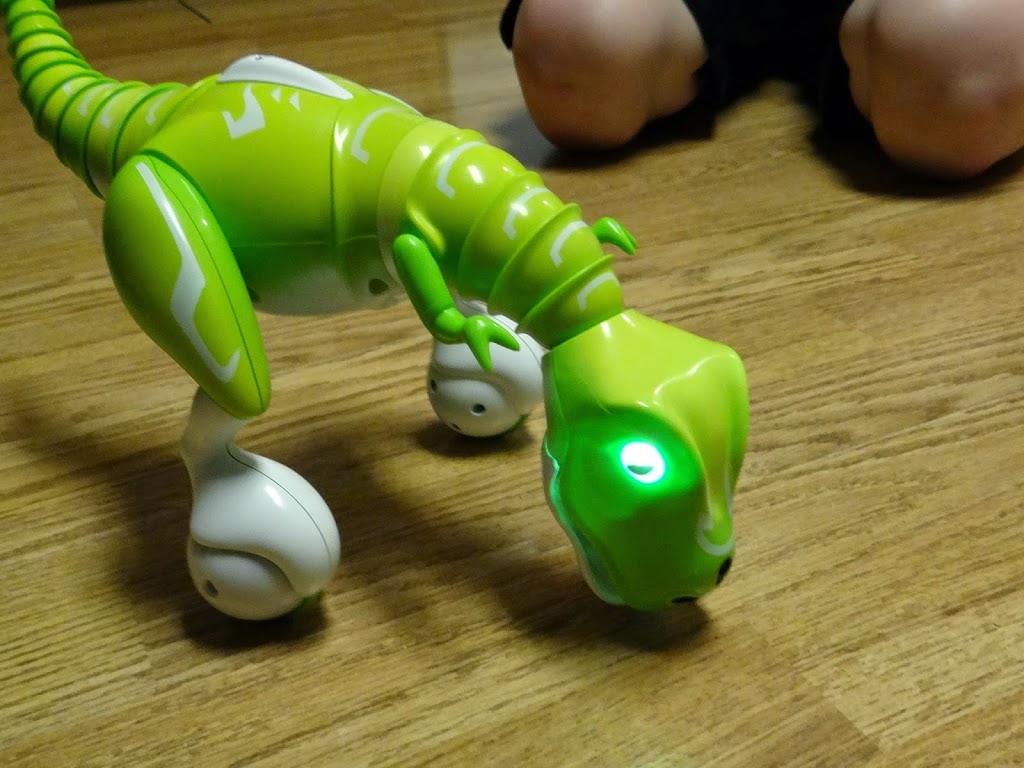 But watch out for red because this color means Boomer is mad and may just get angry!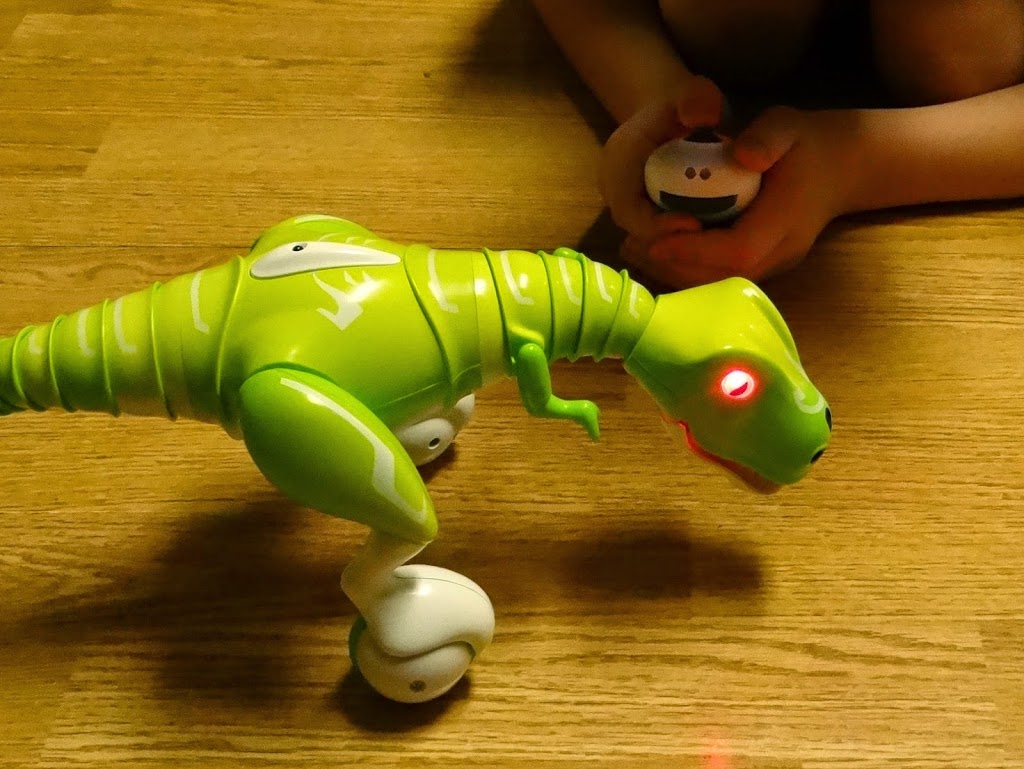 Though his anger is really more amusing than threatening at all.  Boomer the Zoomer Dino simply seems to get in a bit of a tizzy, spinning around, chomping and roaring when he's an unhappy pal.
This toy is fully interactive, so your child can tame the dinosaur throughout their adventures together.   Using hand gestures or the Zoomer Dino controller (included) it becomes a truly customized experience as Zoomer travels around and interacts with movements and sounds to your child's commands.  In essence, he becomes your child's very own pet dinosaur!
My son is simply thrilled with Boomer the Zoomer Dino, hanging out with him daily and would take it to school every day, too, if I'd let him (which I'm sure all his friends would enjoy!)  He's definitely a new fixture in our home and a welcomed one.  I get a kick out of the antics and my son keeps discovering more and more features, sounds and fun with his Zoomer Dino.
We're also impressed with the battery life.  Takes about an hour charge and will run for about a half hour of continuous play time.
I'm predicting this is going to be a toy that's high on many a Christmas wish list, for good reason!  I know I'm simply tickled that I could make my little guy's wish come true by giving him a dinosaur pal to hang out with.
For more information about the Zoomer Dino from Spin Master visit http://www.zoomerdino.com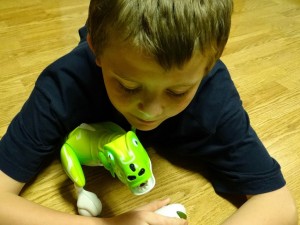 This is a sponsored conversation written by me on behalf of Zoomer. The opinions and text are all mine.