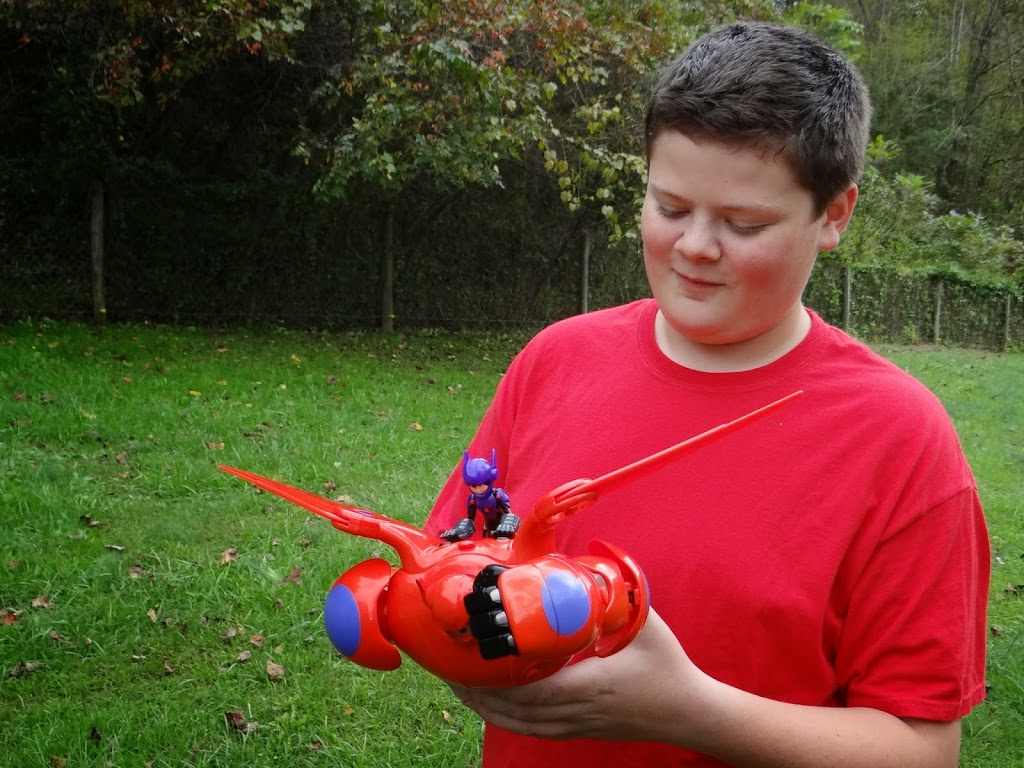 When Disney Animations Studios gears up to produce a new movie, it doesn't take a genius to figure out it's going to be a smash hit (eg: remember that little film called FROZEN last year?)  My kids are already excited to see BIG HERO 6 and we're predicting that soon kids everywhere are going to want a Baymax of their own!
Well, that's totally plausible as Bandai America has already launched the Big Hero 6 toy series with a Deluxe Flying Baymax and Baymax Rocket Fist.  Kids can create adventures with Baymax and Hiro Hamada with the Deluxe Flying Baymax or immerse themselves into the action by pretending to be Baymax with the Baymax Rocket Fist.  We're tickled that Bandai America has provided Rural Mom a set of these fun toys to test out in our own backyard.  Of course all thoughts and opinions expressed by our family are solely ours.  You'll formulate opinions of your own, certainly, but we believe you're going to think these toys are a the bomb-diggity like we do!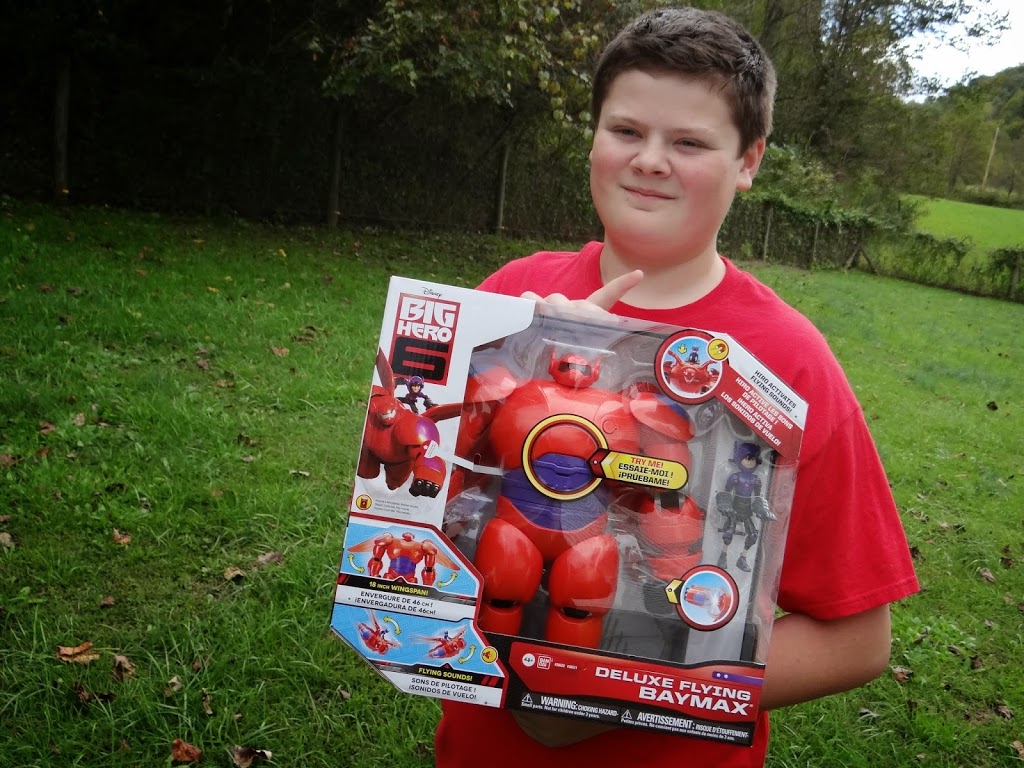 To backtrack a second... if you are not familiar with Walt Disney Animation Studios, BIG HERO 6 premiering November 7, the action-packed comedy-adventure is about the special bond that develops between Baymax , a plus-sized inflatable robot, and prodigy Hiro Hamada. When a devastating event befalls the city of San Fransokyo and catapults Hiro into the midst of danger, he turns to Baymax and his close friends. Determined to uncover the mystery, Hiro transforms his friends into a band of high-tech heroes called "Big Hero 6."
The Deluxe Flying Baymax is an interactive toy ready to fly into battle using all his great weapons and features. Towering at 11" inches with a soaring 18-inch wingspan, the Deluxe Flying Baymax features 20 points of articulation, multiple lights, sounds and other fun features such as a launching rocket fist. Baymax comes with a 4.5" Hiro Hamada figure, which when attached to Baymax's back unlocks additional flying sounds that vary depending on whether Baymax is flying up, or down.
My oldest son was an immediate fan of this over-sized action figure.  The second it arrived in the house, he begged to open it and has been playing with it since.  It's even his video game companion and when he wants someone's attention, we open see Baymax's fist skidding across the floor! (It's all in good fun and a very low-impact spring action.)  
Rather than speaking for him, here's what he likes most about the Deluxe Flying Baymax in his own words:
While my little guy thought the Deluxe Flying Baymax was cool, too, he was more attracted to the idea of becoming Baymax with the Baymax Rocket Fist set.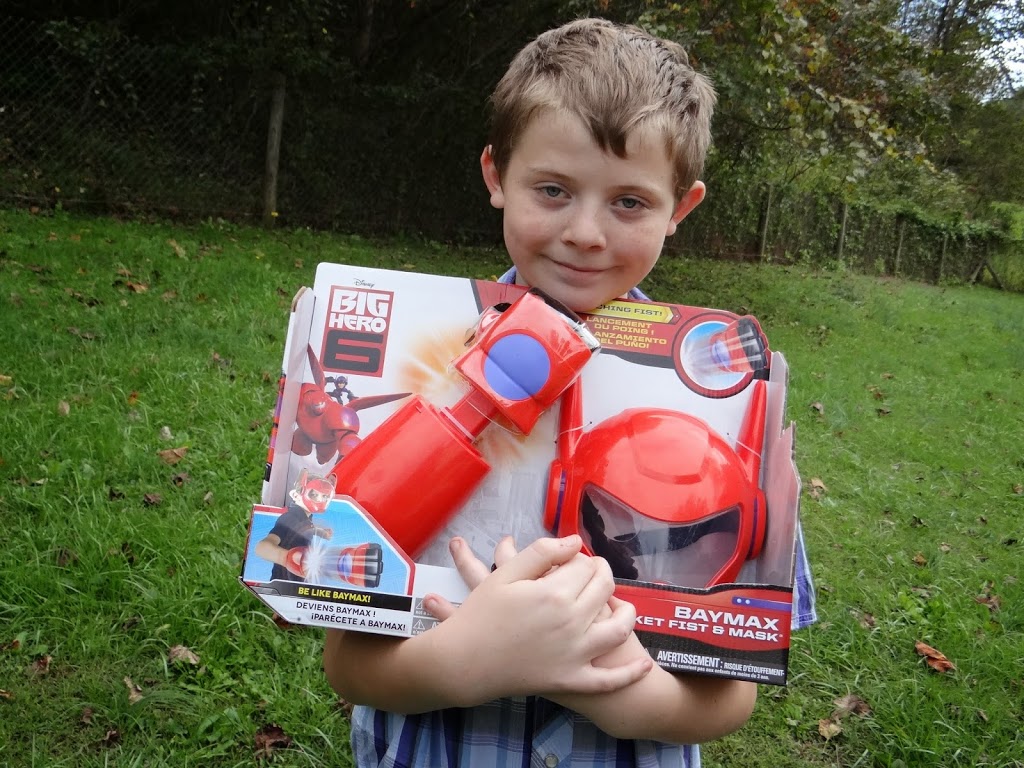 The Baymax Rocket Fist playset puts the power of Baymax in your hands with the Baymax Rocket Fist and Mask.  The fist launches up to 10 feet in distance and is easy to reload by just clicking into play (as pictured below.)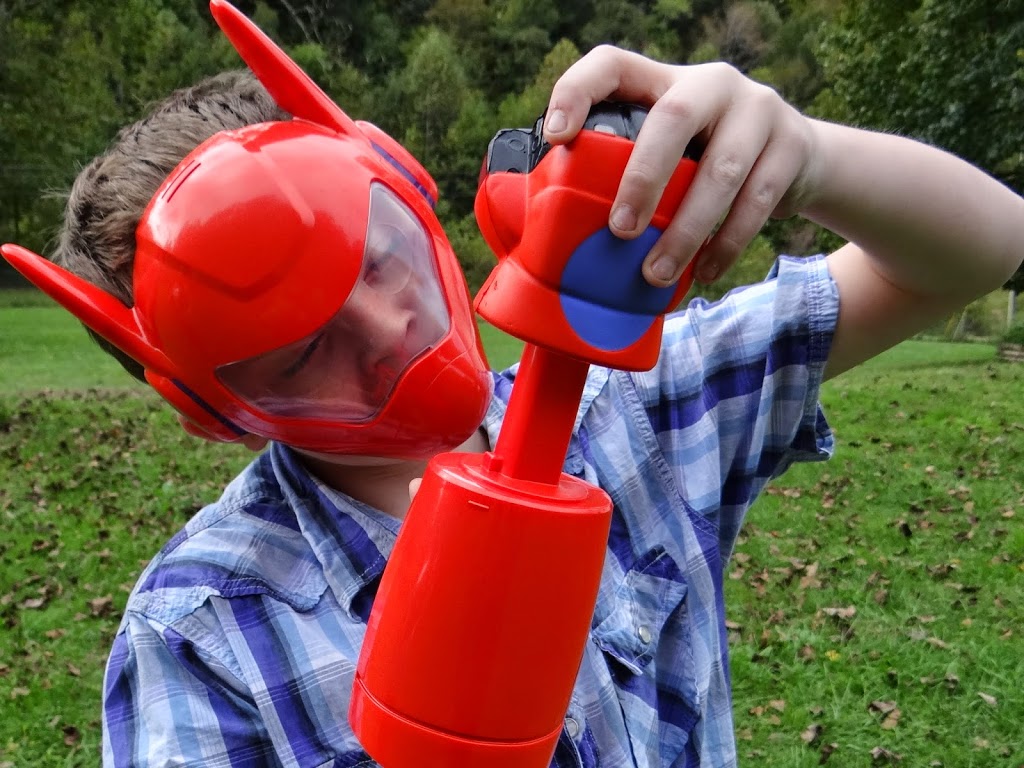 The soft material on the fist makes it fun for everyday play and safe to shoot without fear of damaging non-breakables or hurting someone nearby.
You can see the action for yourself in our very first test run in the video below:
My son is really delighted with the ability to get into the pretend action and I have no doubt, he'll be drumming up all kinds of imaginative play before and after seeing BIG HERO 6.  My personal favorites for children's toys are the ones that inspire imaginative and creative play, and both the Deluxe Flying Baymax and Baymax Rocket Fist certainly offer that!
In addition to the toys we've tested and featured, there's a big selection of BIG HERO 6 figures, plushes, masks and more from Bandai America. Find out more information about BIG HERO 6 toys from Bandai America at http://www.bandai.com/bighero6/
This holiday season, you'll be able to find BIG HERO 6 toys available instore and online at all your favorite major retailers.