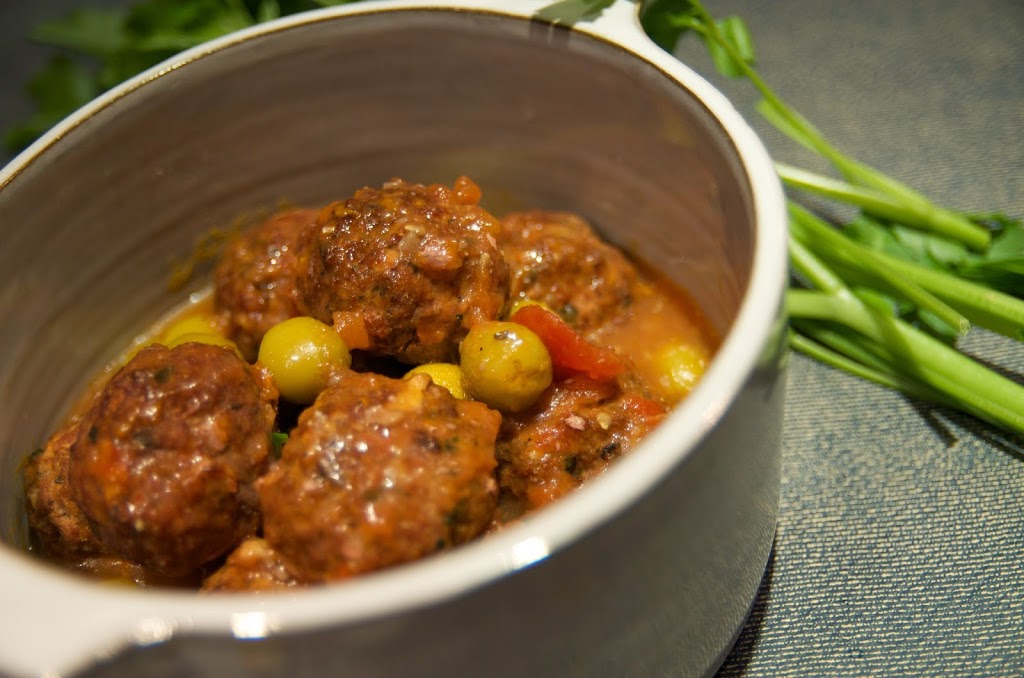 In honor of Spanish Heritage Month, we had the wonderful opportunity to interview Chef Annie Sibonney, Cooking Network star and Spanish cuisine expert on all things entertaining and olives!
Did you know that Spain is the world leader in production and export of table olives? Olives from Spain are naturally sugar-free and contain monounsaturated fats, which can help improve cholesterol levels and reduce heart attack/stroke risk.  Harvest time occurs in September and October, the perfect time to enjoy the rich aroma and robust taste of fresh olives!

Annie Sibonney, a self-taught chef, expert on world gastronomy, has traveled the globe in pursuit of culinary treasures and extraordinary experiences. Olives are a staple in her amazing recipe portfolio as the Co –Creator and Host of From Spain with Love, an award winning, critically acclaimed, food adventure TV series, which immerses viewers in the rich and diverse culinary culture of Spain.  We're so grateful she took time out from her busy schedule to share invaluable tips with Rural Mom readers.
Check out our live interview below, followed by Annie Sibonney's amazing Spanish Meatballs with Green Olives recipe for you to enjoy this holiday season!
SLOW SIMMERED SPANISH MEATBALLS WITH GREEN OLIVES
Recipe by Chef Annie Sibonney
This recipe is inspired from my mother's meatball stew with green olives, that I grew up eating. My mother is a wonderful cook. Her dishes are always simple, using the freshest ingredients and cooked over a low, slow flame. The combination of the rich, briny green olives cooked with slow simmered beef, tomatoes and aromatic spices is true comfort to me.
INGREDIENTS:
For the saffron water:
1 pinch Spanish saffron threads, lightly crushed in the palm of your hand
1/4 cup hot water
For the meatballs:
1 1/2 pounds lean ground beef or lamb
1 small potato, peeled and roughly chopped
1 small onion,  roughly chopped
1/4 red bell pepper, seeded and roughly chopped
1 teaspoon ground cumin
4 tablespoons flat-leaf parsley, roughly chopped
1 egg,  lightly beaten
Salt and freshly ground black pepper, to taste
For the sauce:
3 tomatoes, seeded and grated
1 small red onion, grated
4-6 cloves garlic, minced
2 tablespoons good quality extra virgin Spanish olive oil
1 teaspoon sweet paprika
2 to 3 pinches hot Spanish paprika (or substitute ground cayenne pepper)
1/4 teaspoon freshly ground black pepper, or to taste
1 cup flat-leaf parsley, roughly chopped
1 tablespoon fresh squeezed lemon juice
1/4 cup saffron water (recipe follows)
1 1/2 cups green Olives from Spain, rinsed and drained
Salt and freshly ground black pepper, to taste
METHOD:
Prepare the saffron water:
Toast the saffron strands in a warm skillet over low heat for 1 minute. Crumble the toasted saffron strands into the 1/4 cup hot water and set aside.
Prepare the meatballs:
Combine the potato, onion, red bell pepper, parsley in a food processor and process until very finely chopped, but not yet a paste. In a separate bowl, combine the vegetable mixture with the ground beef or lamb, cumin, egg, and season with salt and pepper to taste. Refrigerate the meat mixture for at least 30 minutes or until ready to cook. Shape the meat mixture into meatballs, approximately 2 inches in diameter and set aside. The mixture should yield 12-16 meatballs.
Prepare the sauce:
Place an 12-inch deep skillet (with lid) or dutch oven over medium-low heat. Add the grated onion, garlic, olive oil, saffron water, paprika, salt, 3/4 cup of the parsley and hot water. Bring to a boil then reduce the heat to medium-low, cover, and simmer gently for about 7-10 minutes. Add the meatballs one by one, to poach in the sauce and continue to cook, covered, for 15 mins, gently shaking the pan to ensure even cooking. Add the green olives and continue cooking, covered, for 20-30 minutes longer until all the flavors are deep and melded together.
Add the lemon juice and adjust the seasoning with salt and black pepper. Garnish with the remaining 1/4 cup parsley and serve piping hot straight from the pan. This recipe is wonderful spooned over rice or accompanied by rustic, crusty bread to soak up the sauce.