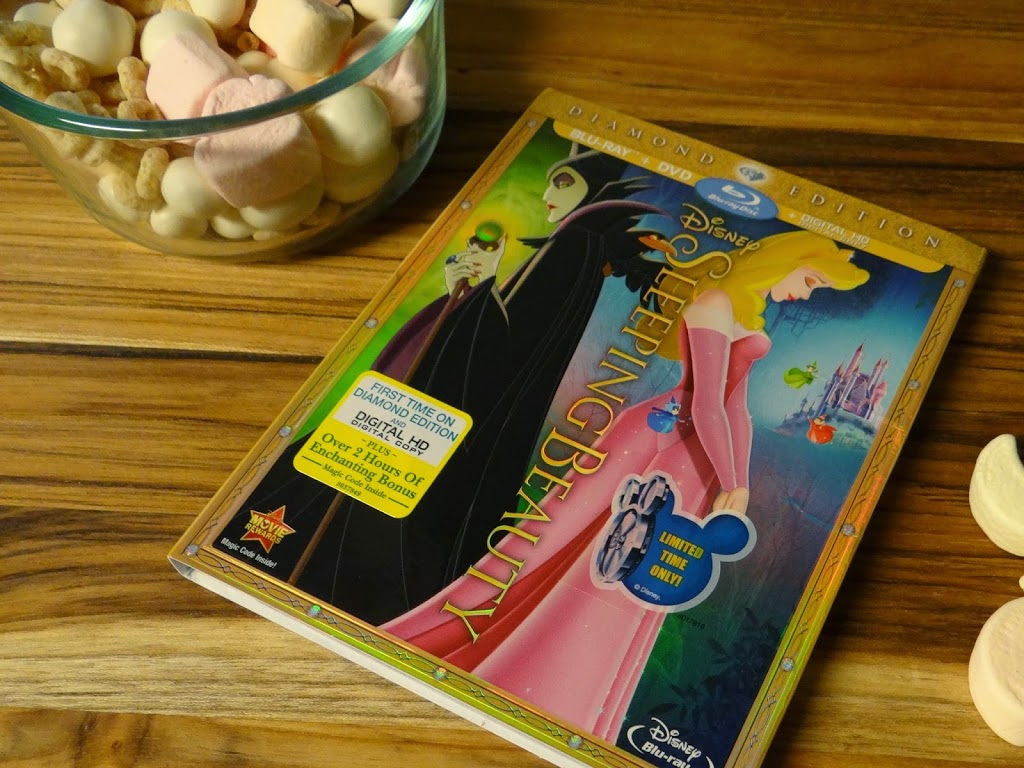 You know you have hit upon a great snack idea when five second after your child first tastes it, they ask if you will make more!  Inspired by our movie selection of the week, SLEEPING BEAUTY: DIAMOND EDITION, I whipped together a very simple special snack mix that celebrates Princess Aurora and the Good Fairies.
This timeless classic is one I remember well from my childhood and am delighted to share with my children.  Like every fun-filled family movie night, we love to add a little extra magic with themed goodies or activities.  Our star snack of the evening is what we dubbed the "Bippity Boppity Boo Princess Snack Mix."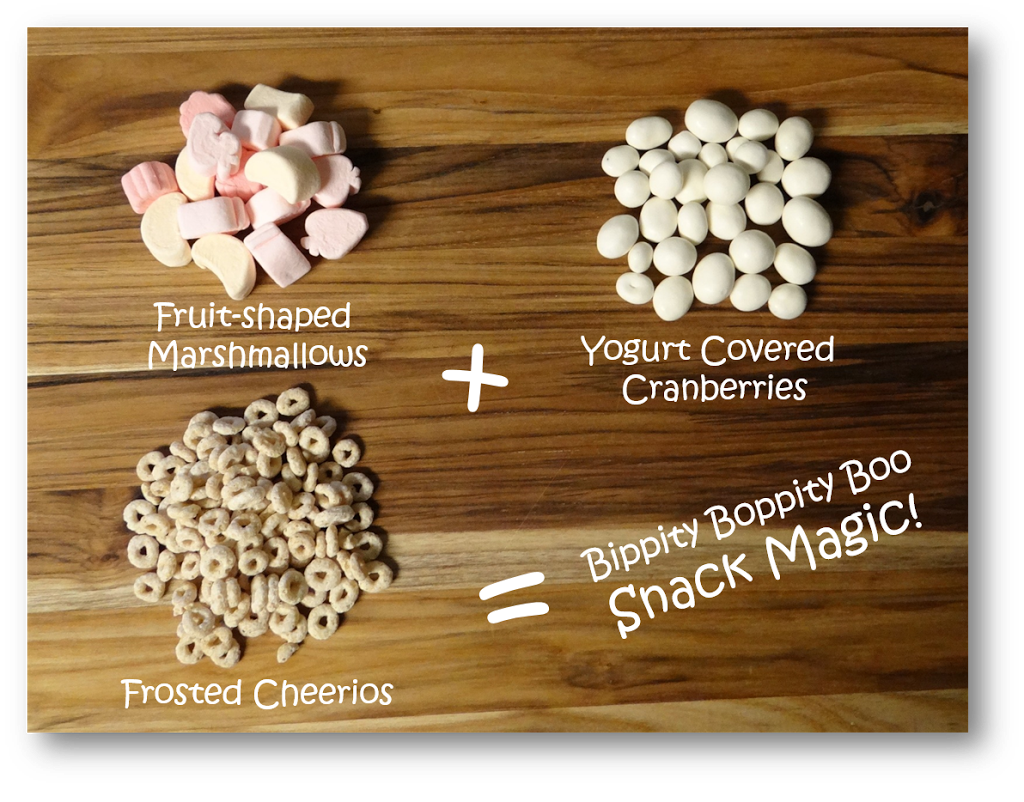 Putting together a special snack or even a theme for your family movie nights doesn't need to be nearly as complex as the spell Maleficient places on Aurora.  Often I just think about the movie and decide what I have on-hand that suits the spirit of the film. The pastel colors and lite, fruity flavors of this mix were perfect for celebrating the three spirited fairies and the wondrous magic of "true love's kiss."
You can whip up a similar mix or even consider putting together a very simple pink jello and whip cream dessert to help you celebrate a SLEEPING BEAUTY DIAMOND EDITION family movie night.
Or take things a step further and set up a magical Sleeping Beauty Slumber party for you kids to enjoy.  Check out these fabulous ideas for setting up a sleeping party that everyone will be want to be wide awake for: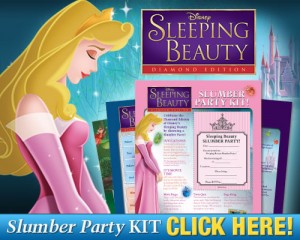 ABOUT THE FILM:
"Sleeping Beauty" tells the wondrous tale of a princess cursed by an evil fairy, protected by three loving fairies and, ultimately, saved by "true love's kiss." Featuring the voice talents of renowned opera singer Mary Costa as Sleeping Beauty and Disney stalwart Eleanor Audley as the evil fairy, Maleficent, the film's vibrant visuals were created by a team that included Milt Kahl and Ollie Johnston, two of Disney's legendary Nine Old Men and an Academy Award®-nominated score, 1959, adapted from the incandescent music of Peter Tchaikovsky. "Sleeping Beauty" is the sixteenth animated feature in the Disney animated features canon and was the last animated feature produced by Walt Disney to be based upon a fairy tale. It is the tenth film released as part of Disney's prestigious Blu-ray Diamond Collection.
I truly enjoyed watching Sleeping Beauty again for the first time in a very long time.  It was a heart-warming experience and despite already knowing the outcome, I still cheered for true love's kiss and to see love conquer all! SLEEPING BEAUTY: DIAMOND EDITION is a lovely edition to our Disney film collection!
The 2-Disc Diamond Edition Blu-ray Superset (Blu-ray + DVD + Digital Copy) also contains digitally restored picture and sound, a digital copy of the film, and a variety of magical new bonus features, including
"Once Upon A Parade," in which "Modern Family" star Sarah Hyland tells us the tale of Walt Disney World's new Festival Of Fantasy Parade
"Art of Evil: Generations Of Disney Villains," a legacy piece spotlighting Disney's favorite villain animator and Maleficent creator Marc Davis
"@DisneyAnimation: Artists in Motion," in which Walt Disney Animation Visual Development artist Brittney Lee goes through the process of creating a three dimensional sculpture of Maleficent, completely out of paper.
All of the bonuses are fun to watch after the film or separate from.  I also thing watching Sleeping Beauty is a great way to prep for Maleficient (which will be on DVD in November.)
For more information, visit https://www.facebook.com/DisneySleepingBeauty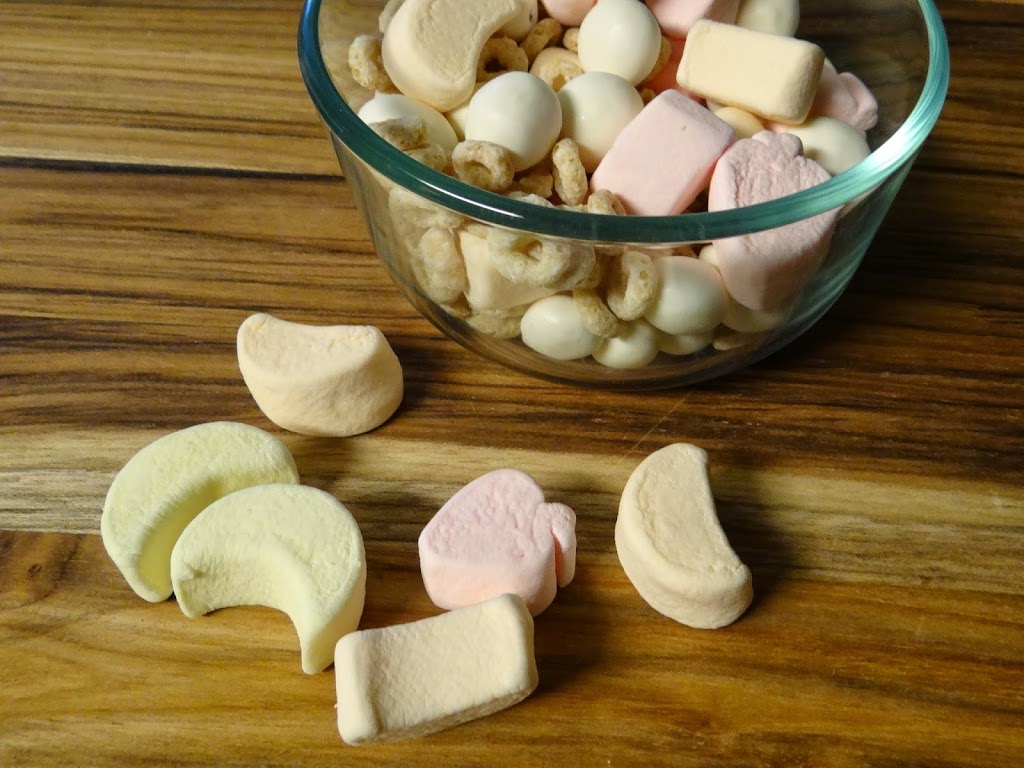 Special thanks to Disney and Click Communications for sending along a review copy and materials for Sleeping Beauty Diamond Edition to help facilitate this feature.  All thoughts and opinions are that of Rural Mom.