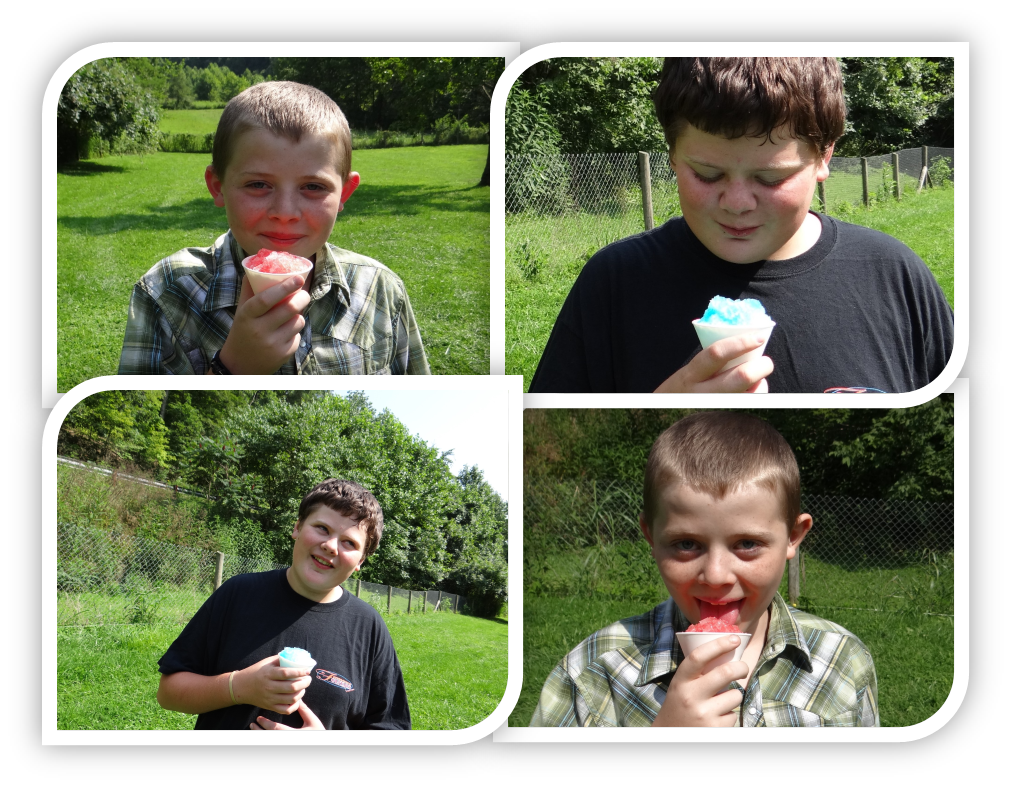 Despite the heat, young or old, snow cones have a way of bringing out silliness and smiles!  Thanks to Waring, we're keeping our cool and creating many moments of merriment with the Waring Professional Snow Cone Maker.
When the sun sizzled the sidewalks and the streets looked like shimmering black pools of obsidian, only one sound could pull us from our backyard pools or our comfy spot in front of the indoor fan. The tinkling melody was so enchanting because it could only mean one thing, the ice cream truck had arrived with snow cones.  No matter how hot, cool or even rainy the day was, we'd all race to find our mothers, beg for a few cents and then scramble as fast as we could to get our hands on some of that sweet icy treat.
A lot has changed since my childhood.  I no longer live in the city, there are no ice cream trucks or shaved iced stops to be found in my neck o' the woods, and I have children of my own who clamor for snow cones whenever we find them at the State Fair or amusement parks (I share in their joy, for sure!)

The one change that's truly tickles me, though, is I can now make and savor snow cones in the middle of 90-degree days from the comfort of my home thanks to cool machines like the Waring Professional Snow Cone Maker.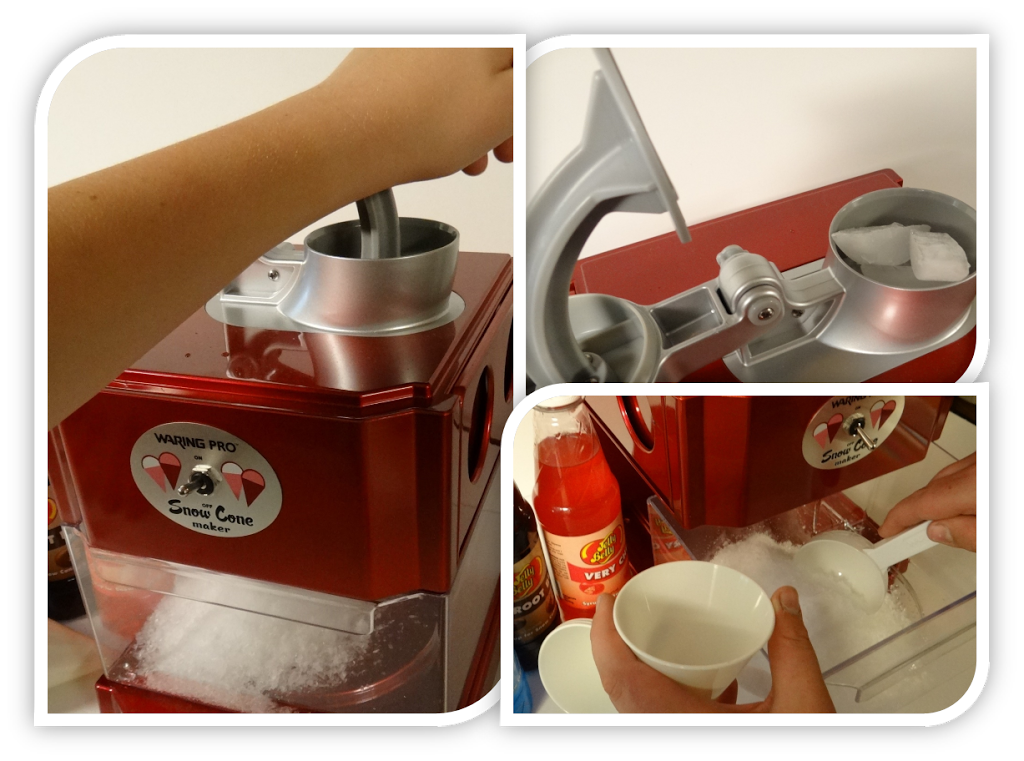 I'd tried making snow cone-like treats with snow cones and once with a cheaper unit that we received as a gift, but none of them performed or produced anything near what I was looking for.  This time, my snow cone dreams have come true as I can honestly say I'm more than impressed with the results of Waring's Professional Snow Cone Maker.
Simply plug it in, add ice, push it down into the crushing compartment and a set of stainless steel cutting blades delivers snow cone-ready ice particles into the snow bin for you to scoop up, flavor and enjoy!  The entire process takes seconds.
You can purchase snow cone flavors (available at most major retail grocers,) make your own syrups (there's a recipe booklet included) or use other favors like chocolate syrup or Koolaid to create one-of-a-kind snow cone treats.
One of my favorite features is the BPA-free reusable plastic cones that are included.  Of course they do not push up the ice like a paper cone does, but you can simply tilt them or use a spoon to reach the bottom ice.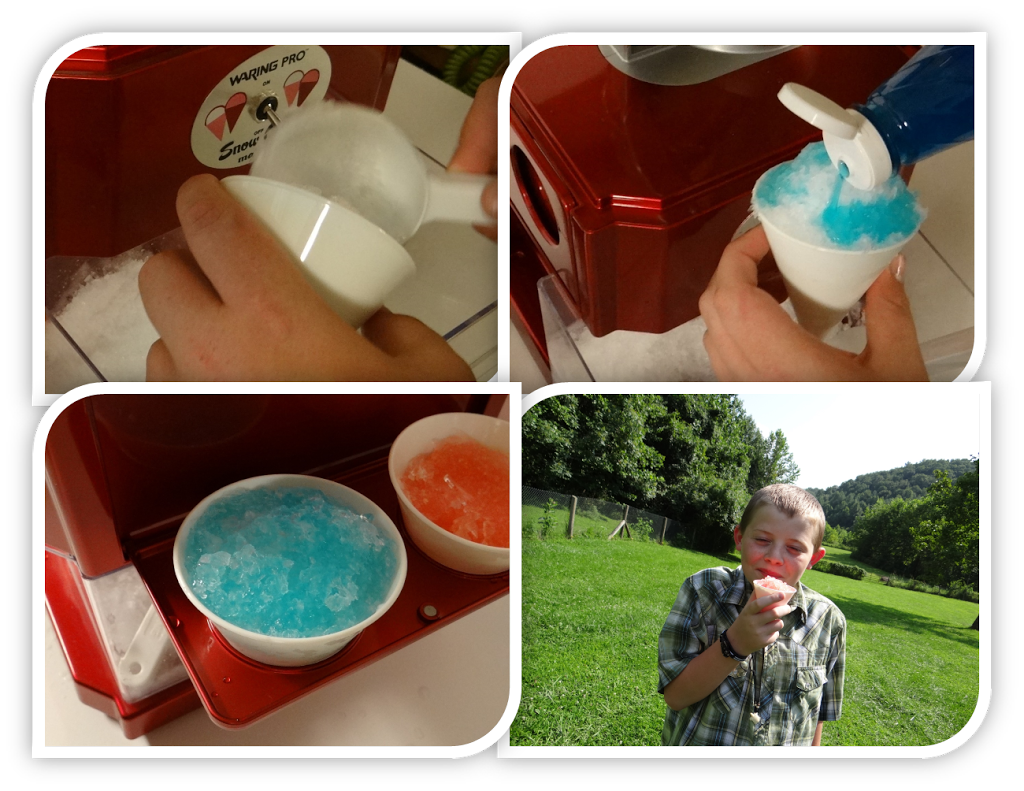 Clean-up and storage are also a breeze. There are two fold-down cone holders that flip back up for easy storage and the snow bin lifts out for ease of washing.
We're having a ton of fun enjoying snow cones during the last dog days of summer and I'm looking forward to using the machine at our next family picnic (extra reusable cones are available for purchase as are paper cones.)
Want more information?  Visit http://www.waringpro.com/ for the full snow cone maker scoop!
While you're there, be sure to check out some of the other fun products in Waring's novelty collection including:
Waring Professional Cotton Candy Maker – The 360 watt unit has a halogen heater system for quick results, two BPA-free reusable cones, a BPA-free splash guard and a detachable hub for easy cleaning.
Waring Professional Popcorn Maker – Easily prepare up to 20 cups of popcorn in just four minutes. Large vents allow for optimal steam release so popcorn stays dry and crunchy. The unit's popping bowl also acts as a cover while popcorn is popping, and can then be easily inverted and used as a serving bowl.
Waring Professional Hot Dog Griller – Grills up to six hot dogs in less than 10 minutes. Perfect for backyard barbecues or when cooling off inside, the 200-watt unit includes a plastic cover and nonstick coated rollers.