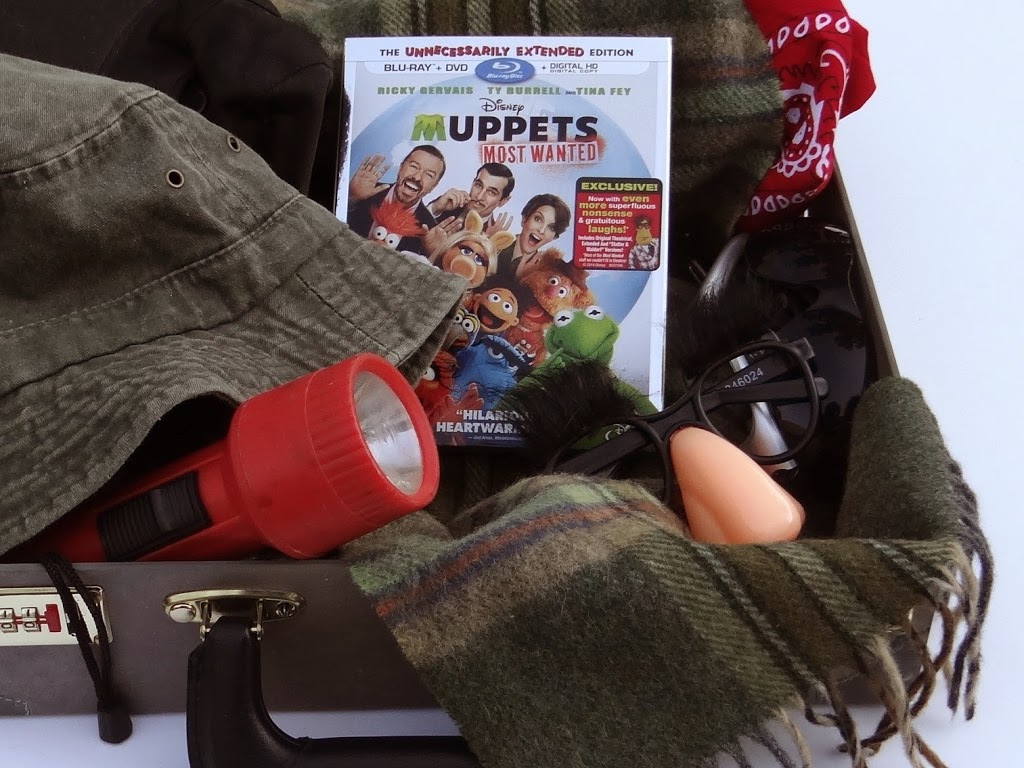 It's time to get our fun family movie night started with Disney's MUPPETS MOST WANTED!
Special thanks to Disney for providing a copy of the movie to help facilitate our family fun! 
When you are entering the world of international crime capers, a good disguise is in order!  In MUPPETS MOST WANTED, Constantine simply covers up his mole to disguise himself, but you can put together a more elaborate spy kit for your family movie night,  It's an easy way to add a little intrigue and extra laughs to your film viewing… and best of all, it's a no-cost addition to your festivities.
Simply place hats, scarves, glasses, and other simple props you can find around your home into a suitcase and let your child's imagination do the rest.  It's delightful to see how the kids change their whole persona when in costume, pretending to be a master detective in search of clues to solve the caper and rescue the Muppets!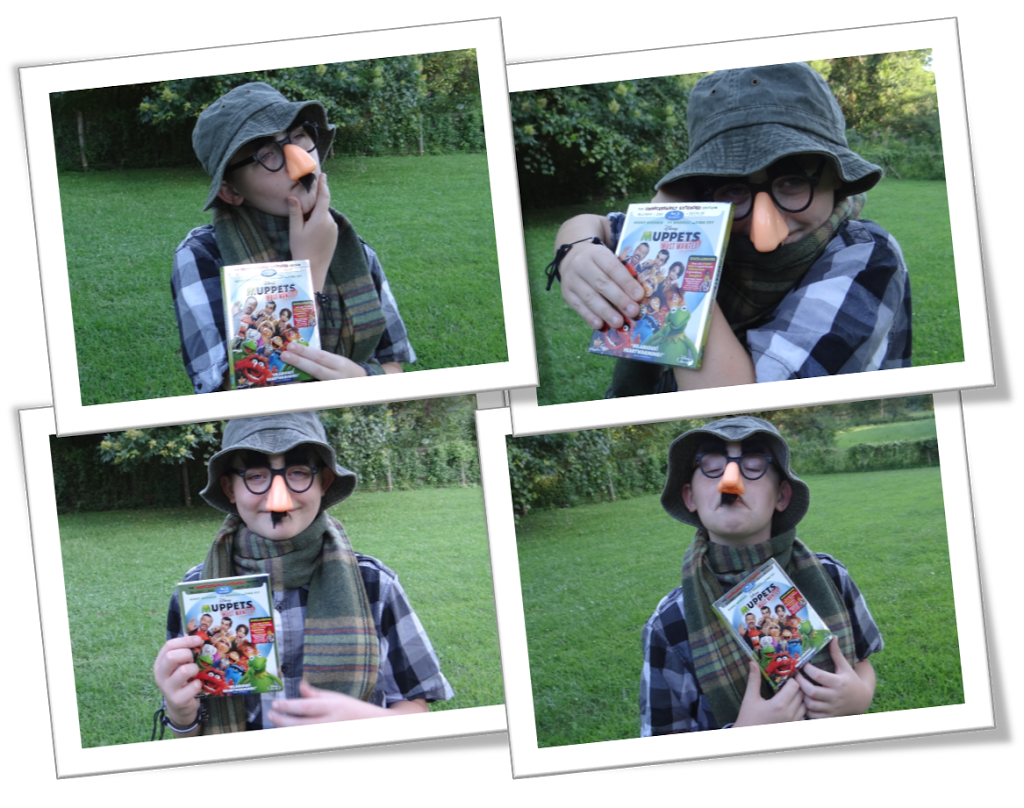 My little "spies" had such a blast trying out various looks that we nearly ran out of time to watch the film and still get them to bed on time, so do plan accordingly.  The pre-show will be just as much fun as the real show!
If you want to add a little more excitement to your family night, we have some fabulous MUPPETS MOST WANTED downloadable activities and coloring sheets.  Help Kermit escape from the Siberian gulag maze, test your Muppets Most Wanted knowledge, help the gang spot the difference then brighten up the weekend with some coloring: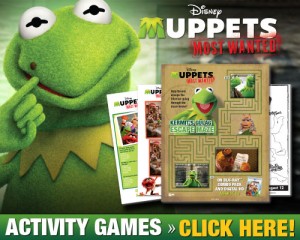 Disney's MUPPETS MOST WANTED "The Unnecessarily Extended Edition" Combo Pack (Blu-Ray, DVD and Digital HD) is now available for you to create a hilarious family movie night with your crew.  Kermit the Frog, Miss Piggy, Fozzie, Animal and all the Muppets gang are back for a world tour, but per usual, mayhem and crazy-situations follow them where ever they go.  When Kermit winds up being mistaken for the "World's Number One Criminal" Constantine, you can imagine the chaos that ensues!
A film that's highly suitable for the entire family, MUPPETS MOST WANTED is filled with music, laughter, stars (including Tina Fey, Ty Burrell and Ricky Gervais,) cameos from special guests, heart-warming scenes and as the Muppets say, plenty of "superfluous nonsense!"  My sons (11 & 13,) husband and I thoroughly enjoyed having a Muppets movie night and are now busy watching all the extras and still using our spy kit for family fun.
The MUPPETS MOST WANTED "The Unnecessarily Extended Edition" Combo Pack included a bunch of bonus extras including:
3 versions of the movie – original theatrical, extended and Statler & Waldorf Cut
The Longer Longest Blooper Reel in Muppets History
Rizzo's Biggest Fan
"I'll Get You What You Want" Music Video
For more information, check out the Website and Mobile Site: www.disney.com/muppets,
Like" the Muppets on Facebook: www.facebook.com/muppetsand Follow on Twitter: www.twitter.com/TheMuppets