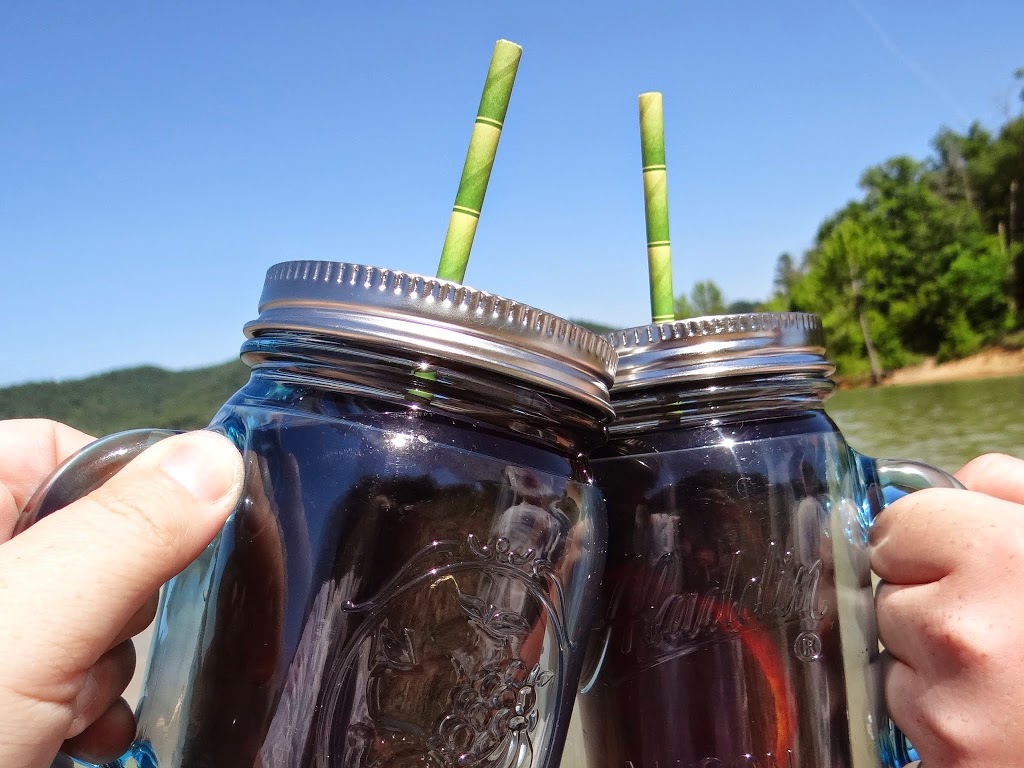 We're creating a little bit of paradise at home thanks to Cost Plus World Market.  
It's such a privilege being a 
World Market Ambassador and I'm excited to share new ideas and product selections with you. 
Summer vacation has finally arrived and I'm totally ready for care-free living!  Though our budget doesn't always allow for escapes to exotic locations, it's relatively easy to bring the tastes of the islands to your backyard with the right ingredients and a little know-how.
One of my all-time favorite refreshments for summertime is sangria and there is simply nothing that rivals a fresh batch.  This time, I'm adding a bit of the tropics in this sweet and sassy summer tea sangria.  Tea sangria is a lighter refreshment, simply perfect on a sweltering summer day!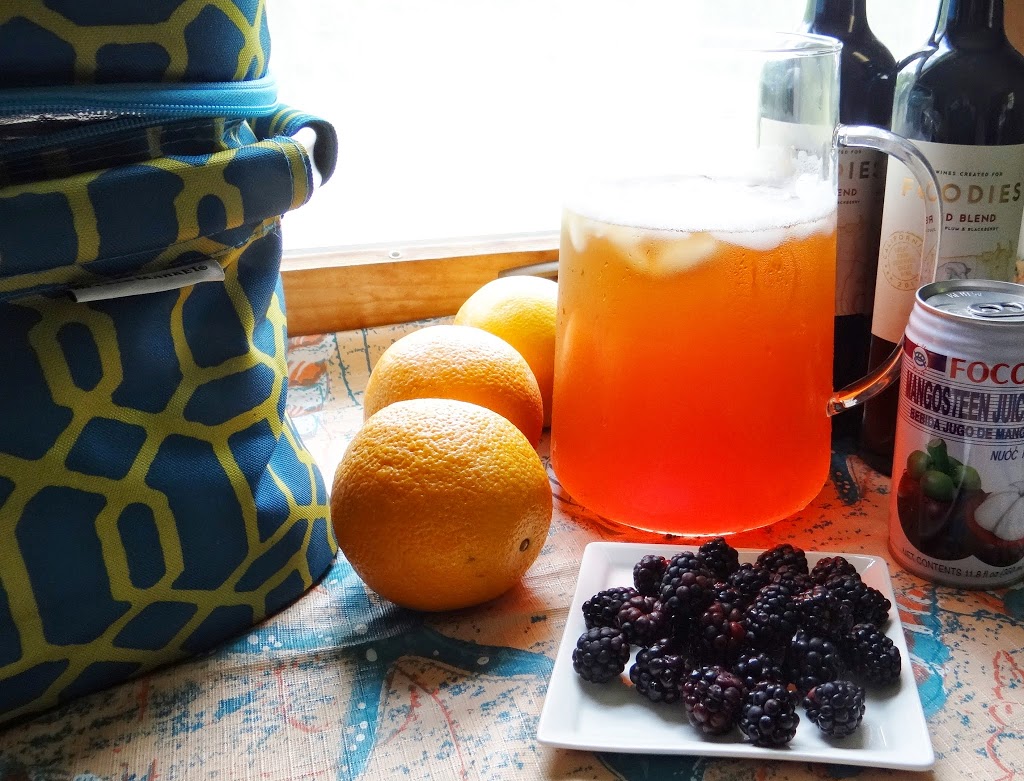 Mangosteen Blackberry Tea Sangria
3 cups World Market Organic Mountain Wulong Loose Leaf tea, fresh brewed iced (available at Cost Plus World Market in-store and online) 
1 bottle Foodies California Red Blend (available at Cost Plus World Market in-store) 
1 cup FOCO Mangosteen Juice Drink (available at Cost Plus World Market in-store) 
1 pint blackberries, rinsed
1 orange, seeded and sliced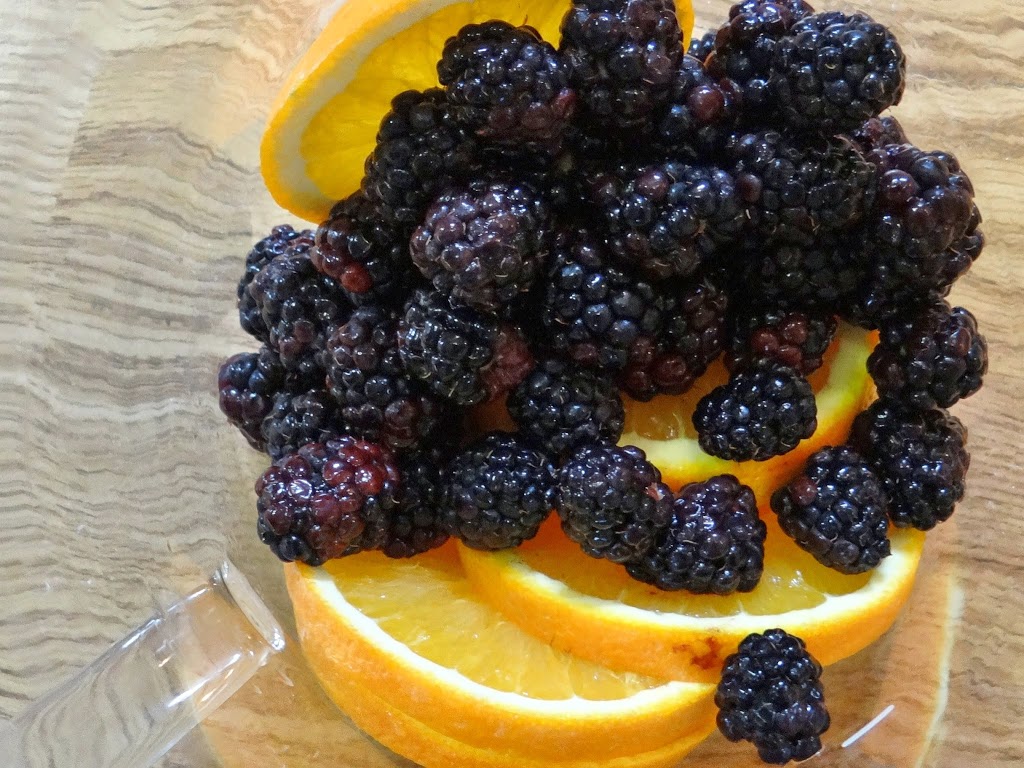 Creating a refreshing summer tea sangria begins with your wine selection.  Though many traditional sangrias call for a dry red table wine, I prefer to begin a tea sangria with an all-purpose red blend table wine (one that is semi-dry and not too sweet.)  The wine I selected for this recipe is Foodies California Red Blend.
Once you select your wine, pair your fruits and tea around it to create a one-of-a-kind refreshment for your summer escapes.  The wine I selected had blackberry and plum notes.  I could have easily used both of those fruits, but I wanted a bit of a citrus and exotic kick, so my two fresh fruit selections were blackberry and orange.  With sangria, you really can use as many fruits as you would like or fine tune the flavors by honing in on one (to three) fruit selections.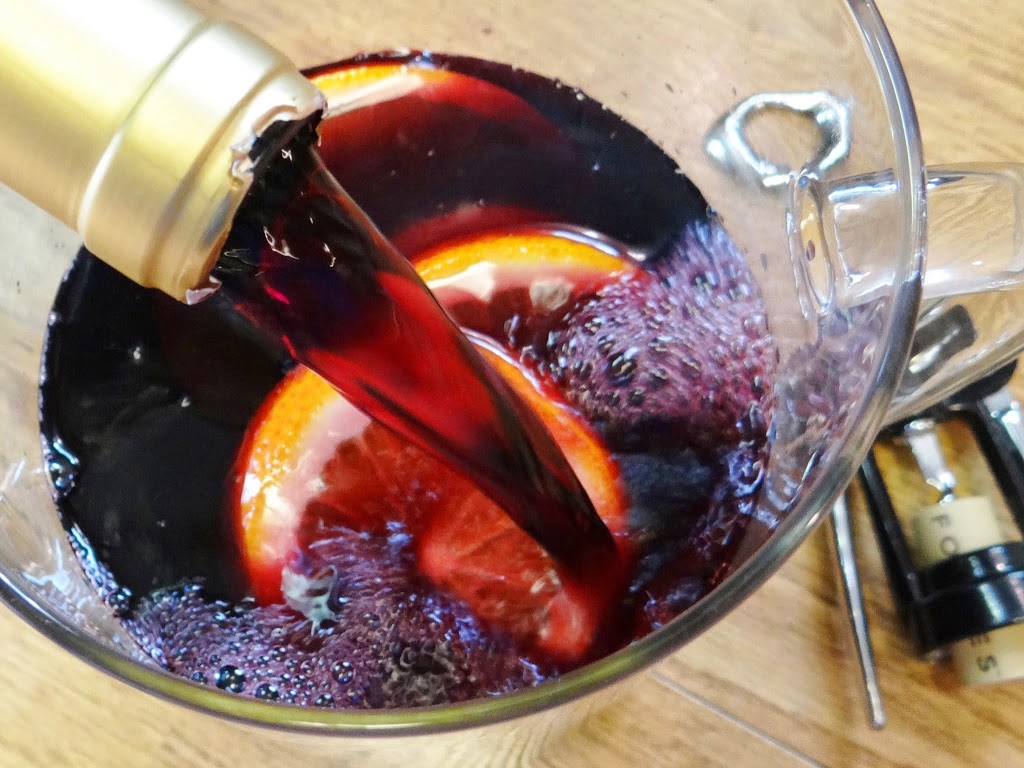 For my third fruit, I hopped over to the juice section.  Most people use orange juice in their sangria recipes, which is generally a terrific compliment, but to create a sangria that have a "tropical breeze" appeal, I went for FOCO Mangostreen Juice.  This sweet drink adds just the right note, morphing the old standard sangria to a new exotic!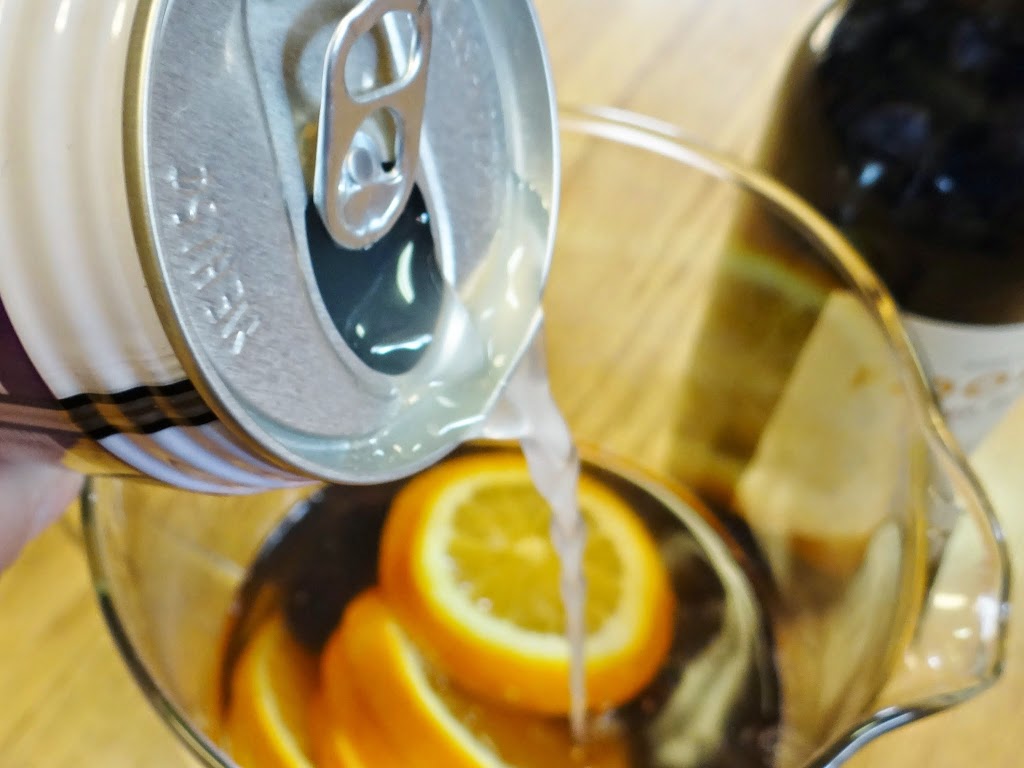 With this bright base, I wanted a tea that would match. Organic Mountain Wulong Loose Leaf Tea is detailed as "an invigorating high mountain oolong tea with distinct floral notes and a nuanced flavor of sweet ripe fruit" – a perfect match that fused very well with my wine and fruit selections.
Other iced tea alternatives that would have worked well are a standard black tea or any tea with blackberry, hibiscus, or sage notes.  Each will give the sangria a slightly different characteristic.  If you enjoy the tea iced on its own, then you will likely enjoy it mixed in your summer tea sangria.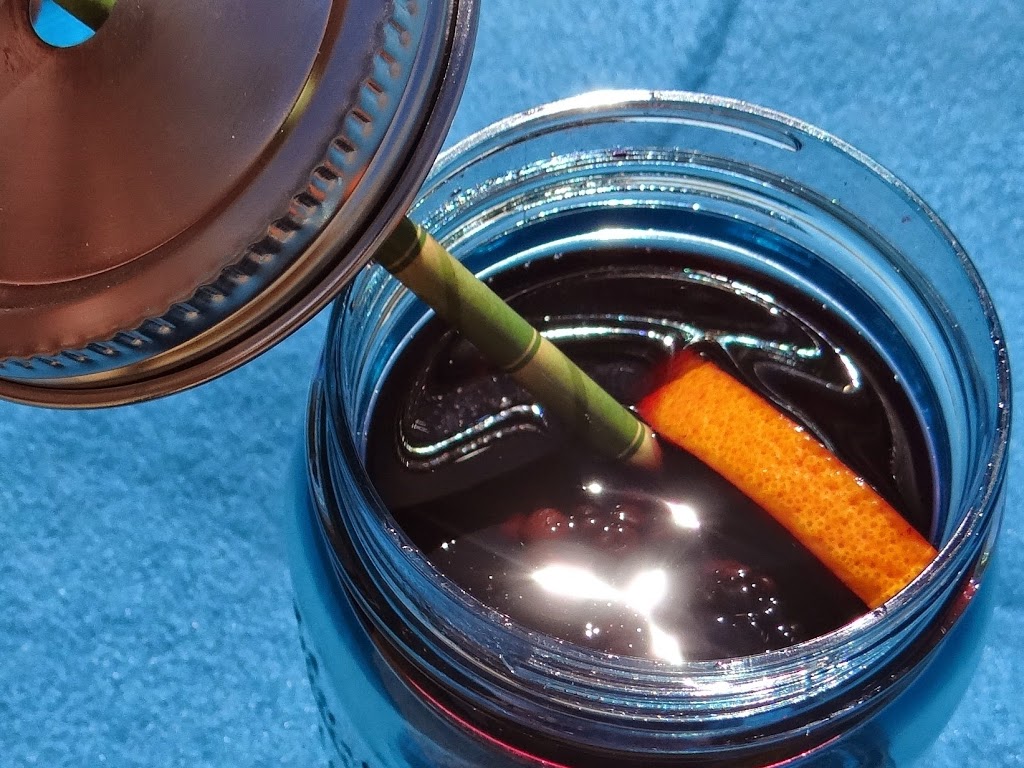 Creating mangosteen blackberry summer tea sangria is a quick and easy process.  In a large pitcher, add sliced oranges and blackberries.  Pour in tea.  Pour in juice.  Pour in wine.  Gently stir ingredients until fully combined.  Place pitcher in the refrigerator for 2 hours.  Gently stir ingredients and continue refrigerating.  Repeat process 3 more times, then allow sangria to sit overnight (or for at least 8 hours.)
Prior to serving, stir gently, then pour and enjoy!
You can serve the sangria immediately after mixing, but allowing the sangria to "steep" allows all the ingredients to blend thoroughly together, creating a wonderful fusion of taste.  The sangria will also seep into the fruit and you'll have what I like to refer to as wonderful "adult fruit snacks" to enjoy with your sangria!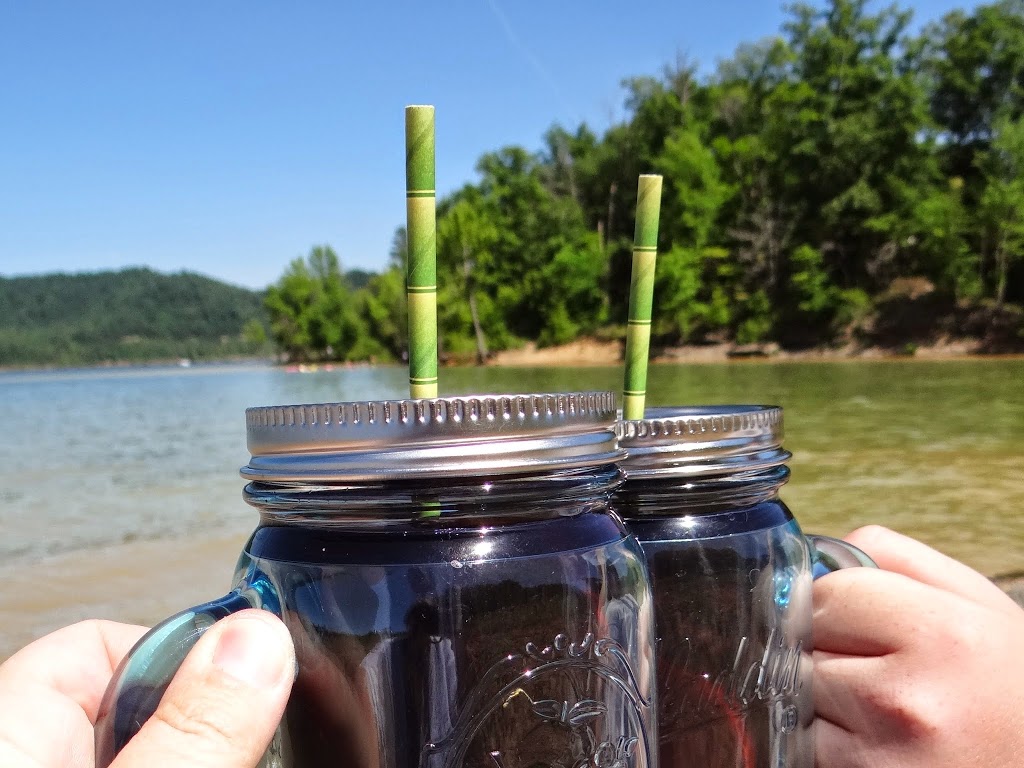 Pictured:  Blue Mason Jar Tumbler – available at Cost Plus World Market in-store and online