When I first saw the star plates at our local Dollar Tree, I knew I had to do more than simply use them for serving grub at our 4th of July barbecue.  They are way too cute to keep hidden in the cupboard and hauled out just for eating.
I decided I'd make some type of wall hanging with them and scouted the store for more ideas.  Drawn to sparkly things, I soon would up with a cart full of patriotic inspiration!
Dollar Tree materials I used for this project are:
Plastic Star Shaped Serving Tray (red)
Metallic Patriotic Necklaces
Patriotic Star Wire Garland
Glitter Tube 3-Pack (red, gold, silver)
My materials I used for this project: 
Mary Engelbreit paper cut-outs (I salvaged from an old magazine)
All-purpose glue
Hot glue gun and glue
Scissors
Total cost of project:  $4 (slightly under $4 if you factor in that I have left-over glitter, garland and necklaces that I'll re-purpose for other projects)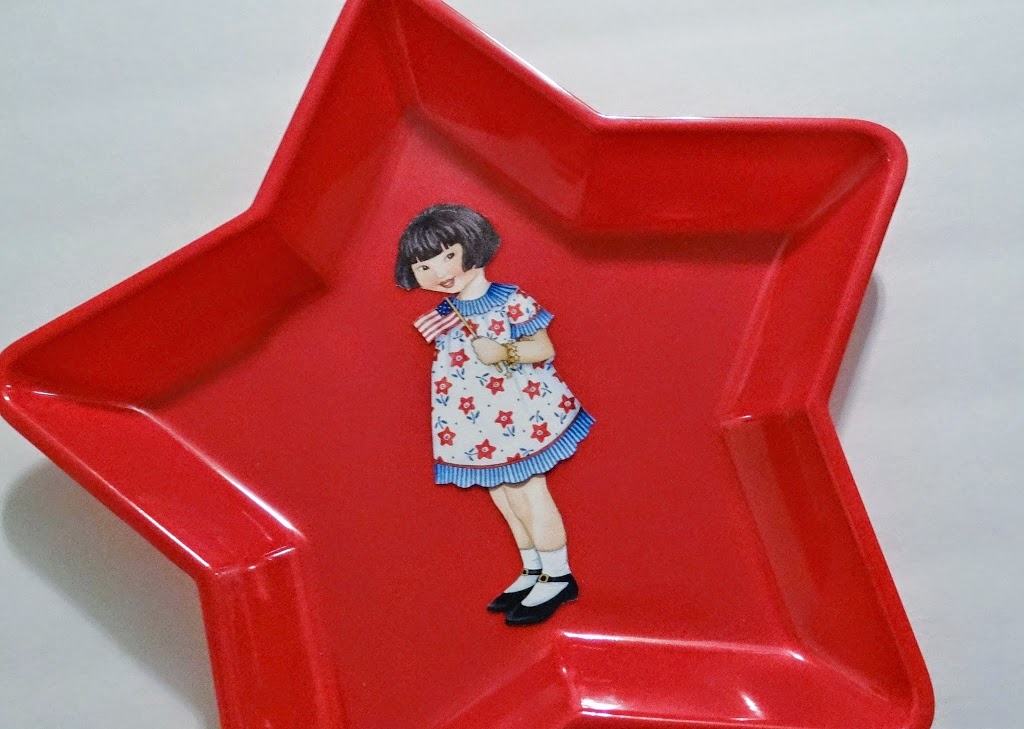 Initially, I thought to create a geometric pattern on the plate using the metallic necklaces, but then remembered I had set aside some patriotic prints I intended to recycle from magazines and cards.  I settled on a cute Mary Engelbreit print as I felt it suited the whimsical nature of this craft.  Attached the portrait with a little all-purpose glue.
And because I love all-things-sparkly on the 4th of July, I embellished the print with glitter accents using the glitter tubes I picked up at Dollar Tree.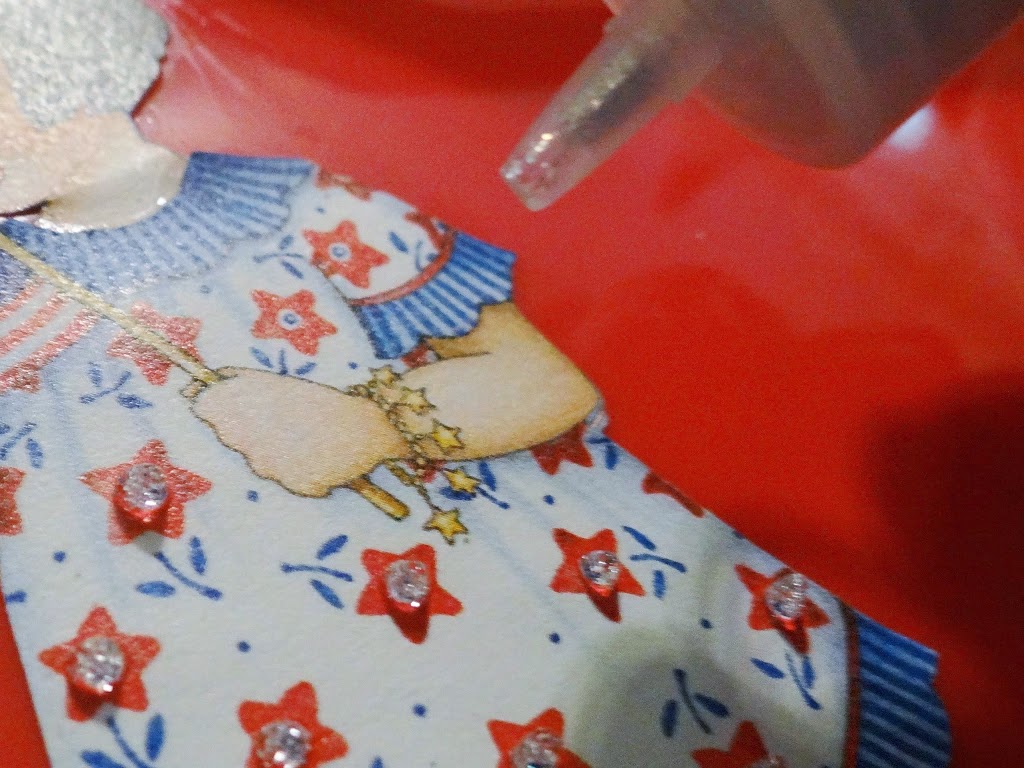 I still needed to do something with the necklaces and after positioning them here and there, I decided a simple trim at the bottom of the plate would suffice.  I cut the silver necklace to fit the bottom curve of the plate and glued it in place with my hot glue gun.
Also lined the edge of the plate with red glitter to give it a little extra sparkle!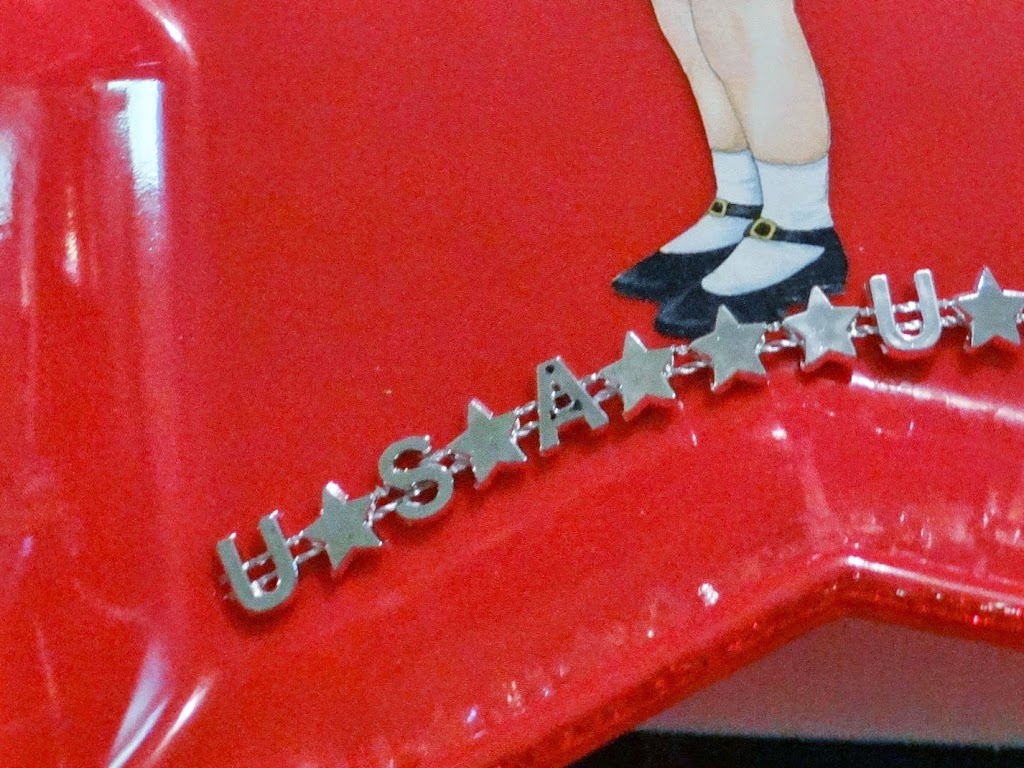 To create the wreath "effect,"  I made three-inch loops with the wire garland and secured them in bundles of four (as pictured below.)  I simply looped it to look like a half flower and used the edges of the wire to secure the four loops together in place.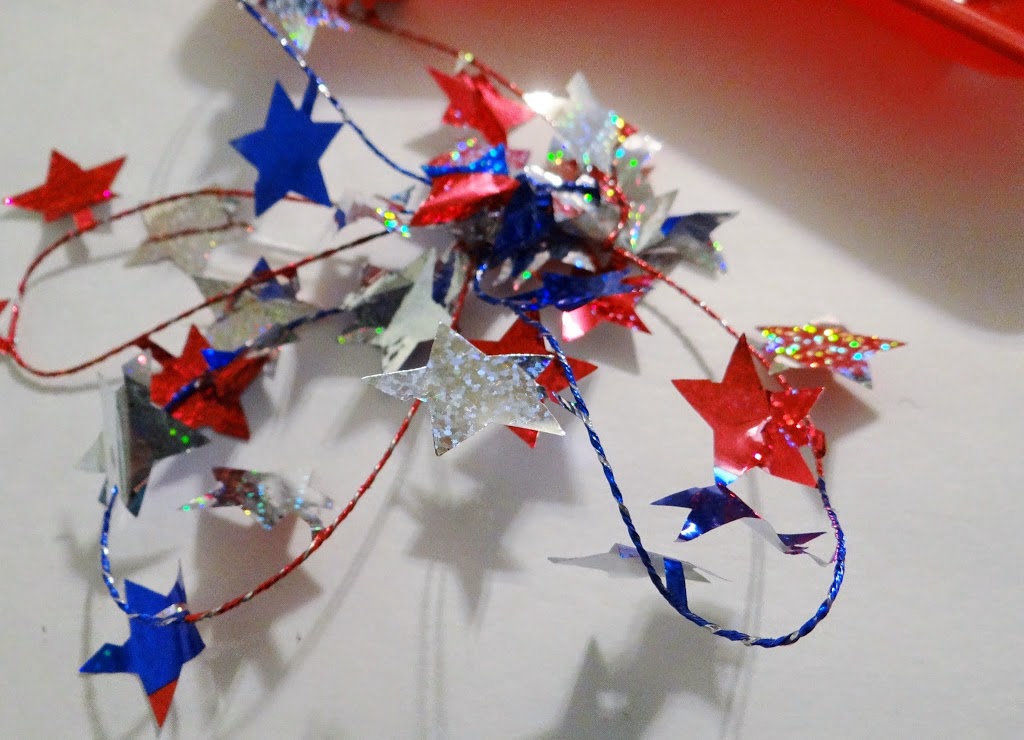 Formed five loops – one for each corner on the star shape.
Each "half flower" loop set was then secured to each of the inner corners of the plate using a hot glue gun (as pictured below.)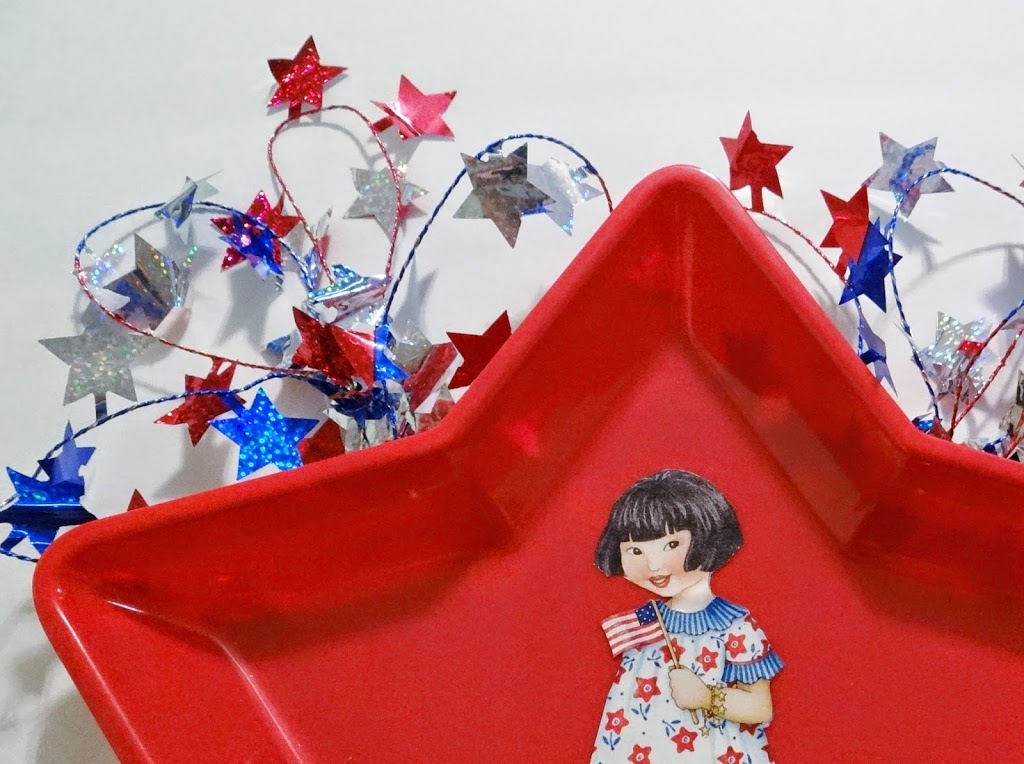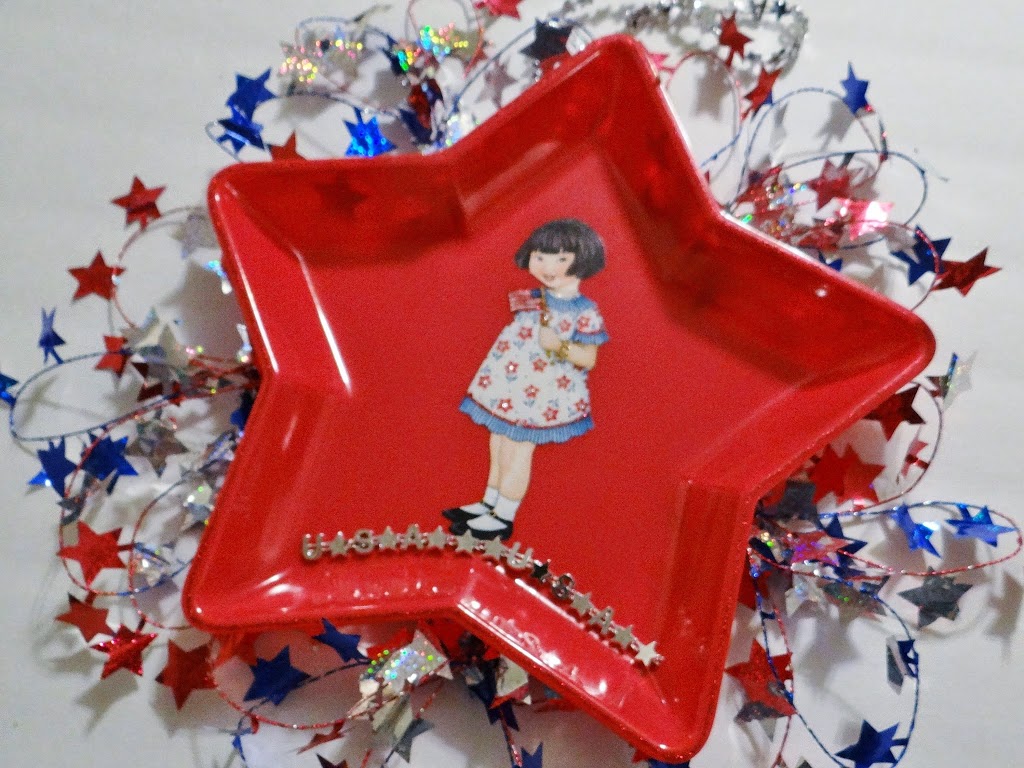 As I wanted to be able to use my standard door wreath hanger, I need to add a loop, so I used another section of the metallic necklace to create one.  Cut a 6- inch length of the necklace and secured the ends to the back of the plate with a hot glue gun. 
Optionally, you could use ribbon for hanger or add a standard picture hanger to the back to use for hanging the wreath on a wall.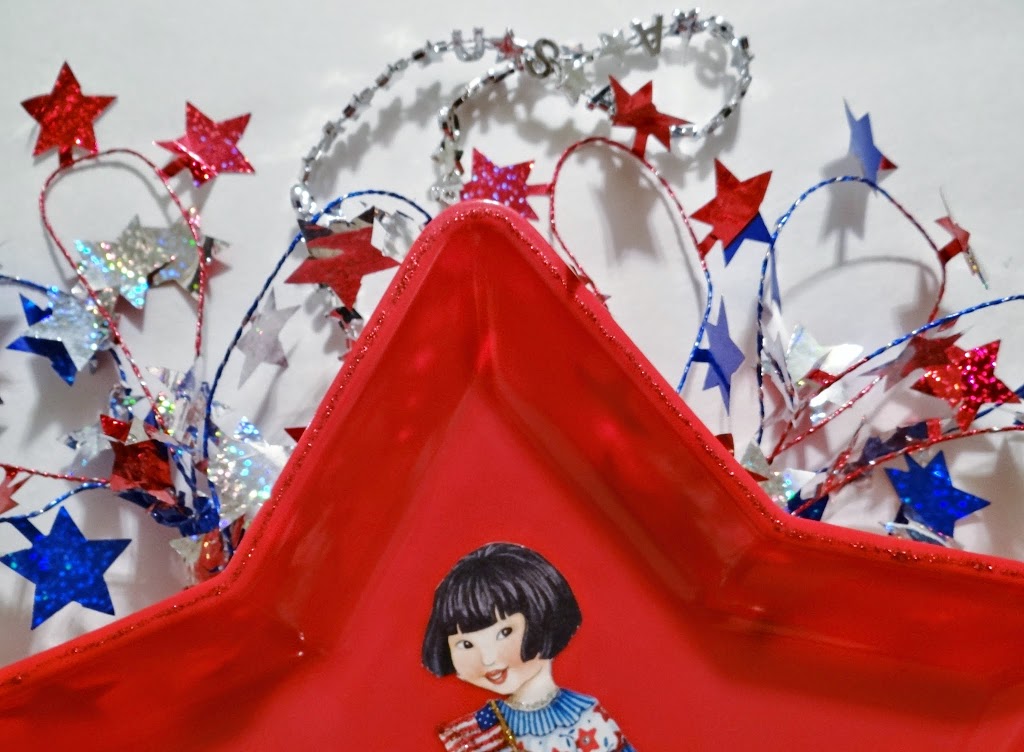 This is a really easy craft to put together, older children could certainly be involved in the process if you would like to create a family project.  I love the nostalgic feel of our new patriotic wreath and plac to use it each year to decorate our door or our home.
The options for styling the star are endless.  You could use family photos to create a more personalized feel.  Use abstract shapes or try my original idea of using the metallic necklaces to create geometric patterns on the plate.  Whatever you come up with, it will surely enhance your home with one-of-a-kind festive decor!