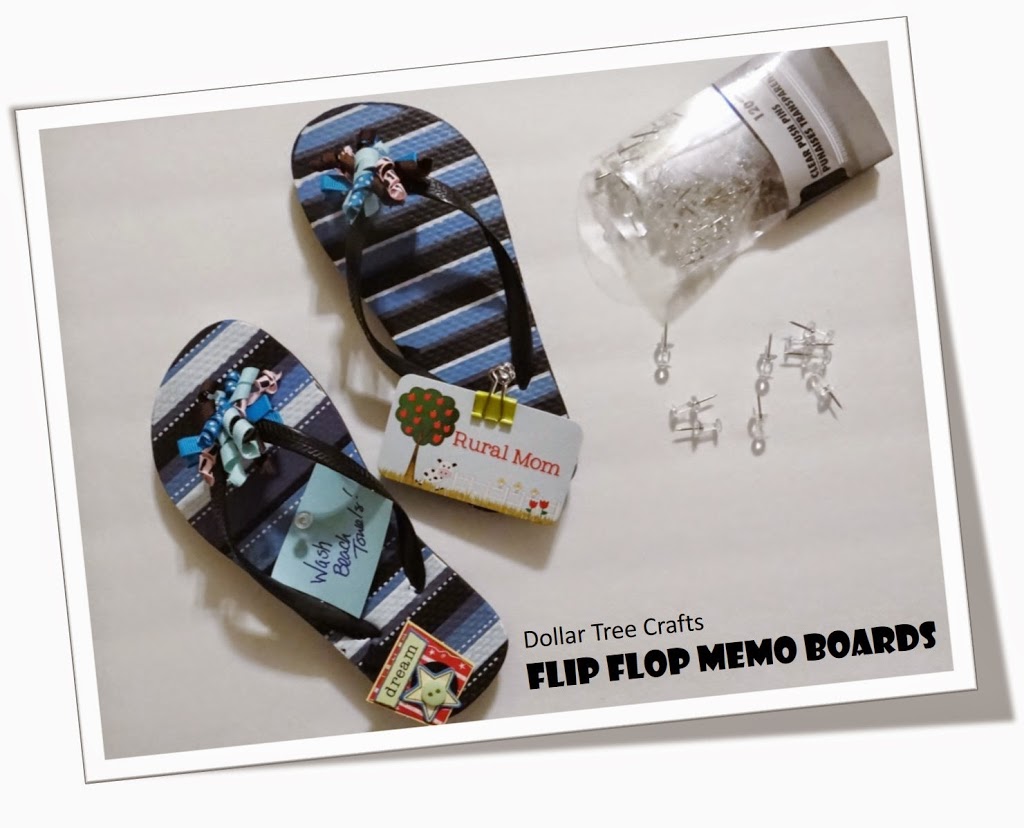 We're creating some indoor fun-in-the-sun crafts with a little help from Dollar Tree this summer! #spon
I'm always looking for places to display pictures and to tack notes and other important items.  Deciding I wanted to freshen up my summer decor, I went to our local Dollar Tree with an idea in mind to purchase a cork board and embellish it with some fun summer decorations that I knew I'd be sure to find.
When I ventured over to the new arrivals area with all the summer items on display, the huge variety of colorful flip flops immediately snagged my attention.  (I must admit, I primarily live in flip flops all summer long.)  Well, while I was checking out the 4th of July inspired patterns, I had a totally cool "ah-hah" moment… as in "how cool would it be to use flip flops to help capture summer memories?"

Apparently, I thought it was a really cool idea because my cart was soon filling up rapidly with flip flops!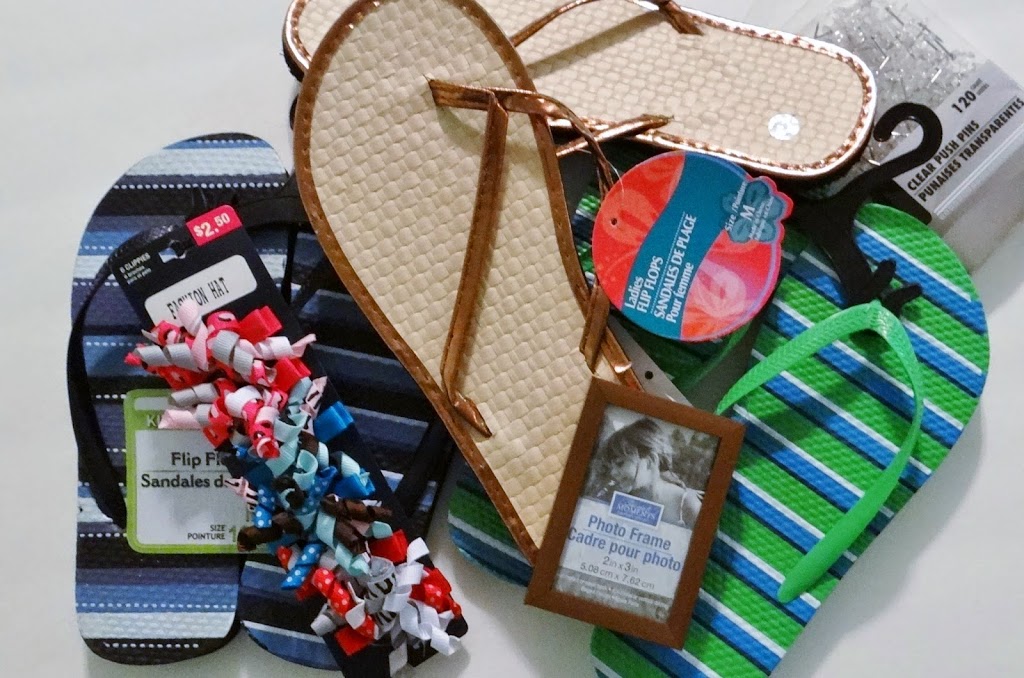 I decided right then that I would not only make flip flip memo boards for myself, but would gift some to my loved ones, too!  They are a great impromptu gift to treat someone or a nice personalized add-on to a graduation or birthday gift.
Dollar Tree materials I used for this project are:
Kids Printed Flip Flops (various colors and patterns)
Jot Clear Push Pins (120 count pack)
Fashion Hat Clippies (6 count pack) 
My materials I used for this project: 
Glitter Tube 3-Pack (I had plenty left-over from my Patriotic Wreath Craft)
Self-adhesive wall tape
Total cost of project:  Approximately $2 for each set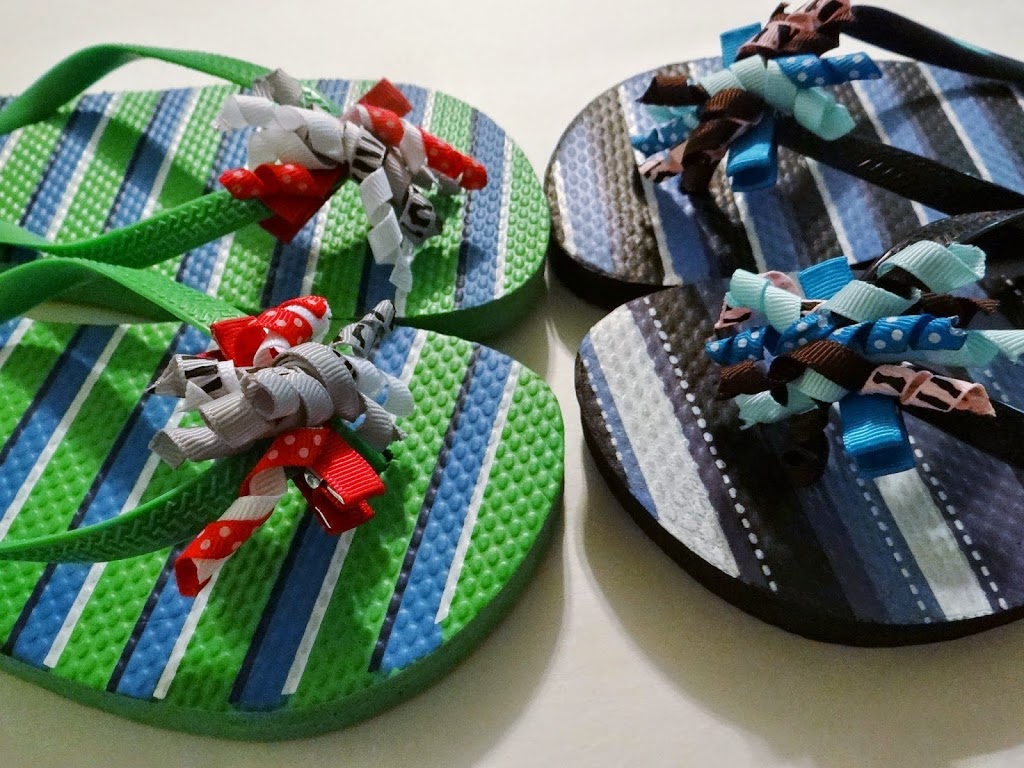 I'd love to tell you I toiled over this craft, but it may be one of the easiest, cutest crafts I've ever pieced together.  Gotta love that!
I originally thought I'd purchase some ribbon to tie on the tong part of the flip flop, but found the Fashion Hat Clippies while I was roaming through Dollar Tree, which offered the exact effect I had in mind.  If you cannot find similar hair clips, a few twists of ribbon will certainly do the trick!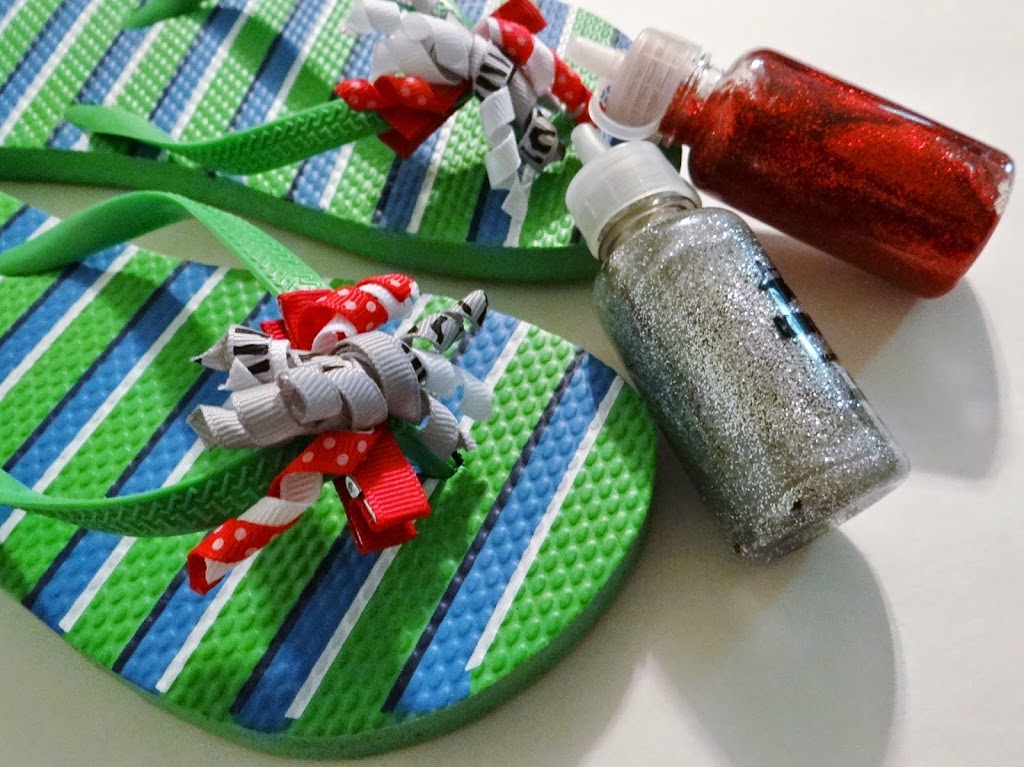 Some of the hair clips matched really well, others were a clever fit, but needed a little "extra" to tie the them together.  To do so, I used glitter glue to compliment the color theme and add a little sparkle in the process.  For the green and blue striped flip flops pictured, I used red and silver glitters to match the flips a little better to the red, gray and white hair clip ribbons.
You can certainly match the flips flops in-store to the bows perfectly and be done, but I really liked the extra detail the glitter added to this pair, so do consider using it as an embellishment either way!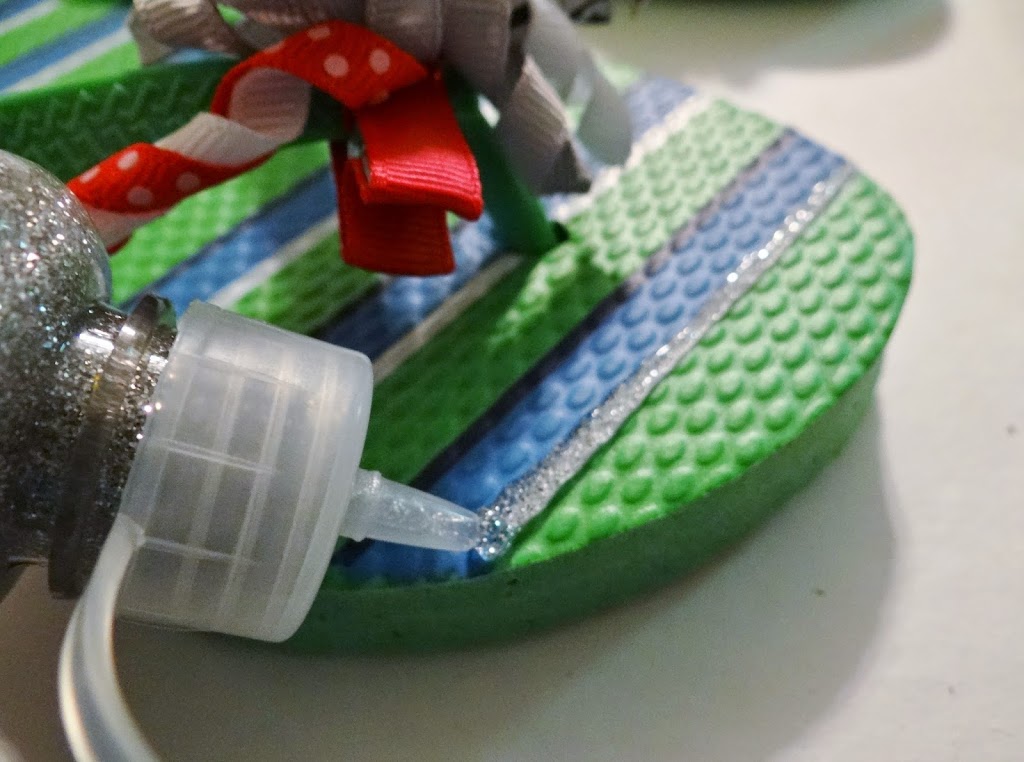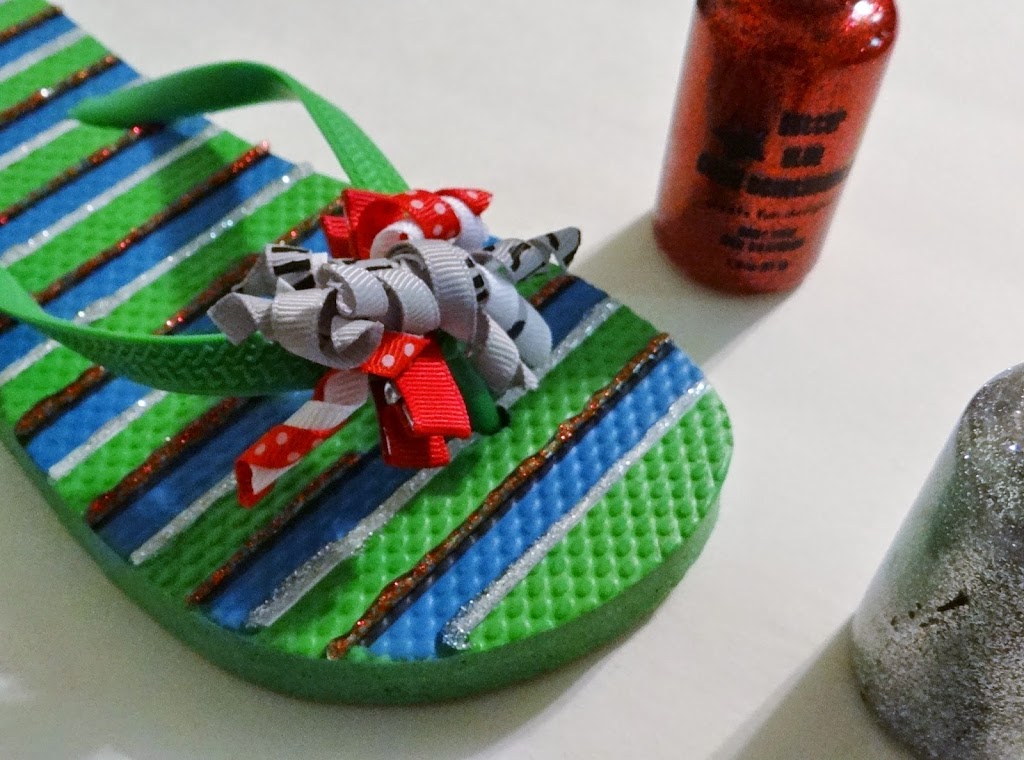 For my project, I simply followed the lines of the flip flop pattern with the glitter glue, alternating colors as I added the embellishment.  You could opt to create zig-zag or swirl patterns, spell out names, locations or add some fun pop words like "beach," "summer," and "splash!"
Sharpie markers could also be used to create letters or pictures on the flip flops for a custom look.  I think this would be a terrific project to use for summer camps or teen programs, too.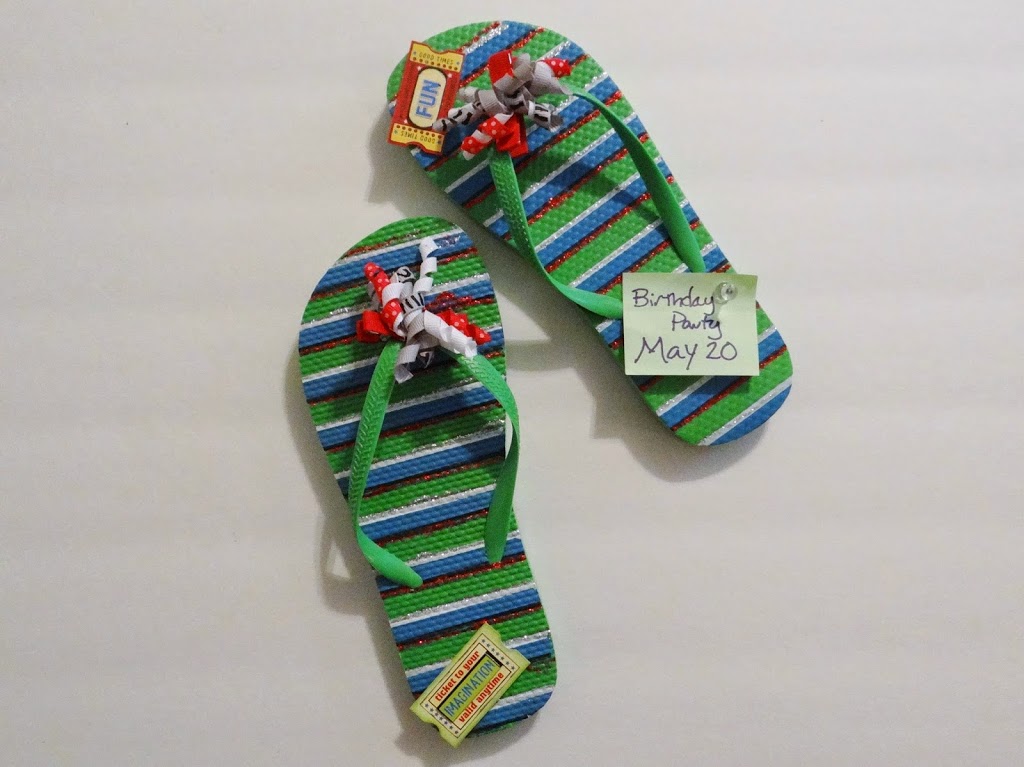 Once the glitter glue dries, attach a piece of self-adhesive wall tap to the back of each flip flop, position them on the wall side by side, angled or even consider placing along the sides of a picture frame.  They are now ready to pin or stick on your notes, pictures, photos and other keepsakes.