There are times when air fresheners are more of a necessity than a luxury.  Do you have pets in your home or have you ever arrived home to find something in your garbage decided to emit a very foul smell?  If so, you certainly understand how air fresheners can be a welcome tool to have on hand!
However, it turns out that many store-bought air fresheners contain toxic chemicals, spreading them throughout your home every time you use them.  Like me, you've probably used these products in the past, and may be thinking to yourself that you have yet to experience any side effects. But did you know that prolonged use can cause serious health problems which you may never attribute to your commercial air fresheners?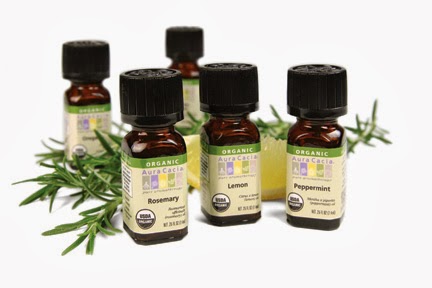 Organic Essential Oils are the key ingredient for a healthy, non-toxic DIY air freshener.
A study conducted by the University of Washington revealed that out of the 25 commonly used scented products they tested, there were an average of 17 chemicals emitted from each one. There were 133 total chemicals identified throughout the entire testing process and approximately 25 percent are considered hazardous or toxic. Surprisingly, only one was listed on the product label.
What about the other 132 chemical compounds that are unknowingly discharging into the air?
Truly makes you think!
Take a look at some of the toxic chemical in commercial air fresheners:
Phenols – Phenols are made from crude oil through a series of manufacturing processes. They have been linked to skin irritations, wheezing, coughing, upset stomach, kidney and liver damage.
Formaldehyde – In its basic form, formaldehyde is simply a colorless gas. It's generally used in a variety of products because it is a good binding agent and is cheap to manufacture. Formaldehyde has been linked to sleeplessness, fatigue, headache, breathing difficulties, nausea, diarrhea and bronchitis, to name a few.
Phthalates – These endocrine disruptors interfere with the natural hormone processes of the body. Phthalates are linked to reproductive damage, birth defects, developmental disabilities and cancer.
Needless to say, when it comes to air fresheners, these products are better left unused.
There are chemical free products available for purchase, but they can sometimes be quite spendy and may not be readily available in a scent you prefer.  The quick and easy alternative is creating your own "green" air freshener from a just a few simple and readily available ingredients.
The items you will need to create a basic homemade air freshening spray are:
1.  A 16 oz. clean spray bottle (a great opportunity to recycle old spay bottles!) 
2.  Purified or distilled water (at room temperature)
3.  Essential oil (or oils.)
I love to use grapefruit oil in the kitchen, such a "bright" scent and peppermint oil is a holiday favorite, plus a great "pick me up" energizing scent.  Lavender oil is a lovely "soothing" scent, perfect for creating a restful atmosphere in the evening.  You can also try combining scents for your own custom creation.
To create the air freshener, fill the spray bottle with water leaving approximately 1 inch from the top. Then use 8-10 drops of your favorite essential oils (adjust amount to your liking) and shake for 30 seconds. Spritz a little where needed and enjoy the lovely toxin-free scent!
Extra Tips:  Be sure to shake the bottle before each use for the best results.
If you are in a pinch and don't have water purifier in your home or distilled water on hand, simply make a very small batch of air freshener-  use a 1 drop of essential oil to 2 ounces of water ratio or consider using an alternative method like natural potpourri or your favorite natural candle to freshen up the room.
Untreated water can have impurities that you may not wish to spray around your home, like fluoride, chlorine, and salts, so it's generally better to avoid using water that hasn't been purified first.