The creation of this organization station for birthday cards is part of a Hallmark Value Birthday Card #valuecards #shop hosted by the social shopper media company Collective Bias. #cbias  This is a social share of my journey, opinions and ideas. I hope it inspires you to get organized and deliver more birthday smiles!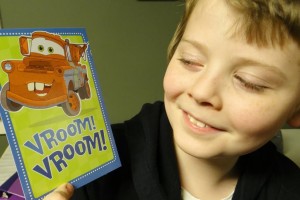 The right birthday card can truly elicit some terrific smiles!  This is the joy I want all my loved ones to feel on their special day.
Ever wake up on your birthday and it seems the whole world missed the celebration memo?  Certainly not a great feeling!
I don't want to be the one who is known for sending "belated" wishes.  Though, I still feel a good wish is always a lovely sentiment, when it's late, it's late… and I really want the people I love to know I'm glad for the day they were born and that they are never an after-thought.
Despite, this, I've managed to miss sending birthday cards or calling on that special day.  The calling part I was able to schedule reminders in my calendar to easily solve, but the sending a card part often escaped me.  As someone who loves to find a card in the mailbox and cherishes each memory and smile I find inside, I absolutely want to give the special people in my life the same feeling.
This year, I resolved to solve the problem with a very simple, inexpensive, re-newable idea that will keep me on top of sending cards for all the important celebrations – I'm setting up a card station!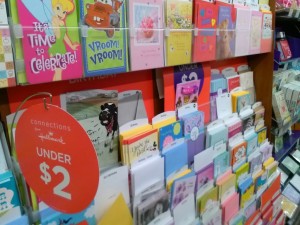 The Hallmark Value Cards are easy to spot at your local Walmart, 
just look for the big red "Under $2" or "Value" signs in the card section.
My first thought was to utilize a letter holder, then I thought about using a photo storage box for the cards, but both items seemed too big and bulky for my desktop.  The idea to use a folder came next and then even better… a binder.  Perfect!
My supply list:
Binder
Sheet Protectors
Stamps
Cards
Mailing labels
List of birthdays and other celebration dates
All easy-peasy items to obtain.  However, I hesitated slightly on the cards.  Purchasing cards for every birthday on my list up front seemed a little daunting price-wise.  I could save a few dollars by opting for card sets, but I really like to match the cards with the person I'm sending them to.
When I heard about the Hallmark Value Birthday Cards, I knew I had the price-conscious solution I needed.  All under $2 each, with cards as low as 47 cents and 97 cents each, I could easily buy a year's worth of birthday wishes without even breaking a sweat in my budget fitness plan.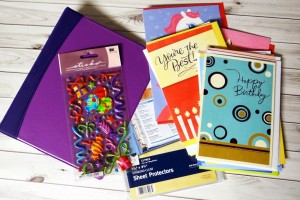 Materials for my birthday card station: 7×9″ binder, sheet protectors, 
a few embellishments for fun!, and oodles of Hallmark Value Birthday Cards
In addition to saving up-front on each card, you can earn rewards for the Hallmark cards you purchase at Walmart.  For every 5 cards you buy, you'll earn a reward.  I personally love this feature.  It's been awhile since I used my Hallmark Rewards Card as I don't often get a chance to stop at my local Hallmark store, so I'm thrilled I can tap into rewards with Walmart store Hallmark card purchases!
Now sometimes when you hear the word "value" or see a low price, it can sometimes equate to a so-so deal, but with Hallmark Value Birthday Cards, as I suspected, value still equates to high quality and terrific selection.
I found a card to match every personality of the people on my birthday card list and some fabulous selections for children's cards, too, including Disney-themed cards!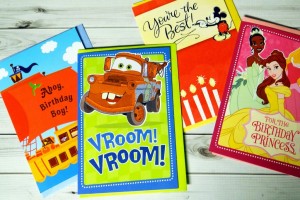 The Hallmark Value Birthday Cards include some very familiar faces! 
While I was picking up the Hallmark Value Birthday Cards, I also found adorable Hallmark Value Valentines Day Cards, and had to snag a few of those, too, as I could easily afford to add them to the mix.
Because I love to deck everything out in craft-style, I felt the urge to decorate my birthday card station cover.  A little craft paper, markers and a few stickers later, I felt it looked satisfactorily celebratory.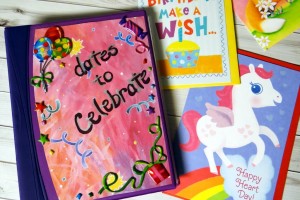 Decorate your birthday card station to suit your style.  Dressed up or dressed
 down, the key is to simply create this handy tool to keep you organized.
Inside the birthday card station is where the super-organized magic begins.  In the front pocket, I placed mailing labels and stamps. In the very first page protector slot, I placed a list of birthdays by month.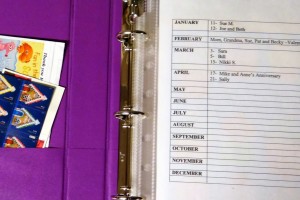 By keeping everything in one place, you'll have an easy time keeping birthdays organized.
In the remaining page protectors, I slipped in the birthday cards with the front side of the card facing forward, so I could easily see and select a card.  In addition to making it incredibly easy for me to sort through the cards, each card is now protected from wear and tear until I need it.
I randomly sorted the cards, but you could sort them by month, alphabetically, by gender, or whatever method would work the best for you.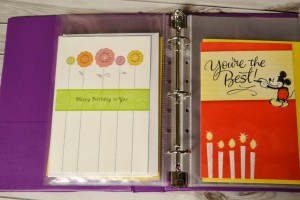 With the cards facing forward, you can easily flip through the pages to find the one you want.
I also placed my address list in the back pocket of the binder (not illustrated for privacy purposes.) The thought occurred to me to pre-type labels for each recipient, too, which I plan to do this week.
Of course, some of the cards I'll be hand delivering, but it certainly saves me the step of having to race to the store to find a card for that important date.
This binder now resides next to my bill folder for easy access each month.  Every time I sit down to pay bills now, I also pull out the birthday card station and write out the cards I need to send, too – a much nicer task than paying the bills, for sure!
The binder is completely re-newable.  Every year, I simply need to purchase new Hallmark Value Birthday Cards and tuck them in. No more missed birthdays… and plenty of smiles to arrive in all of my loved ones mail boxes!
~
Make sure you check out connectionfromhallmark.com to sign up for Hallmark Rewards, and to see great content from other bloggers.  Join in the #valuecards conversation on Twitter!