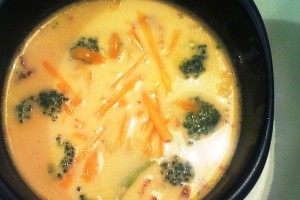 No doubt by now you've had your fill of turkey or ham and more on your dinner plate, but don't despair, there's plenty of ways to use up the rest of the left-overs to create new taste sensations.  Or certainly, an excuse to make more of your favorite Thanksgiving dishes to use in a tasty new way!
Veggies, ham and even leftover block cheese and cold veggies from your party trays get a fresh new life in this loaded version of traditional broccoli soup.  Feel free to mix up the ingredients a bit… for example, swap Cheddar cheese for Swiss or try turkey in place of the ham.  Any way you dice it up, this supper will warm you up quick and have everyone asking for seconds!

Loaded Ham and Cheese Broccoli Soup
1 cup fresh broccoli, chopped
6 oz ham, diced
3 Tbs olive oil
1 medium onion, chopped
2 sticks celery, sliced thin
3 medium carrots, sliced thin (baby carrots work well, too) 
2 pound block of Cheddar Cheese food/melt (Velveeta or other brand) 
1 ½ cups milk
3 cups chicken broth
Salt
Pepper
Garlic Salt
Shredded Cheese (for garnish)
Optional: 1/2 cup Crumbled Bacon to mix in or use for topping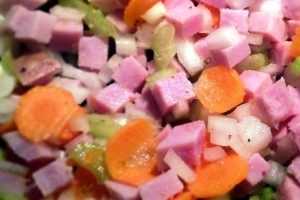 In a medium size sauté pan, heat olive oil and lightly sauté all vegetables but the broccoli. Season lightly with a pinch of salt, pinch of pepper, and a pinch of garlic salt. As veggies begin to soften, add the diced ham and continue cooking until ham is heated through.
Kitchen Tip: A quality sauté pan makes this step a breeze.  Features to look for are sturdy design, a non-stick surface and high sides to help prevent cooking mishaps like spatters and spills.  As a Good Cook Kitchen Expert, my kitchen is fully stocked with quality items I've received for review and some that I've purchased on my own like the Good Cook 10 inch Classic Saute Pan in Red.  This festive color is perfect for holiday cooking!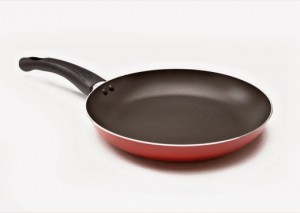 While veggies and ham cook, begin to melt the cheese in a sauce pan with milk over medium to low heat. Stir regularly to prevent sticking and scorching.
Bring chicken broth to a boil in large stock pot. Once the broth is boiling, steam the broccoli over the boiling broth.
Kitchen Tip: One question I've encountered many times from friends and family members who are new to cooking or who are simply not "at home" in the kitchen is how to determine when their water is an optimum boiling temperature for steaming.  Some think it's right as the water begins to show signs of bubbling, other wait until a full rolling boil is in progress to begin.
The ideal answer is: the water is at optimum temperature for steaming when it reaches 212 degrees Fahrenheit (which is the boiling point of water.)  A tool I recommend regularly is actually one I was pleased to receive from Good Cook recently, the Good Cook Chef Instant Read Thermometer.  A reliable thermometer (or two or three!) that delivers quick results is truly a chef's best buddy in the kitchen whether you are steaming vegetables or checking meat temperatures.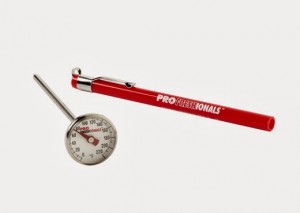 You can also steam the broccoli in a separate steamer but this puts all of the flavor back into the broth. If you do not have a steam basket for this step, simply place your broccoli into a stainless vegetable strainer over your stock pot and place the lid over the strainer.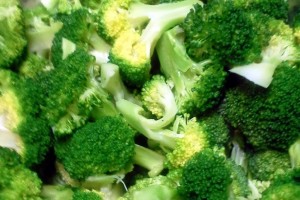 Steem until broccoli is soft.  (If you like your broccoli a little crunchier, steam a little bit less and lift prior to soft stage.)  Sit broccoli aside after it has reached desired tenderness.
By now, the cheese sauce should be melted.  After the cheese sauce is completely melted and smooth, add it to the chicken broth and then add the vegetables and meat, stirring thoroughly.
Mix in bacon crumbles, if desired.  Ladel into soup bowls.  Top with shredded cheese and enjoy!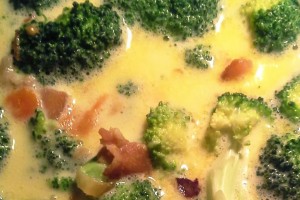 Looking for more fabulous leftover recipe ideas? Here's over 101 brilliant dishes from the Good Cook Kitchen Experts: