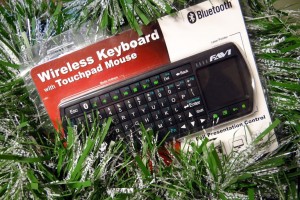 Finding a great keyboard is important when you're a writer, or if you work online a lot. Even if you just like to text, a good QWERTY keyboard is often something that some phones lack, especially on touch screen phones.
Naturally, I jumped at the chance to review the FAVI Mini Bluetooth Keyboard and Presenter with Laser Pointer. This pocket-sized keyboard can connect to just about any device you can think of, making it a versatile piece that will soon become your favorite go-to.
You can use it with your laptop, ultrabook, tablet, or desktop – all with great accuracy, speed, and comfort. You can also use this with the new Kindle Fire HD, so if you're receiving a Kindle Fire for Christmas, or if you already own one, this would be a great Christmas gift for you, or a friend!
The layout of the FAVI Mini Wireless Keyboard allows for fast and accurate typing, without the finger strain you can get with other keyboards. This is true for those who "hunt and peck," as well as those who type with a more professional type of keystroke.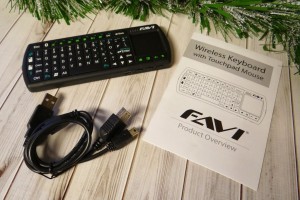 You'll be happy to find some familiar keys from your Android operating devices on this keyboard, and it offers great navigation, as well. A Bluetooth USB receiver is included with your purchase, so if your device doesn't come equipped with one, you're all set. If you already have one equipped, the USB receiver is stored neatly inside the Keyboard.
One of my favorite key features is having the ability to type on the keyboard in the dark as it's backlit, making it easy see what you're typing, without the horrible typos that you would normally have on your laptop, or computer. There are also great music and video hotkeys that will give you quick access to your favorite music playlist or video collection.  The list of features and reasons for picking up a FAVI Mini Wireless Keyboard for everyone on your shopping list goes on and on…
If you're looking for a great Christmas present that every recipient will love having, I think this might just suit your needs!
Find more information at: http://www.favientertainment.com/Bluetooth-Keyboard-p/fe02bt-bl.htm