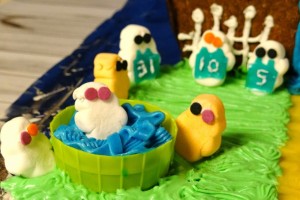 Gingerbread cookies have been a part of our holiday traditions for as long as I can recall, but it wasn't until about 5-or-so years ago that we incorporated gingerbread houses into our baking and decoration routine.  We started with pre-formed kits, but I found that half the time the cookies broke easily or the ingredients didn't allow for enough customization.
Next I moved on to using my grandmother's gingerbread cookie recipe, then a modified healthier version of that recipe (because if you start with a healthy base all the sugar load doesn't count then, right? ha ha!)  We purchased our own decorations and used basic cuts to the dough to create a simple house design.  I've certainly learned a lot over the years and had my share of epic gingerbread house fails.
When challenged with the chance to create a haunted gingerbread house for a Halloween celebration with Sweet Creations by Good Cook, I thought it would be a great opportunity to evolve to the next level of gingerbread house creation and to share the experience with you.  I received a Haunted Halloween Cookie Cutter set to test out and had a great time turning this into a family activity.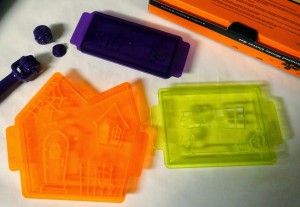 The Haunted House Cookie Cutter Set from Sweet Creations by Good Cook contains three cutters, a roller and stamps designed to create a spooky fun gingerbread chalet.
There is a recipe for gingerbread included with the kit, but I used the same low-sugar whole wheat gingerbread recipe that I use during the holiday for making gingerbread people (https://www.ruralmom.com/2013/10/whole-wheat-low-sugar-gingerbread-recipe.html) just doubled the recipe to create this house.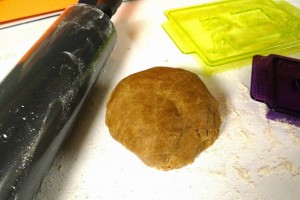 Creating the haunted house begins with rolling out your gingerbread dough and cutting the appropriate patterns to bake the walls and roof of the house.  I use butcher block paper dusted with whole grain pastry flour as my rolling surface.  I also lightly dust the roller with whole grain pastry flour throughout the process to help keep the dough from sticking.
The directions suggest rolling the dough to approximately 1/8-inch thickness and I found this to be about right.  I was probably slightly thicker at times, closer to 1/4-inch, but this didn't cause any problems in the end.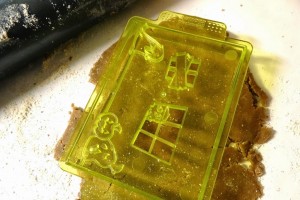 Once the dough is rolled to the appropriate thickness, use one of the cookie cutters to cut out the shape needed.  (You'll need two front pieces, two sides and four roof pieces.) 

Peel the dough away from the cookie cutter edges and then remove the cutter.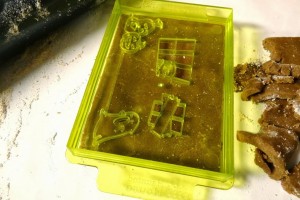 Then flip the cutter over to "stamp" the design on to the piece (if desired.)
I found the cookie cutters to be sturdy and the entire process simple to complete.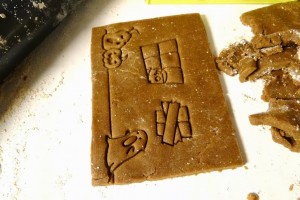 Remove the cookie shape from your rolling surface with a spatula onto a baking sheet and repeat the process until all your shapes are completed.
For any of the gingerbread pieces, you can also use the handy roller to "stamp" images onto the dough.  There's a brick pattern and a spider roller pattern.  There's also a small bat and a small ghost stamp for single impressions.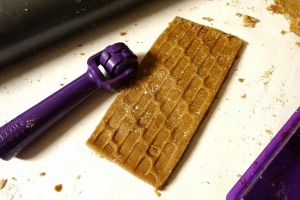 When all of the pieces are cut out and stamped as desired, you'll bake the gingerbread according to directions and cool the pieces on a baker's rack.
When pieces are completely cooled.  The fun, yet most challenging part begins- gluing your house together!  Most people use royal icing and there is a recipe for icing included with the Haunted House Cookie Cutter Set.  I've tried this method along with melted butter mints and other variations throughout the years, but the one I found I love the most is gluing the house together with chocolate.
Chocolate adds a whole 'nother layer of rich flavoring to your haunted house and helps curb the over-kill of frosting that will occur when decorating.  Chocolate also sets very well, making it a great gingerbread house crack filler.
The drawback is, if you are working in a warm environment, chocolate can take awhile to set and may be less firm… however, the same problem occurs with royal frosting.  My best advice, turn the temperature down in the house a little while you are creating your gingerbread house or even open a window nearby if it's a cool low-humidity day.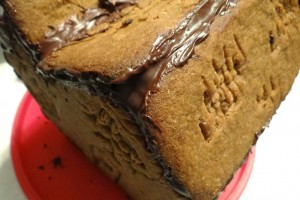 To create the chocolate mortar, simply melt chocolate chips in a saucepan over a medium-low heat, or in the microwave, until the chips just reach the melted point, then remove from heat and cool for 3 minutes.  When slightly cooled, use a frosting tube, small spatula, or butter knife to adhere the gingerbread house pieces together with chocolate.
Extra-important tips:  Use coffee cups or cans to hold the walls sturdy during the chocolate gluing and drying phase.  A coffee cup on each side of the wall works well to hold them in place while they set.  When you "cement" the roof on, use a tall coffee cup to prop the tiles up until they are dry or you can also use a cardboard box or any other small, sturdy item of the correct height.  Once the house is dry, lift it gently to remove the coffee cup or box… or if you've already placed the house on it's stand, feel free to leave the prop inside as it won't show but will help keep the house standing a little longer.
I glue the base together, let it dry, and then re-melt the chocolate to piece the roof together on the top of the house.
While making the Haunted House Cookie Cutter Set gingerbread house, I had a bit of difficulty matching the roof pieces up correctly because I finally realized I pieced the house together incorrectly (put the back on backward.)  I finally wound up cutting one of my gingerbread pieces in half and fashioning a make-shift roof.  I have found with every house every created, that you have to allow for improvisation and the great news about that… if it looks imperfect, you can always cover it with icing and decorations!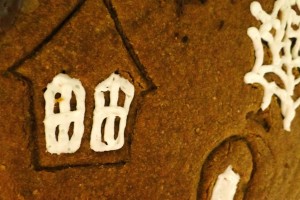 Once the house is set and sturdy, it's time to decorate!  We set our house on top of a cookie sheet covered in foil as a base.  You can use a dinner plate, a platter, cardboard or any other flat surface you feel comfortable decorating on that can later be used to pick up the house and transport it to it's final spot such as the center of the dining table to showcase as a party centerpiece.
The stamped design on the gingerbread from the Haunted House Cookie Cutter Set made it easy to follow the pattern and quickly create detailed designs with icing.  If filled in the small details prior to starting then rounded up the very best decorating in our home – my 11-year-old son.
While I intended to make a spooky haunted house, my Rural Boy had very different ideas.  As his head is filled with basketball this time of year, a tailgating house soon became the order of the day!  Isn't it great what ideas spring from the mind of a child?
He asked for a flag, so we decided fruit roll-ups with a little bit of icing would work well.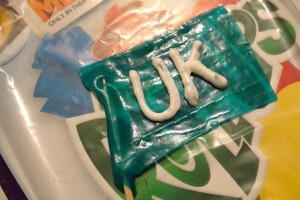 His imagination went on and on.  He glued eyes on the the marshmallow ghosts I'd purchased, then cut out little fruit roll-up shirts for them.  I added the number detail and the haunted tailgaiting party really took shape!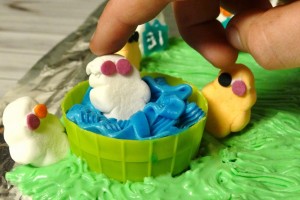 We used a small bowl as a swimming pool. (which later turned into an apple-bobbing barrel,) made all sorts of party-goers from basketball players to their ghost friends, covered the roof with candy corn and frosting (as  you can see in the picture below, it covers up all imperfections!) and let his imagination run loose with frosting designs that included a grassy front yard complete with a pumpkin patch.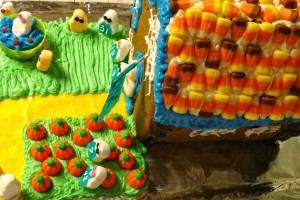 While I can take credit for the gingerbread house baking and construction, I have to give my son all of the credit (and the frosting decorating skills he's learned from the 4H cooking club) for the fabulous decor and design of our spooky Kentucky Wildcats haunted Halloween house tailgating celebration.  I think he did an amazing job!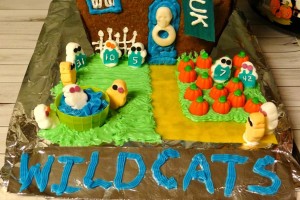 Overall, I found the Good Cook Haunted House Cookie Cutter set to be an assert to our gingerbread house creation.  The roof was a little tricky to finagle, but will likely be easier on the next go-round.  Plus, there's always chocolate or frosting to fill in the gaps!
Not sure we'll do another Halloween house, but the basic pattern can easily be used for a Christmas gingerbread house or for other holidays like Valentines Day or even as a centerpiece for a house-warming party.
The best part of creating a gingerbread house?  The creativity and memories you'll have from this super fun family activity.