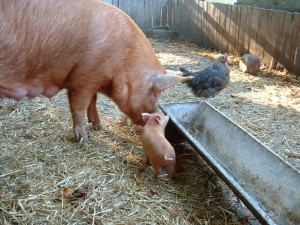 I participated in this program on behalf of the National Pork Producers Council. All opinions are that of Rural Mom.
Twenty years ago, when I first ventured to raise a litter of pigs, like many new farmers, I had little idea these hearty animals could contract a range of health problems including respiratory illnesses, (similar to those you and I contend with during cold and flu seasons.) Then, one day, one of my new piglets fell ill and was diagnosed with pneumonia.
In order to attempt to save him and the entire litter, I had to administer daily shots of antibiotics.  Yes, I could have isolated this piglet and let nature take its course.  Ultimately, that pig was destined for a dinner plate and the cost of the antibiotics and the chore of administering them was an expensive and difficult task. But, that didn't mean I gave that little piglet any less consideration than I would have given my own child.
Lately, there's been a lot of hulla-ba-loo about antibiotic-free meat in the press, which of course brought back memories of my first pig farming days.  It also brought home the realization of how much misinformation is communicated to consumers and how little that some people know about animal health, just as I knew very little in my early days.
So, when The Motherhood contacted me to join the conversation by participating in a virtual briefing with other family farmers and a swine veterinarian , I embraced the opportunity to heighten my personal knowledge and to contribute to raising the level of awareness and factual information on the hot topic of responsible antibiotic use by sharing the information with Rural Mom readers.
Food Produced from the Heart | A Conversation about Antibiotic Usage 
Joining the conversation were:
Chris Chinn, a fifth-generation family farmer who raises hogs, cattle, hay and row crops in Missouri
Wanda Patsche, a southern Minnesota farmer who raises hogs, corn and soybeans
Meghann Pierdon, a swine veterinarian who is currently working as an animal welfare resident at the University of Pennsylvania School of Veterinary Medicine
What follows are highlights from the press Q&A portion of the conversation, which includes answers to questions I was able to ask.  I hope you find the information as interesting and valuable as I do:
How do you balance the need to keep your animals healthy with the use of antibiotics? 
We do all measures that we can on the farm to prevent illness. But there are times that viruses do happen. We closely follow orders from our vet. We also use our nutritionist who has designed a diet for our animals. He creates a diet for our animals that let them get all of the nutrients that will help them stay healthy and to continue to grow. As science has improved and we've more about the pig's digestive system, we know better now what they need and what will keep them healthy.
Do you think that there is any miscommunication about antibiotic-free meat?
Every drug that we administer has a FDA withdrawal period (meaning the time between the last dose and when an animal can be sent to market) that we make sure to pay strict attention to. We also keep a close record of all antibiotics that have been administered.
The thing is, all meat is antibiotic-free! The labels are technically correct, but they can be confusing. Consumers sometimes think that restaurants or stores without the "antibiotic-free" stickers are selling meat that still has antibiotics in the meat – and that's not true.
How long do antibiotics stay in the animal's system?
The withdrawal period is really specific to each individual product. It's related to anything given to a pig, it can be an antibiotic or even aspirin. The period is based on data from the FDA when the drug is approved that says how long it takes for the drug to be cleared from the animal's body. Every product is labeled with that withdrawal period. The main way that producers and farmers communicate these withdrawal periods is by proper labeling and record keeping.
How does testing work on farms? 
On the farm we use record keeping to prevent any type of residue from happening and making sure all withdrawal periods are followed. We test at packing plants to make sure that all of the animals are ok. If there are any signs that an animal at a packing plant is sick, they will separate that animal from the rest and test it. They know within a couple hours what the result of that test is.
Are your animals free-range grass fed? 
We moved our animals inside into our barn and we really prevented predators and the spread of disease. Now that the animals are kept inside, we use less medication than when they were living outside. It's actually easier to keep animals healthier when they live inside more controlled environments.
Cattle can eat grass because they have more than one stomach, but our hogs do not eat grass. They only have one stomach and they don't get nutritional value from grass.
What changes have you seen with farming over your years of experience? 
Our farm looks nothing like it did when we bought it! In the 80s we built our first gestation farm. It made a huge difference. We were in better control of giving the pregnant sows the care they needed. We've also seen farmers become more specialized, so farmers will either have a gestation farm or a finishing farm to focus on the different needs according to the different stages of the animals' lives. Another big change was when we moved our animals indoors to the hog barn. What we saw when making that change is that we could control our animals better. We could control their waste, their climate, their food and overall their health!
What is the relationship with your veterinarian like? 
Our veterinarian is like a member of our family, and we've been working with him for years. We consult him on everything that concerns our animal's well-being. If an animal is sick, we always call him. When he treats animals he treats them on a per animal basis. We never decide how to treat animals; we leave that up to the veterinarian.
We try to keep our farms as clean and healthy as possible. If we have a sick animal, we put the animal in a sick pen and separate it from the other animals. Everything we do is about prevention on our farms. We only want to use antibiotics when necessary. My family eats the same food that we sell to consumers, so we know it's safe and we take the health of our animals seriously.