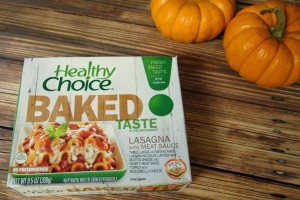 As a foodie, I don't wish to sacrifice taste for healthy options, so I'm constantly seeking healthy foods that taste great. As part of a sponsored post campaign for ConAgra, I'm adding enjoyable new options to savor!
A crisp fall day almost demands pasta! Of course, I also think a cold winter day, a cool spring day and a warm summer day demand pasta, too… let's just say pasta is always welcomed on my plate.
The problem with the desire to add pasta as a regular item in my diet, though, is finding time to create a healthy version of my favorite dishes, portioning it out correctly and not to miss mentioning, counting the calories as many pasta recipes can add a healthy chunk.
So when you find a product with a fresh-from-the-oven baked taste that is already portioned, has wholesome ingredients and is low in calories, it's cause for celebration!  This is certainly the joy I have with Healthy Choice Baked Entrees.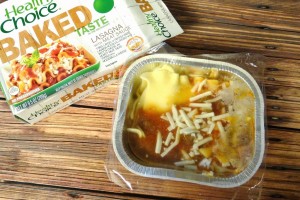 One of my favorite indulgences is the Healthy Choice Baked Lasagna with Meat Sauce.  With three rich layers of fresh-tasting pasta, a mellow and savory meat sauce, and ricotta and mozzarella cheese, it's a comforting, filling and delicious meal.
Ridiculously easy to make, it's amazing that I can pop the little container into my microwave and a few minutes later, comes big, fluffy tasty layers of baked lasagna… without the baking part!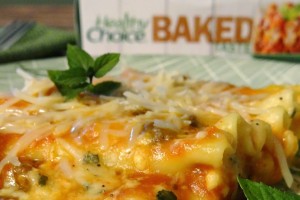 For an extra-indulgent experience without adding a lot of unwanted calories, I plate the meal with a little sprinkle of Parmesan cheese and a simple garnish.  Viola! It's a feast for the eyes and my tummy.
You can also make a full meal out it by adding additional healthy options such as Italian-style green beans or a side salad.  And for a mere 100 calories, sneak in a Healthy Choice Frozen Yogurt for dessert, like Dark Fudge Swirl.
In addition to the lasagna, there are 9 additional tasty Healthy Choice Baked Entrees available:
Four Cheese Ziti Marinara
Roasted Chicken and Potatoes
Fettuccine Alfredo Bake
Italian Sausage Pasta Bake
Chicken & Rice Cheddar Bake
Chicken & Spinach Alfredo
Chicken Enchilada Bake
Ravioli Marinara Bake
and Slow Roasted Turkey Bake
What Healthy Choice Baked Meal would you like to try? 
For more information and special offers, be sure to visit the Healthy Choice website or connect with them on Facebook at https://www.facebook.com/healthychoice