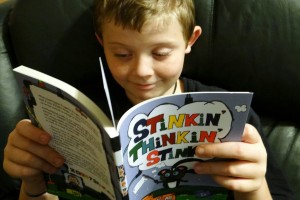 Negative thoughts are a bit like roller coaster rides.  The entire time you are standing around thinking about them, they make you anxious and fearful.  Once you jump on and commit to the ride, you experience a series of terrifying, out-of-control twists and turns, jaw-dropping plumets and dizzying heights that seem to never want to end.  Soon, you wonder why on earth you ever got on in the first place.  All of this is followed by a sigh of relief when the ride finally ends.
When you hit the coaster again for another ride, and the yet, another… before long, your head hurts and you can pretty much count on being sick to your stomach for the rest of the day at the amusement park.
I'm certainly no fan of negative thinking, have worked hard to rid myself of this self-esteem attacker and it's also not a mindset I want my children to have to suffer with.  I've notice lately that my pre-teen sons have gotten on the roller coaster of negativity once or twice. It's hard not to when they are constantly contending with middle school pressures from friends, tests, sports and having to do chores at times when they'd rather be playing video games.
When I first heard of "Stinkin' Thinkin' Stinks: A Kid's Guide to the Lighter Side of Life" by Bill King, I instantly thought it was exactly the tool I needed to help my sons learn how to cope with and overcome negative thinking.  I think reaching them now to help gift them with these life skills can be invaluable.
Can you imagine a world where negative thoughts and actions stank? Where they really smelled bad so that you and I would instantly be aware of their awful consequences to our moods, self-esteems and behavior?  This is the world Bill King imagines and details in a highly-engaging way in Stinkin' Thinkin' Stinks.
By attributing negative thinking to bad smells, King gives readers a powerful visual to use throughout the book while they learn to recognize and overcome negative thoughts.  Stinkin' Thinkin' Stinks begins with an introduction on how to recognize negative thinking and then takes the reader on a journey to learn how to avoid, eliminate and diffuse negative thoughts.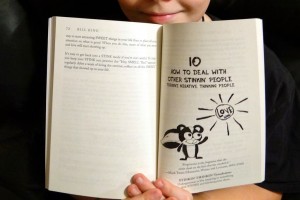 Easy-to-follow tips and thought-provoking exercises reinforce each chapter's message.  Fun illustrations and contemporary comparisons keep children engaged while reading.  My sons had several giggle fits while reading because… well, what better to get a reaction from a middle school boy than a whole lotta stinky stuff!
We decided to read this book as a family and it's opened up a lot of discussion, which I feel is the very best part of the experience.  Learning more about what my kids are thinking is a real treat and certainly gives me plenty of insight to help them along the path of positive thinking.
We are not quite through the book yet, but I can already see how influential it will be in all our lives.  I am finding, as an adult, that the lessons in Stinkin' Thinkin' Stinks are of great value to me, too.  Many times I get on that negative roller coaster unwittingly.  Having additional tool to combat the thoughts and get off that unhealthy ride are invaluable!
Are you ready for a cool approach to exterminating negativity and helping you and your children change your life for the better? Pick up a copy of Stinkin' Thinkin' Stinks at local book retailers and on Amazon.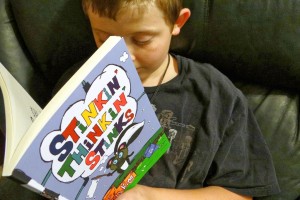 Special thanks to Bryce Cullen Puclishing for providing a copy of Stinkin' Thinkin' Stinks for review purposes.  All thoughts and opinions are that of RuralMom.