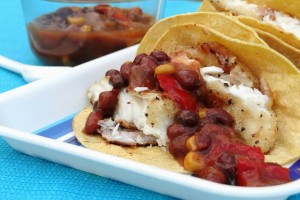 With back-to-school, came back-to-sports and a variety of other after-school academic and hobby activities.  What this means is little time to put a fresh, healthy on-the-go meal together during the week.
So when I can match simple, tasty and quick-to-prep ingredients for a filling meal that makes the kids say "wow!" – it's a sure-fire hit in this Rural Mom Kitchen.
Inspired by Gorton's recipe ideas (you can find them on the back of many of the Gorton's product packages and online) I created a 3 ingredient Tex-Mex fish taco that's absolutely perfect for a fast meal or for wrapping up and devouring on-the-go.  Hope this recipe inspires you to add some wicked-good seafood to your family meals.

Tex-Mex Skillet Tilapia Tacos
1 package Gorton's Skillet Crisp Tilapia
10 Corn Torillas
1 can Black Beans in Chipotli Sauce with Corn and Red Peppers (I used Bush's) 
Prepare Gorton's Skillet Crisp Tilapia according to the package instructions.
Heat corn tortillas. (I use the same skillet I made the fish in and simply warm the tortillas for a minute or two on each side.)
Cut tilapia filet into four equal pieces.  Fold taco shells.  Insert two pieces of fish per taco.  Add a liberal scoop of black beans atop the fish.  Serve and enjoy!
Optional:  squeeze a little fresh lime juice over the fish.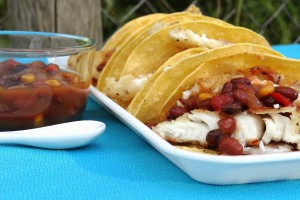 Gorton's offers a wide variety of wicked good seafood options for your meal inspiration including Fish Sticks, Crunchy Breaded Fish Fillets, Crispy Battered Fish Fillets, Original Batter Tenders, Beer Battered Tenders, Potato Crunch Fish Fillets, Lemon Herb Fish Fillets and NEW Fish Sandwich Fillets.
For more information, money-saving coupons and recipe ideas, visit

Special thanks to Gortons for providing sample product, information and giveaway to help facilitate this feature.