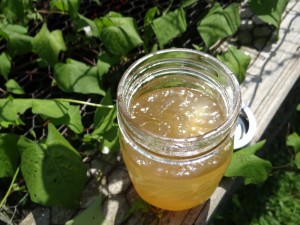 Most jams or jellies that contain alcohol typically have a fruit base, such as cranberry-wine jelly which combines cranberry juice with burgundy wine.  When dealing with grape wines, though, it's not necessary to use a fruit base as the wine already has the fruit element.
You will, however, likely have to rely on a fruit pectin to help the gelling process as it can be tricky to turn an alcohol into a jelly without achieving an overly soft set.  This recipe for Moscato Wine Jelly is one of my favorites to create each year and its always in high demand from my friends and neighbors.
[amazon_link asins='B01BUA198U,B00934O4E2,B079V1FJG1,B079V8BSQ6,B0778VCTQ4,B071F5494S,B0001J2NEQ,B0746MWVJP' template='ProductCarousel' store='ruralmom' marketplace='US' link_id='b1ea2af7-3fa4-11e8-80ef-9b36141e6021′]
Be sure to taste-test Moscato wines or to use your already established favorite in the Moscato wine jelly recipe.  In other words, don't skimp on the wine choice by grabbing any ol' bottle off the shelf, the results will be okay, but the taste will likely be run-of-the-mill boring.  Use a wine that appeals to you already and the results will be spectacular!
I love serving this jelly on special occasions.  It's a fun treat for brunches or to place out at dessert time with whole grain crackers or shortbread cookies.
(The recipe that follows is for the stove top version, but I must confess that I am currently using a FreshTECH Automatic Jam & Jelly Maker.  Allows me to easily create the same recipe in the same time, but with a lot less monitoring and stirring.)
Ingredients
3 cups Moscato Wine (I always use white Moscato wine, but reds can be easily substituted)
1 cup Sugar
3 Tbsp Ball RealFruit Classic Pectin
Instructions
In a large sauce pan, over a medium heat, add wine. Slowly stir in pectin. Continue stirring gently.
Turn heat on stove top to high. Bring wine mixture to a boil, stirring constantly. Add sugar, stir until completely dissolved.
Continue stirring and return to a hard boil. Hard boil for one minute, stirring continuously.
Skim foam off the top of liquid and discard. Remove sauce pan from heat.
Immediately ladle hot wine jelly into hot canning jars or canning containers. Leave a 1/2 inch head space.
Continue processing with your preferred storage method- shelf or refrigerator. Wine jelly is not best stored by freezer method.
Notes
This is an alcohol-based jelly. In theory, the alcohol evaporates during the boiling process, but do be aware that traces of it may remain.
https://www.ruralmom.com/2013/09/moscato-wine-jelly-recipe.html
copyright 2018 by Barb Webb, RuralMom.com