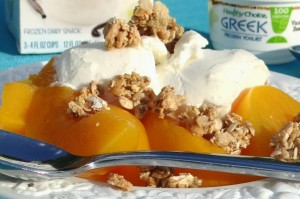 As a foodie, I don't wish to sacrifice taste for healthy options, so I'm constantly seeking healthy foods that taste great. As part of a sponsored post campaign for ConAgra, I'm adding enjoyable new options to savor!
Creamy-smooth cool bursts of vanilla delight my taste-buds as I dig into a cup of Healthy Choice Vanilla Bean Greek Frozen Yogurt.  This is my mid-morning moment of bliss!
It's honestly hard to believe this delicious treat is only 100 calories. But I'm not complaining… this makes it easy and guilt-free to enjoy a cup whenever I have the urge for a sweet, enjoyable indulgence.  Like the middle of the day when I've finished the chores and find myself in need a reward, or at the end of the day when I have a few moments to relax.  These are the times when my snack urge hits the hardest and it's comforting to have a low-cal, healthy option to turn to.
I've also found that Healthy Choice Frozen Greek Yogurt is fabulous for pairing up with other healthy options to create new delectable indulgence, like the mock peach crumble I tossed together for a brunch treat.  Peaches, Healthy Choice Vanilla Bean Frozen Greek Yogurt and a little organic granola makes a stunning dessert.  No sacrifice in taste and no worries of impacting my waist-line in a negative way.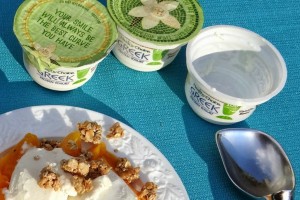 In addition to Vanilla Bean, Healthy Choice Frozen Yogurts are available in flavors of:
Blueberry
Dark Fudge Swirl (another of my favorites, wonderful for a chocolate fix!) 
Honey Swirl
Strawberry
and Raspberry
All products are made with real nonfat milk, yogurt cultures and dairy protein to deliver that perfect blend of creamy texture and tartness that makes a quality Greek yogurt distinct.
Want to savor the experience for yourself?  Grab a $1 off coupon for Healthy Choice Frozen Greek Yogurt here 
http://bit.ly/14gzRlH
and create your own moment of bliss.