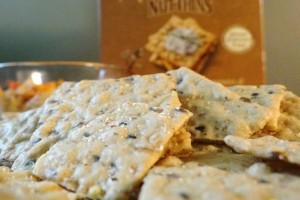 I'm a sucker for a good dip.  Put out an avocado, cheese queso, or three bean dip and I'm totally there!
But, finding a gluten free cracker that's not too hard and can stand up to thick dips like hummus, cheese or bean, though, is no easy task. Which is why I'm super happy to find that Blue Diamond Artisan Nut-Thins are truly up to the task.
Available in 3 distinct varieties, including Multi-Seeds, Sesame Seeds and Flax-Seeds, they are the quintessential dip cracker but stand up just as well on their own merits.  With a satisfying crunch, each flavor has a wholesome, earthy appeal.
In addition to being little gluten free bundles of tasty joy, Blue Diamond Artisan Nut-Thins are also high in fiber and protein with no cholesterol or trans-fats. Overall, a welcome and healthy addition to your gluten free lifestyle.
(If gluten free isn't your dietary choice, no worries… you'll still love this tasty cracker alternative.)
The only downfall to Blue Diamond Artisan Nut-Thins is that they don't seem to last long in my household.  Rural Dad is a nut lover and so naturally, he's enchanted with the touch of almond flavor in each bite.  I'm going to have to purchase a few boxes and stash them for use in indulging my passion for savory dips.
These delightful new crackers can be found at any Whole Foods or natural foods store in select locations nationwide and via online retailers.  Visit www.bluediamond.com for full details.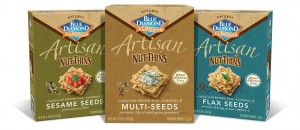 Special thanks to Blue Diamond for providing sample product for review.  All thoughts and opinions are that of Rural Mom.