A few years ago, I found a birthday memory board banner at a party shop that the kids could sign for the birthday boy or girl.  Thought it would be a nice keepsake and it certainly was a hit with everyone.
Since then, I've made a custom sign each year using Elmer's Foam Poster Board and various embellishments.  After each birthday party, the board hangs on my son's wall as a reminder of the fun day and warm sentiments from their friends and family.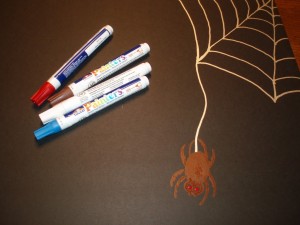 This year I used Painters Pens to create a birthday board to compliment the Spider-Man them we had for the party.  The steps are incredibly simple and you can put this project together lickety-split!
To begin, select a foam board in the color of your choice and use the Painters Pens to create embellishments desired.  You can sketch the designs out ahead with light pencil marks or simply free-hand the design.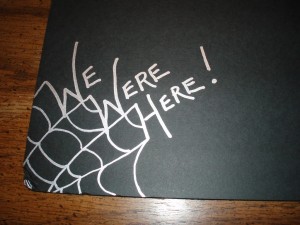 I like to add the words "we were here" on each board to let guest easily recognize the purpose of the poster.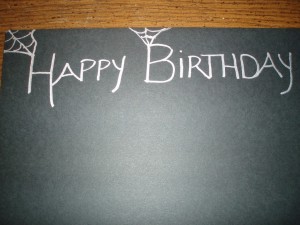 And of course, adding "Happy Birthday" is likely a given.  You can also make board for any purpose.  Anniversaries, family reunions, holidays and any occasion you might like to preserve written sentiments of the occasion.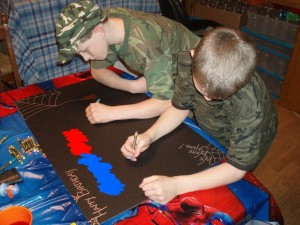 On each poster, I also add my child's name (inked out for privacy purposes in the picture above) and for this board, I provided guest with Crayola Fluorescent Crayons designed for use on black paper to use for adding their sentiments.
That's it!  Easy-peasy.  For few dollars, in a few minutes you can put together a birthday board for your child's party using any matching theme.  Give it a try!