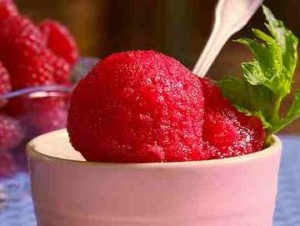 It's berry season in Kentucky right now and these juicy little treats are piling up quicker than dessert dishes at the family reunion.
Frozen blackberries are particularly sweet on a hot summer day, but if you want to step things up a notch, try this delicious sorbet recipe from our friends at SparklingICE.  It's a terrific way to store extra berries, too.  The sorbet will stay fresh in the freezer (with a proper container) for several weeks.

Sparkling Black Raspberry Sorbet
Yield: Approximately 2 ½ cups
Cook time: 15 minutes Inactive chill and freeze time: 3 hours
Ingredients for the Syrup 
1 cup granulated sugar
1 bottle of Black Raspberry Sparkling ICE (chilled)
2 (6oz.) packages of fresh blackberries
Ingredients for the Puree 
1 cup Sparkling ICE Black Raspberry (chilled)
1/3 cup cold water
Directions 
Place 2 cups of Sparkling ICE, sugar, and blackberries in a medium saucepan and bring to a boil. Reduce the heat to a simmer. After 10 minutes, turn off the heat and let the syrup sit until it becomes room temperature.
Pour the syrup into an airtight container and place in the refrigerator until chilled (Approximately 30 – 60 minutes). After the syrup has cooled scoop out the fresh blackberries from the syrup and combine with 1/3 cup of cold water in a blender. (Reserve the leftover syrup, this will be used next). Pulse the berries and water together to make a puree. This should take approximately 30 – 60 seconds.
Strain through a fine mesh strainer to remove seeds, and then return the puree to the syrup and refrigerate for 30 minutes.
Add the remaining cup of Blackberry Sparkling ICE to the mixture for some extra fizz, and the sorbet base is ready. Freeze in your ice cream maker according to the manufacturer instructions.