Gluten free products are cropping up all over the marketplace and though the FDA has established guidelines for using the term "gluten free" on a package, there's no requirement for food labels to disclose clearly when there is gluten in a product. Whether you have been diagnosed with Celiac Disease, have gluten sensitivity issues, or suffer from wheat allergies, navigating a world full of gluten-laden options is daunting.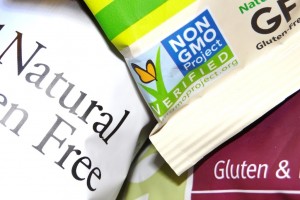 Gluten, a protein found in grains like wheat, rye and barley is often hidden in products you wouldn't normally suspect.  You may expect to find gluten in pancake mixes and pasta, but there are plenty of no-so-obvious sources such as beer, soy sauce and chocolate.
Outside the grocery store can be even more challenging. Gluten free recipes may potentially call for ingredients that can have traces of gluten in them such as sausage and seasonings. Restaurants may feel impossible to navigate.
Hidden glutens can also exist in vitamins and supplements like fish oil and even beauty products like shampoo. When you go gluten free, it might seems like the whole world is full of gluten landmines ready to sabotage your efforts!
Wheat and rye are readily identifiable terms on labels but secale cereale (cereal rye) and triticum spelta (a form of wheat) are not readily recognized as gluten. Terms like "natural flavoring" and "artificial flavoring" are also suspect along with "modified starch." Flavorings and starches are often sourced from wheat and barley products. Consult resources like the National Foundation for Celiac Awareness for lists of approved gluten free foods and for common label terms that should raise flags about whether the product is truly gluten free.
When trying out a recipe be sure to review each ingredient before replicating. A recipe may be titled "gluten free" but even it's from a trusted resource, it still pays to be cautious. Be particularly diligent about checking the labels of ingredients that you haven't used before in your gluten free diet.
When in doubt, don't be afraid to ask the experts. Research restaurant websites prior to your visit for ingredient information in dishes offered. While you are dining, alert the waitress to your dietary needs and ask questions about preparation methods and ingredients. If the restaurant offers gluten free options, they should have a special preparation method in place to ensure there is no cross-contamination. If they are using the same equipment to prepare your gluten free meal that they are for a standard gluten-heavy meal, there's a strong probability your meal will contain traces of gluten.
Ask your doctor for support materials for gluten free diets. They may have handy check lists available that you can carry with you. Consult your pharmacist prior to purchasing over-the-counter or prescription medicines to determine if there is any gluten in the fillers or coating of the product. If you are fairly new to a gluten free lifestyle, consider hiring a registered dietician to help.
The two keys to finding your way through the gluten free diet maze are to master the language of label investigation and most importantly, learn to ask lots of questions!