They say "seeing is believing" and this couldn't be more true in the case of Ball Brand Dissolvable Labels. So glad I have the opportunity to review this product, it's truly a canning and preserving game changer!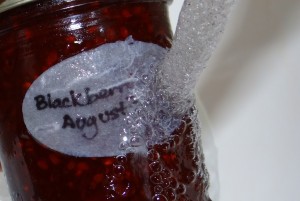 I was a tad skeptical at first.  For many years, I've tugged, pried, scrubbed and coaxed labels from mason jars and freezer containers.  This process gets so aggravating that I often resort to simply penning the information on the lids and calling it a labeling day.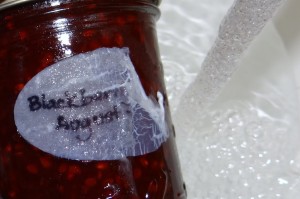 But I thought, "what the heck?"  It was worth giving the Ball dissolving labels a go.  After all, it would be nice to have more options for general storage and gift giving.  Figured the worse that could happen was that I'd be left scraping a gummy mess off the glass in the end.
My skepticism was without merit.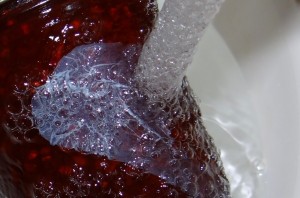 I wrote on the label.  Adhered it to the glass jar. Pressed it down several times to ensure it was secured.  Then let it set overnight.
The next day, I simply ran some water over the label, expecting it would moisten and hang on the jar, but what I got was – PRESTO-BANGO-LABEL-IS-GONE!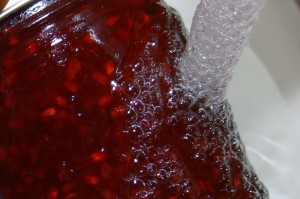 Whoa! If I hadn't have seen it with my own eyes, I still wouldn't believe it.
Now, the possibilities are spinning in my kitchen-happy brain.  Ball Brand Dissolvable labels could really come in handy for labeling pot luck plates, Christmas cookie dishes, lunch box items and nearly everything my labeling heart desires.
They are quite economical, too.  A 60 label box has an ARV of $3.99.
The manufacturer suggests that the labels dissolve easily in the dishwasher, as well.  Though I still haven't gone this route yet.  I'm too busy having a blast watching them fade away under a simple stream of tap water…
For more information, visit http://www.freshpreserving.com/products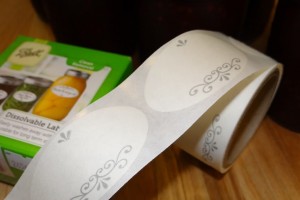 Special thanks to Ball Brand for providing sample product and information to help with this feature.  All thoughts and opinions are solely that of Rural Mom.