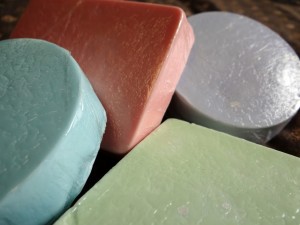 In recent years, there has been a resurgence in the popularity of making soap.  Although soap is readily available in stores, a growing number of DIY-ers are learning about soap making.  Some like to create soaps in pretty shapes and heavenly scents, while others like being able to control the ingredients to prevent over-drying or allergic reactions.

The two most popular methods of soap making are cold process and melt and pour.  Which one is best?  That depends primarily on your reasons for making your own soap.


Melt and Pour Soap

The melt and pour method is the easiest way to make soap.  It requires very little mixing of ingredients and few supplies.  In its simplest form, melt and pour soap requires little more than melting and pouring.

To make melt and pour soap, you use soap base.  This is a simple, uncolored and unscented premade soap that comes in large bars.  You'll have to cut off the amount you need, and melt it using either the microwave or a double boiler.  You can then add fragrance, coloring and additional ingredients before pouring it into a mold and allowing it to harden.

Melt and pour soap can be customized somewhat, but it doesn't give you complete control over your ingredients.  Some types of soap base might not be suitable for those with certain allergies and sensitivities.  But what it lacks in versatility, it makes up for in ease and safety of production.  It's also ready to use immediately, although it will harden more if left to dry for a week.

Cold Process Soap

Making cold process soap is somewhat harder than making the melt and pour variety.  It requires more ingredients and more complex techniques.  But using the cold process method allows complete control over the soap's ingredients.

The three basic ingredients for cold process soap are water, lye and fat.  The fat can be obtained from animal sources or vegetable oils.  In general, the harder the fat, the better soap it will make.

One of the reasons that fewer people make cold process soap than melt and pour soap is the fact that lye is a very dangerous substance.  It's very important not to get lye on your skin when making soap, and you must use containers and utensils that are reserved exclusively for your soap-making projects.  It can eat through metals and damage surfaces.  And if not mixed properly, lye can explode.

Even though cold process soap making is more difficult, those who want to control the ingredients used prefer it.  They can create soaps using a variety of recipes, and they can tailor their soaps to the user's skin type.

Melt and pour soap is a good way to get started in soap making, and it allows some flexibility in the finished product.  But if you want your soap to be unique or have a specific combination of ingredients, it will be worth your while to learn how to make cold process soap.  Either method can be used to produce beautiful, sweet smelling soaps for yourself, to give as gifts, or to sell.