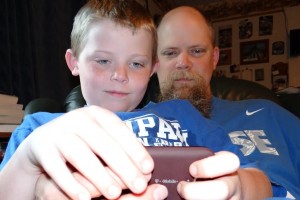 I am a member of Collective Bias Social Fabric Community.  This shop has been
compensated as  part of a social shopper insights study for Collective Bias and their client.
All thoughts and opinions are solely that of Rural Mom. 
About a month ago I shared our plans to surprise Rural Dad with the Walmart Family Mobile plan and a new MyTouch cell phone for Father's Day.  Needless to say the lowest price rate plan and new cell phone were a major hit with my guy (and my sons who loved helping to test the technology and game apps available)…
… and one I may not be able to ever duplicate, because the Walmart Family Mobile service is a gift that keeps giving with memorable moments and super savings!
The need to stay in touch with reliable cell phone service is a great one when you have a husband who commutes, but it was the cost savings of the Walmart Family Mobile plan that cinched the deal.
We currently pay a base rate of $125 (pre-tax) for 700 minutes call time, unlimited text, and 2 GB of internet with our standard carrier, even though we cannot access one iota of that service at our home. In contrast, the Walmart Family Mobile plan offers unlimited talk, text and internet for a base rate of only $40 (pre-tax) per month.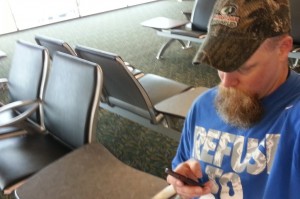 Did you catch that?  UNLIMITED plans – talk, text and internet for $40!
For our family, that represents a monthly savings of $85 per month and:
Unlimited conversations with my husband when he is on-the-go or commuting to and from work
Unlimited pictures and video we can send to keep him in touch with all of our son's activities including sports, band concerts, academic achievements and every proud-daddy moment he might otherwise miss
Unlimited text to check in, drop a quick "I love you," or even ask him to pick up something from the market on the way home
Unlimited amounts of time for him to call in the event of an emergency
And even unlimited opportunities for him to surf the net, play a game, or stay entertained while waiting on his flight or searching for the best place to pick up a bite of pizza for lunch.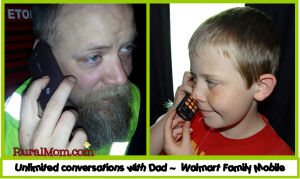 What you are asking at this point, I imagine, is "That's all lovely, Barb, but how is the service?"
We all know that service in rural locations is a mute point.  If you live in the country, it's rare to receive any form of cell phone service at home – particularly if you are located in a mountain range like we are.
But we also know the reason we choose cell phone plans is to stay in touch when running errands, commuting, and traveling in town or anywhere on-the-go. This is where we put the Walmart Family Mobile plan and the MyTouch cell phone to the ultimate test.
We initially tested the cell phone along the route (64) from Louisville to Morehead Kentucky – approximately a 140 mile stretch of open highway road.  With the exception of one or two mountain range stretches along the roadway where all cell phone signals drop, we received clear signal the entire time for phone calls, text, and internet. (My sons also had a ball downloading and playing games on the phone along the way.) 
After receiving the phone for Father's Day, Rural Dad tested on his commute from Lexington to Atlanta with equally great results.  The phone also performed well at his job site (and certainly caught the attention of all the guys he works with… who doesn't love a new toy… err, cell phone?)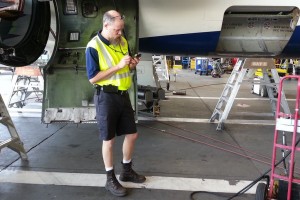 We also learned that the service works well in other remote locations around Kentucky including Bardstown, Mt. Sterling and Frenchburg. And if you've ever been to Frenchburg, you know that's a triumph to get clear signal because it's a quaint little town built into a valley at the base of the Appalachians.
With all that said, you can color us impressed with the overall performance and reliability of service and certainly with the savings.
Speaking of that $85 a month savings.  I'm totally for saving it for a rainy day but my hubby has his eye on some new fishing gear… ah well, there will always be next month to pocket that bundle!  #FamilyMobileSaves #cbias