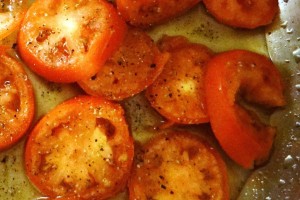 Earlier this week, we shared how easy it is to make strawberry jam with the aid of fabulous tools from the Fagor Duo Pressure Canning Set, but did you know you can use the main component- your pressure cooker for so much more?
If you are looking for a tool to place a healthy, fast, delicious meal on the table lickety-split, the Fagor pressure cooker performs like a dream.  In a fraction of the time (up to 70% less time than conventional methods,) you can make soups, sides, main courses, and even desserts.  All with the fresh ingredients you select.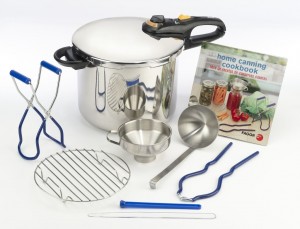 The dynamic Fagor Duo Pressure Canning Set comes complete with
everything you need for canning AND cooking, including recipe books. 
To get you started, we're featuring a pressure cooked Roma tomato roasted chicken and herb recipe adapted from the Roasted Chicken and Herb recipe found in the Fagor Pressure Cooker recipe guide.
This meal takes all of 25 minutes from the start of preparation to the finished dish- yep, that's it! The chicken is incredibly tender and flavorful.  Hope you enjoy this farm fresh meal as much as we do.
Roma Tomato Roasted Chicken and Herbs
Ingredients:
3 pounds Chicken (you may use a whole chicken cut into pieces as I do, or you could use all thighs, all breasts, or a mixture of your favorite cuts of chicken.)
3 Roma Tomatoes, sliced
1/4 cup (low sodium or homemade) Chicken Broth
1 tablespoon ground Rosemary
1 tablespoon ground Oregano
1 tablespoon ground Sage
Dash of Pepper
1 tablespoon of Olive Oil
Directions: 
In pressure cooker, over a medium heat, heat olive oil.  Brown chicken on all sides.  Remove chicken from cooker, set aside.
Line the bottom of the pressure cooker with a layer of sliced tomatoes.  Pour in chicken stock.  Sprinkle with a dash of pepper and 1/2 of the spices (rosemary, oregano and sage.)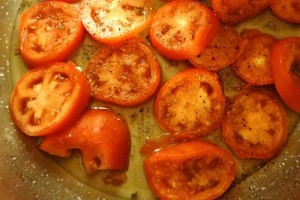 Add chicken on top of tomato layer.  Sprinkle with remaining herbs.
Close the pressure cooker lid and follow manufacturers instructions to bring to pressure.
Cook for 15 minutes on High (or optionally 28 minutes on low) with the Fagor Pressure Cooker- other pressure cookers may vary slightly on timing, consult your manual to ensure food safety standards are met.  Set a timer to help you keep time during the cooking phase.
The Fagor Pressure Cooker excels at making pressure cooking super simple.  The handle has a safety latch that will not allow steam build up to engage, keeping you safe in the kitchen.  The dial is easy to use and understand with three settings low, high and automatic steam release.  And the pressure indicator button pops up when optimum pressure is built up to let you know exactly when it's time to start timing your pressure cook.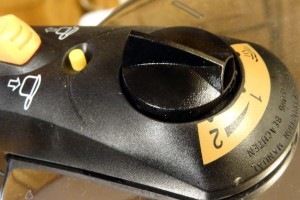 Handle of Fagor Pressure Cooker has clear features to guide your cooking process.
When cooking phase is complete, release pressure.  Carefully remove the lid (with every pressure cooker, always remove the lid away from you in case any steam remains.) 
Use tongs to remove chicken pieces and tomatoes from broth and into a serving plate.  Serve and enjoy!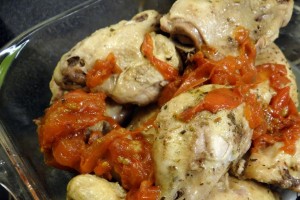 Additional Suggestions:  
Prep a side salad as an accompaniment for a quick summer meal
For a heartier meal, serve with rice, noodles or garlic mashed potatoes and a vegetable of choice.
Shred the leftover chicken and stuff in pita bread with some fresh veggies for lunch
Cube the leftover chicken and use as a garden salad topper or to make chicken salad for sandwiches
Want to explore pressure cooking further?  The Fagor Duo Pressure Canning Set is the perfect set for beginners as it contains everything you need to get started including recipes and expert advice for both canning and pressure cooking. It's also the ideal set for experienced chefs. With the high quality pressure cooker and extra-ordinary tools in the set, it will elevate your cooking to an enjoyable new level.
For more information on the Fagor Duo Pressure Canning Set and other terrific Fagor products, visit http://www.fagoramerica.com/home
Special thanks to Fagor for providing sample product to help facilitate this experience. All thoughts and opinions are that of Rural Mom.