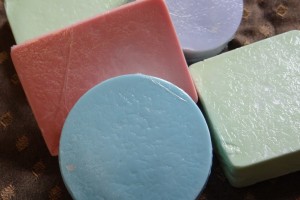 Soap is something that we all use. For some, one soap is as good as another. For others, skin issues or personal preferences dictate that certain kinds of soap be used. If you're particular about your soap, making it yourself will allow you to ensure that it only contains the ingredients you want to use. But isn't soap making difficult?
Making some types of soap, such as lye soap, is rather time-consuming, and it can be dangerous. But there is an easier way. Melt and pour soaps offer lots of flexibility, and they're very simple to make. Here is everything you need to know to get started.

Items Needed
Most melt and pour soaps are made of glycerin. Glycerin is a by-product that is usually removed during the soap making process, molded into blocks, and sold to consumers. It is very moisturizing, and it even has some medicinal properties. You can buy glycerin soap base plain or with other ingredients added.
If you want to add color to your soap, you'll need some soap making dye. Do not use just any kind of dye, as most types will stain the skin. There are lots of synthetic soap dyes on the market, but there are plenty of choices for those who prefer all-natural soap as well. For scented soap, you'll need fragrance or essential oils that are safe for use on the skin.
And last but not least, you'll need a few tools. You'll need a glass measuring cup to melt your base in if you melt it in the microwave, or a double boiler for melting on the stovetop. A sharp knife is essential for cutting the base into small chunks, and a wooden spoon works well for stirring. And of course you'll need a soap making mold to pour your soap into.
Techniques
The first thing you'll need to do is determine how much soap base you'll need. You can easily figure this out by filling the mold with water, and then pouring it into the measuring cup. It's a good idea to use a little more than you measured, because some soap base may stick to the sides of the container you melt it in.
Before you melt the soap base, cut it into small chunks. This will allow it to melt quicker and more evenly. If you're melting it in the microwave, cover the measuring cup and heat on high for no more than a minute at a time before stirring. Continue to heat and stir until all chunks are melted.
Once you've melted the base, you can add dye, fragrance and any other ingredients you like. Mix in dye a few drops at a time until the desired color is achieved, and use fragrance sparingly. When the soap is colored and scented to your liking, pour it into the mold and let harden and cool completely. The pop it out of the mold, and it's ready to use!
Yes, making melt and pour soap really is that simple. It's a great project for anyone who wants to venture into creating their own beauty products. And the resulting soaps are wonderful for gift giving. Go ahead, give melt and pour soap making a try!