Despite living in the country with a bountiful garden, it's still a challenge to get my boys to make healthy food choices. Though they won't eat tomatoes off the vine, they certainly gobble up our homemade salsa, spaghetti sauce and their favorite, Cheddar Tomato Pie.
With 8 ingredients, 4 of which come from our farm, this is a super easy dish to prepare that yields flavorful results.  I feel good because they are getting a wholesome, healthy meal.  They feel great because they love the taste.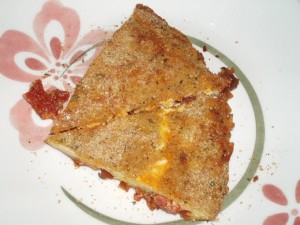 We know that good nutrition helps children grow up healthy and strong. But did you also know it helps kids learn and earn more when they grow up? That's according to Save the Children's new report Food for Thought.
In the study, Save the Children details how nutritious food impacts a child's cognitive development and its far-reaching effects on economic growth. There are 165 million children globally who are chronically malnourished and the recent findings suggest that the global economic impact of malnutrition could be up to $125 billion!
In a few days, President Obama and world leaders will attend two global nutrition summits known as the G8.  We need them to address this important issue of world hunger and find resolutions to ensure our children have a healthy present and future.
There are many ways you can take action to Save The Children including advocacy, donations, and by helping to spread the word.
If you are on Twitter, you can take action right now to let our leaders know this is an issue that cannot be ignored.  Use this sample tweet to voice your concern:
@WhiteHouse Let's make sure all kids get healthy food in their #next1000days so they can reach their full potential. #Nutrition4Growth
You can certainly take action in your own home, too, by trying out recipes and incorporating more healthy food choices in your family diet.
I hope you enjoy this delicious recipe my family uses. It's made with 8 ingredients and it costs well under $8 to make (and way less if you happen to grow some of the ingredients!)
Cheddar Tomato Pie Recipe
Ingredients
Small Pat of Butter
4 tbsp Italian Style Seasoned Bread Crumbs
1/2 Clove Garlic
1 Small Onion (I use a very small onion or a shallot)
1 tbsp Olive Oil
4 Large Eggs
3 Tomatoes, diced (or 1 can (14.5 oz – 16 oz) of diced tomatoes)
1/2 cup Grated Sharp Cheddar Cheese
Directions
Heat oven to 350 degrees.
Use pat of butter to grease the sides and bottom of a 9 inch pie pan. Sprinkle the bread crumbs over the bottom of the pie pan and lightly shake to cover the sides and bottom. Tap out the remaining bread crumbs and reserve for later.
Dice onions and garlic (be certain to remove skin from garlic prior to dicing.)
Using a 8-12 inch skillet, saute onions and garlic in olive oil for five minutes. Add diced tomatoes and simmer for 5 minutes. Remove from heat.
In mixing bowl, mix eggs, cheddar cheese (add a pinch of salt and pepper, if desired.)
Spoon tomato mixture into pie pan, evenly spreading across bottom. Pour egg mixture on top of tomato layer, evenly across. Sprinkle remaining bread crumbs on top of egg layer.
Bake on center rack for 30 minutes (crumbs should be browned on top.) Remove and cool on cooling rack for 10 minutes. Slice into wedges, serve, and enjoy!