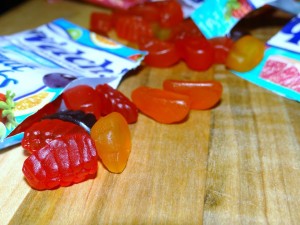 With summer around the corner, I'm already beginning to think about and stock up on ready-to-eat portable snacks for our on-the-go adventures.
It's inevitable that I'll soon hear the words "mom, I'm hungry" during the middle of a hike, on the lake during boat outing, or at the beach during a fun summer swim.  The problem I generally encounter is having to pack multiple snacks to satisfy different tastes, yet still have a healthy option for everyone plus a snack that won't be so filling that it spoils any plans for lunch or dinner.
Meshing my needs for gluten free products with my desire to have natural snacks on hand that my sons will enjoy is not always an easy task.  So when I find products like Welch's Fruit Snacks, I'm prone to do a little happy dance of snack joy!
Welch's Fruit Snacks are gluten free, fat free, made with real fruit and no preservatives and contain a good dose of Vitamins C, A & E.  Best of all, they taste great and my whole family enjoys them, which means I don't have to worry about packing multiple snacks to please every palette.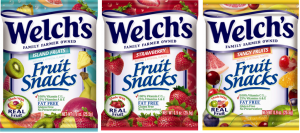 Welch's Fruit Snacks come in 10 varieties including Island Fruits, White Grape Raspberry (my favorite,) and even Reduced Sugar Mixed Fruit.  All are bursting with fruit flavor – a perfect compliment for a summer outing.
If you are seeking a really cool, refreshing gluten free treat experience? Put your Welch's Fruit Snacks in your cooler on your next outing.  When you pop one in your mouth, you'll have a cold fruity treat to savor.  This works equally well at home by placing a bag of fruit snacks in the freezer for an hour, then remove and enjoy.  Makes the snacks last a bit longer, too as you get to enjoy the flavor sensation as the snack softens in your mouth to be chewed.
Welch's also offers low fat and gluten free Fruit N' Yogurt Snacks in strawberry and blueberry varieties. For more information on Welch's Fruit Snacks, visit http://www.welchsfruitsnacks.com/
Special thanks to Welch's for sending samples to facilitate this discussion.  All thoughts and opinions are that of Rural Mom.