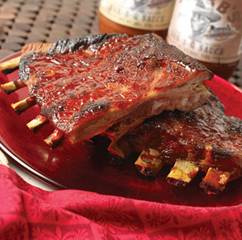 (c) Bill Milne Photography
Tonight we'll begin firing up the grill for Memorial Day weekend gatherings.  Flavor your table with some tried-and-true American dishes created by culinary wizard, Maria Zoitas.
Ingredients 
· 2 tablespoons salt
· 1 tablespoon black pepper
· 1 tablespoon Hungarian paprika (sweet)
· 1 teaspoon garlic powder
· 2 racks St. Louis-style ribs
· 1, 18-ounce bottle barbecue sauce
Directions
· Preheat oven to 325˚F.
· Combine the salt, pepper, paprika, and garlic powder in a small bowl. · Rub both sides of the ribs thoroughly with the spice blend.
· Put the ribs bone side down on a rack on a foil-lined baking sheet.
· Cover with foil and bake for 1 ½ hours bone side down.
· Remove the foil and baste the ribs with the sauce, bake for another 10 minutes.
· Repeat basting every 10 to 15 minutes, until ribs are done, about 1 to 1 ½ hours.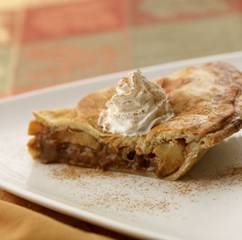 (c) Bill Milne Photography
American Apple Pie
Ingredients
· 1, 9-inch double piecrust
· 6 apples, peeled, cored and sliced
· ¾ cup sugar
· 3 tablespoons all-purpose flour
· ¾ teaspoon ground cinnamon
· ½ teaspoon ground nutmeg
Directions
· Preheat oven to 425˚F.
· Mix together sugar, flour, cinnamon, and nutmeg and sprinkle over apples and toss to coat.
· Spread apples evenly in pie shell and cover with other crust.
· Crimp edges and cut a few decorative vents in top crust so steam can escape.
· Bake pie for 20 minutes, then lower temperature to 350˚F and continue baking for another 45 to 50 minutes.
· Cool on a rack.
Recipes by Maria Zoitas. Maria's line of prepared foods, "Maria's Homemade," are sold exclusively at Westside Market NYC.