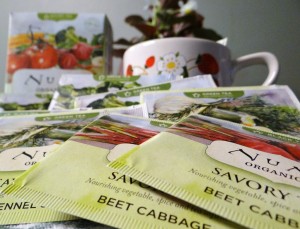 Peppermint, chamomile, orange, ginger, hibiscus, nutmeg, lemon, cinnamon – there's a bounty of spices, herbs, fruit and floral flavoring our daily teas.
The remainder of the garden, though, has been neglected when it comes to filling our tea cups. Sad, but true. Not every plant gets their steep.
No longer will the tomatoes and beets take a back seat, though. Numi Organics has launched a Savory Tea line adding satiating veggie-spice-tea blends to the palette.
And we at Rural Mom, thinks that's pretty darn clever and appreciative of our nutrient-rich crops.
Numi's Savory Tea combines real organic vegetables, wild herbs, decaf tea and aromatic spices that are inspired by recipes from around the world. It's not a broth or soup, it's a full out tea with a really interesting twist.
Flavor lineup includes:
– Tomato Mint
– Carrot Curry
– Spinach Chive
– Fennel Spice
– Broccoli Cilantro
– and Beet Cabbage
If you can't decide on a flavor up-front, there's a Numi Organics Savory Tea Garden Sampler available.
An interesting change to your normal tea routine, the savory teas are also great when paired with lunch, used as a snack alternative, or even for enjoying a relaxing cup when you are under the weather.  The stunning blend of flavors really bring the wholesome tastes of the veggie garden to your traditional tea.
For more information, visit http://www.numitea.com/savorytea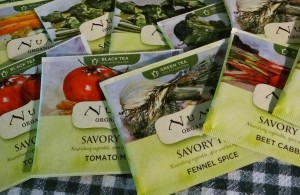 Special thanks to Distinctive Assets for providing samples to help facilitate this review.