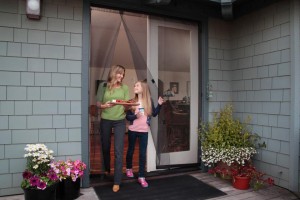 When we purchased our home, one of the first things we installed was a screen door leading to the front porch.  It's a great way to let the fresh air in, but a hindrance to our avid grilling habits… have you ever tried to juggle a plates full of fresh-off-the-grill foods while coaxing your screen door open?
We left the back porch door alone as it leads to a screened-in porch.  Sadly, this was a mistake as "screened-in" doesn't necessarily mean bugs out.
Little did I know then, Bug Off Screen (the remedy to all our screen woes,) was readily available.
Bug Off Screen is an innovative door screen system providing smart solutions.  Features include:
Easy installation.  The entire set up process from opening the box to installing in our doorway took only a few minutes.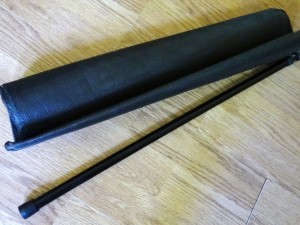 Simple, easy to install kit includes a spring tension rod and durable screen.
Quality materials.  Screen material was thicker and more durable than I expected.  Superior to the thin screens in our expensive screen door.
Removable, but secure seal.  The tension rod concerned me at first as I thought this would be more like a shower curtain with gaps to contend with, but that's not the case.  Hook and loop adhesives create a firm seal along the doorjamb, securing the screen while still allowing for quick removal when you want to take it down for winter storage or cleaning.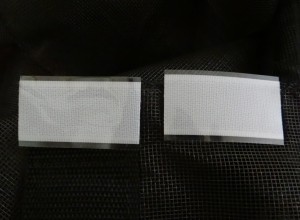 Hook and loop adhesives are sewn into the screen to provide a tight seal along the doorjamb.

Keeps bugs out.  As the name suggests, the screen helps protect your doorway from critters who would love to fly in.  A heavy weighted bottom and magnetic weights on the flaps keep the screen locked in place as a barrier.
Hands-free entrance.  My favorite feature is the ability to "open" the screen door without having to pull a latch or swing a door open, then closed. You simply walk through the center of the screen and it parts to allow entrance, then closes itself behind you.
This makes it incredibly easy now to bring plates of food from the grill in without any hassle.  This feature is also great for people with pets, too, as the pet can easily move in and out of the home without assistance.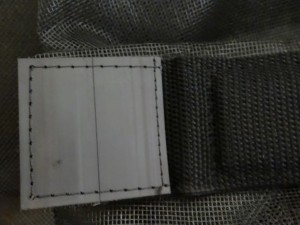 Weights sewn into the bottom of the screen help keep the screen in place. 
Best of all, Bug Off Screens are affordable and manufactured with materials made in the US. For a fraction of the price of a traditional screen door, you have more flexible options and money to spare for enhancing other areas with instant screen protection.
Bug Off Screens are available in 14 standard sizes and a variety of custom sizes, including custom French door screens and sizes suitable for boats or RV's.
For more information, visit http://www.bugoffscreen.com
Special thanks to the folks at Bug Off Screen for providing a sample product for review. All thoughts and opinions are solely that of Rural Mom.