There was a time when candles were a primary source of light. Today we have electricity, but candles are still quite popular. They provide a nice atmosphere for intimate or romantic events, and they certainly come in handy during blackouts!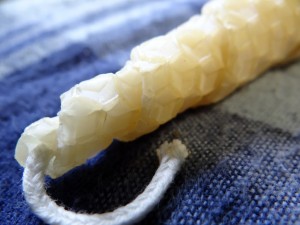 Some crafty types like to make their own candles. But if you don't enjoy melting wax and working with molds, it can be a bit of a chore. That doesn't mean that you can't experience the joy of creating candles, though. Rolled beeswax candles do not require heat, and they're so easy to make that even a child can do it! They also have a nice natural scent, so there's no need to add fragrance to them. Here's how to make some of your own.
* Beeswax sheets * Primed candle wicks * A sharp knife or razor blade * Cutting board or other suitable surface for cutting
Instructions
1. Lay a sheet of beeswax out flat on the cutting board. Lay a wick across the width, and use the knife or razor blade (adults only!) to cut it to about an inch and a half longer than the wax. Leave ¾ of an inch hanging over each edge.
2. Lay the wick along the edge of the beeswax sheet. Fold a small amount (about 1/8 of an inch) of the wax over the wick, and press down firmly to ensure that the wax keeps the wick in place.
3. Gently roll the wax up. Take your time and make sure that you keep it straight and the ends remain even. Keep going until you reach the end of the beeswax sheet.
4. Press the edge down gently but firmly with your thumb so that a reasonably smooth edge is formed.
5. Decide which end of the candle looks best. Trim the wick even with the candle on the worse end, and to a length of ½ inch on the better end.
Tips
* Take care not to press too hard as you are rolling the beeswax. If you do, you could warp the honeycomb pattern and make your candle less attractive.
* You can make an extra thick candle if you like. Instead of pressing the edge down when you get done rolling the beeswax sheet, simply place the edge of another sheet against it and continue rolling. Take care to keep it straight, and when you're done press the edge down as directed.
* A standard 8" x 16" sheet of beeswax will make a candle that's about an inch wide and 8 inches long. If you want a shorter or thinner candle, cut the beeswax to create the desired size before you get started.