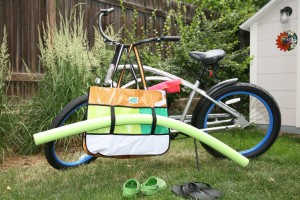 Admittedly, I'm not the biggest fan of billboards.  No offense to a company's right to advertise, but I feel that they clutter up and disturb the natural landscapes and architecture I enjoy viewing.
However, I am now a huge fan of billboards being recycled into purposeful, durable beach bags that help eco-up our world in more ways than one. Thanks to Billboard Ecology, retired advertising billboards are rescued from landfills and fashioned into useful tote bags and other unique items.
Made in the U.S., no two Billboard Ecology Beach Bags are the same, giving you a distinctly original fashion that you'll also be sure to easily locate on a crowded beach.
Generously sized, the beach bags feature a zippered pocket for cell phones and valuables and have Velcro straps on the side to hold swim noodles, umbrellas and other beach essentials.  You'll easily transport everything you need.
Billboard Ecology also offers bottle bags, large tote bags, and boutique tote bags to help you look and stay cool throughout the summer.  They certainly get a double thumbs up from Rural Mom for eco-innovation and style!
For more information, visit http://billboardecology.com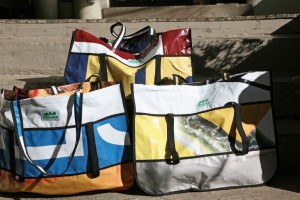 Special thanks to Distinctive Assets for providing sample and information to help facilitate this discussion.