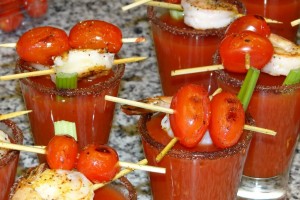 Recently, I had the pleasure of visiting the HUNGRY Channel kitchen to explore some terrific gluten free dishes with chef Alex Thomopoulos, along with the folks from the HUNGRY Channel and Wholly Guacamole.
Alex learned early in her career as a chef that she had Celiac Disease. Naturally, this turned her cooking world topsy-turvy, but instead of focusing on what she could not eat, she chose to celebrate the never-ending list of ingredients she can enjoy by creating delicious, approachable and comforting gluten free recipes.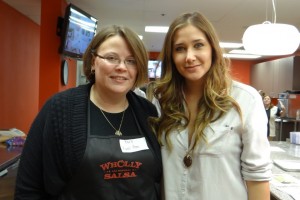 Rural Mom and the vivacious, super-talented and lovely Alex Thomopoulos
With quality, fresh ingredients like those found in Wholly Guacamole products, creating gluten free goodies is surprisingly easy.
After you prepare Alex Thomopoulos's Bloody Mary recipe, check out http://eatwholly.com/ for Wholly Guac and Wholly Salsa recipes for brunch, dinner, desserts and certainly amazing snack creations!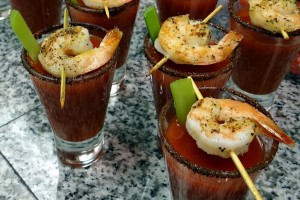 Wholly Roasted Tomato Bloody Mary With Shrimp
3/4 pound wild shrimp, peeled and deveined
1 pint grape tomatoes
3-4 tablespoons olive oil
Salt and pepper, to taste
34 ounces tomato juice
1 package of Wholly Salsa Roasted Tomato dip
1 1/2 cups wheat-free-vodka
2 limes, 1 lime juiced and 1 lime cut into wedges
1 teaspoon Worcestershire sauce
5-6 dashes hot sauce
Chili powder and salt, mixed for garnish
1 head celery, separated into stalks
12 wooden skewers, soaked in cold water for at least 1 hour
Ice
Directions:
Preheat a grill pan over medium high heat.
On 6 skewers, thread 3 shrimp each.  On 6 other skewers, thread 3-5 grape tomatoes each.  Rub both the tomatoes and shrimp skewers with olive oil, salt and pepper.  Place skewers on the grill.  Cook tomatoes until they char and soften.  Cook shrimp until charred and pink.  Remove and reserve on skewers.
In a large pitcher combine tomato juice, vodka, Wholly Salsa Roasted Tomato dip, lime juice, Worcestershire sauce, and hot sauce.  Rub the rim of each glass with a lime and dip into the chili powder and salt mixture.  Fill glasses with ice and evenly distribute the cocktail.  Garnish each glass with a celery stalk, 1 tomato skewer, 1 shrimp skewer and lime wedges.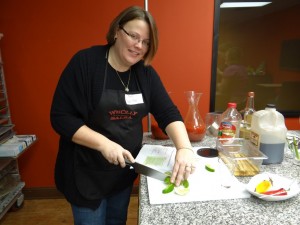 Had a great time helping to prep the recipe at the Wholly Guacamole Hungry Channel Chef Event… certainly love their huge kitchen facilities!