Though I live in the south, the Tex-Mex influence in cuisine is challenging to find in my neck of the woods, so I often have to resort to capturing the tantalizing blend of southwestern flavors in my own kitchen.
As April is National Grilled Cheese Month, I decided to kick things up a notch for this classic sandwich by meshing it with a little north-of-the-border flair.
The biggest challenge is taking the spirit of the Tex-Mex spunky cooking style and translating it to a gluten free dish.  Thanks to companies like Udi's, whipping up a delectable gluten free gourmet grilled cheese is really a cinch. The all natural breads that are free of artificial flavors, coloring, preservatives or other synthetic additives make a perfect base for any sandwich.
To mix the old-world with the new, I chose to cast Udi's Gluten Free Millet-Chia Bread center-stage.  The earthy flavors and texture of ancient grains can stand alone, but when accompanied by a few traditional and modern southwestern flavors, its a true show-stopper.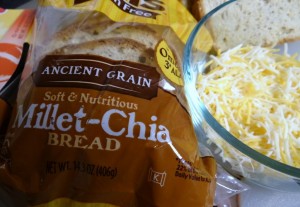 Gluten Free Tex Mex Millet Chia Mango Grilled Cheese 
Ingredients
2 slices of Udi's Gluten Free Millet-Chia Bread
1 heaping tablespoon of Wholly Red Pepper Mango Salsa
1/4 cup Four Cheese Mexican Blend, shredded (Monterey Jack, Cheddar, Asadero and Queso)
Extra Virgin Olive Oil
Directions
In a small mixing bowl, add cheese and salsa.  Stir gently until mixed well.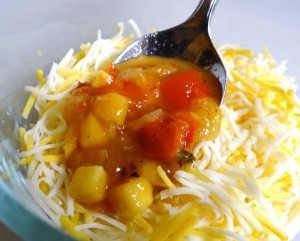 Drizzle about a tablespoon of olive oil into a medium size frying pan.  Using a basting brush, spread the olive oil until it coats the bottom of the pan.
Preheat frying pan over a medium heat.
Use the excess oil on the brush to lightly baste one side of each slice of millet chia bread.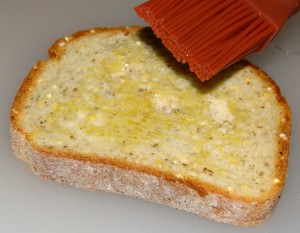 Place one slice of millet chia bread olive oil basted side down in the frying pan.
Use a spoon to pile cheese and salsa mix in the center of the bread and gently spread outward. Cook over medium heat for 2-3 minutes or until cheese begins to melt.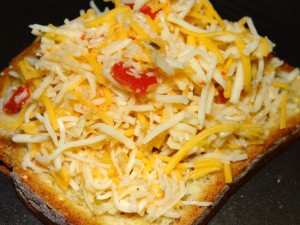 When cheese begins to melt, place second slice millet chia bread on top of cheese with olive oil basted side facing upward.  Use a spatula to gentle press top bread slice down (slightly flattening grilled cheese sandwich.)
Flip the grilled cheese sandwich so that the top slice is now facing the bottom of the frying pan.  Cook an additional 1-2 minutes, or until both sides of bread are lightly browned.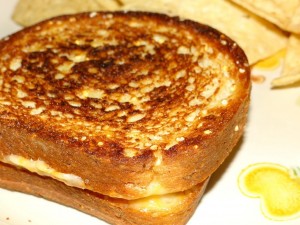 Serve with additional salsa and gluten free tortilla chips and enjoy the sensations of the southwestern flavors as they delight your taste-buds!
For more information on Udi's Gluten Free products and additional recipe inspiration, visit http://udisglutenfree.com 
Special thanks to Udi's for sending along samples to facilitate this recipe experience and conversation.  All thoughts and opinions are solely that of Rural Mom (who happens to be a long-time huge fan of Udi's Gluten Free products!)