Soap making is a super fun and useful hobby. But making lye soap can be rather dangerous, so it's not exactly suitable for children. However, that doesn't mean that youngsters can't get in on the soap making fun. There are other ways to make soap that are simpler and less hazardous. Here's a recipe for glycerin soap that is appropriate for preschoolers and older.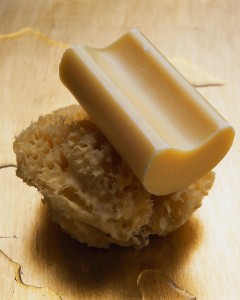 What You Need
* Glycerin soap (either bars or blocks)
* Soap dye
* Soap mold
* Microwave safe container
* Spoon
* Knife
Instructions
1. Cut a bar of glycerin soap into three pieces. If using blocks, cut two or three premeasured pieces. (Only an adult should do this step.)
2. Place the glycerin soap in the microwave safe container, and microwave for about 20 seconds or according to directions that came with soap blocks. Stir, and continue microwaving 10 seconds at a time until the soap is fully melted.
3. Add soap dye. For pastel colors, use only a few drops. For darker colors, keep adding dye until the desired color is achieved.
4. Pour the soap into the mold and set aside. Allow to harden for an hour.
5. Once soap has hardened and cooled completely, pop it out of the mold. If it is stuck, place it in the freezer for a few minutes and try again.
Tips
* Use caution when removing soap from the microwave, and stir carefully to eliminate air bubbles. Soap that is heated too long or unevenly can erupt out of the container, causing burns.
* If you prefer, you can melt the soap in a double boiler over low to medium heat.
* If you would like a scented soap, you can add a couple of drops of fragrance oil. Just make sure it's safe for use on the skin, and remember that a little bit goes a long way.
* Want a layered bar of soap? Add color to half of the melted soap, pour it into the mold, and let sit for about 5 minutes or until a "skin" forms on top. Then slowly pour the rest of the liquid soap (mixed with another color of soap dye if you like) on top.
* You can make a swirled soap by waiting until you have poured the soap into the mold, adding drops of dye, and swirling with a toothpick.
* To make a simple yet elegant soap on a rope, pour half of the liquid soap into the mold, let sit for 5 to 10 minutes, and place a strand of beads on top. Then pour the rest of the soap on top of the beads and let cool completely. This makes a wonderful gift!