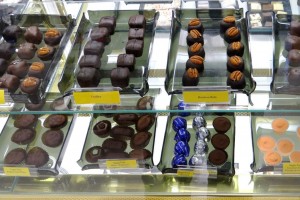 When you walk in the door of Ruth Hunt Candies in Mt. Sterling, Kentucky, the delectable scent of fresh confections wraps around your senses, filling them with sugary notes of caramel, chocolate, and a touch of vanilla.
In a bourbon distillery, the whisky that permeates the air is known as the "angel's share."  Personally, I think the angels are more likely hanging out at Ruth Hunt, drinking in the sweet nectar of fine candy-making traditions.
While you can find everything from army men-shaped gummy candies to hand-wrapped mallow caramels, Ruth Hunts premium top seller is a holiday favorite.  An average of 700 pounds of Ruth Hunt Woodford Reserve Bourbon Balls are sold each day, and for good reason- each chocolate covered drop is filled with the essence of Kentucky's rich history.
The soft bourbon cream center of Ruth Hunt's Woodford Reserve Bourbon Balls gets a chocolate dipped bottom before passing through the chocolate curtain where its robed with a fine dark chocolate coat.  The extra layer of chocolate on the bottom offers a sturdy base to ensure each piece maintains it's shape.
Workers stand by to top the shiny new chocolate coating with premium plump Elliot pecans as the bourbon balls roll on to be cooled and packed.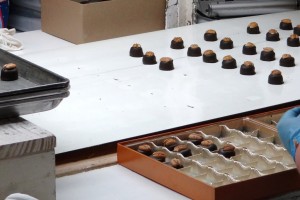 For nearly a century, Ruth Hunt Candies has preserved tradition by using the same ingredients, machinery and hand-crafted touches. It's no surprise to find that their bourbon balls are top notch and to learn that Ruth Hunt Candies is the official candy maker of Churchill Downs and the Kentucky Derby.
If your travels take you to Kentucky, Ruth Hunt Candies should be a "must see" on your list.  Not only will you find delicious confections to enjoy, the storefront of the factory offers a huge range of Kentucky products, gifts and souvenirs.  Depending upon the time of day you visit, you may even get to have a sneak peek of operations.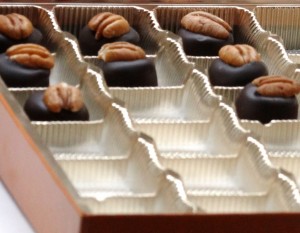 If you are unable to make the trip to the store, no worries, the taste celebration sensations of Kentucky can be delivered to your front door as Ruth Hunt Candies offers nation-wide shipping of their Woodford Reserve Bourbon Balls (and other candies).
Simply visit the website for additional information: