Beer and Barbecue Pulled Pork is one of my favorite barbecue delights and also a terrific go-to quick and easy slow cooker dish that's a true crowd pleaser.
Over the years I've experimented with various versions and eventually came up with a beer and barbecue pulled pork mix that I truly love.  There's only five minutes of prep and 4 ingredients involved, but the end result gets my ultimate stamp of "wicked-good" approval.
Ingredients:
4 lb pork shoulder roast (you can use other cuts of pork roast, if desired, I often opt for what I have handy, they all turn out fall-off-the-bone good)
1 medium sweet onion, sliced in chunks (from pole to pole)
1 bottle of barbecue sauce (use your personal favorite sauce for best results)
1 bottle of beer (again, use your favorite brew.  I like to experiment with seasonal flavors and have found the summer brews to deliver delicious results)
Directions:
Place onions in a layer on the bottom of a 5-6 quart slow cooker.
Tip:  Use a crockpot liner for super easy clean-up!  Insert liner prior to adding onions.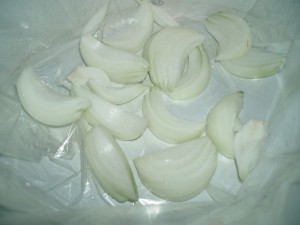 Place pork roast on top of the onion layer.
Pour one full bottle of beer over the pork roast.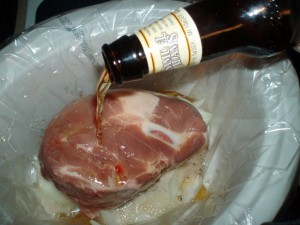 Pour barbecue sauce over the pork roast, enough to cover the top and the sides.  Don't worry about pouring any sauce into the beer and onion mix on the bottom, the barbecue sauce will work it's magic then blend with the beer as it cooks.
Cook on low setting for 8 hours.
Tip:  Remember, every crockpot is different, so be sure to check on your pork roast periodically the first time as it may finish a bit earlier.  With a 4-pound pork roast, 8 hours low is the perfect setting in my crockpot each time.
When the pork roast has finished cooking, use two spatulas to remove the roast from the slow cooker into a large ceramic (or steel, silicone or other heat resistant material) bowl.  Remember this is fall-off-the-bone goodness, a fork or knife and so forth will not work to lift the meat out in one piece.
Use a fork (as pictured) to gently shred the meat off the pork roast.  Remove any bones as you continue to shred the pork until complete.
Optionally, siphon the onions from the juice remaining at the bottom of the slow cooker and mix into your shredded pork.  I prefer it this way, but if you're not a big fan of onions in your pulled pork, leave them out.
Serve on a platter with sides of your choice or serve picnic style as a pulled pork sandwich.  Add barbecue sauce, if desired and above all, enjoy!