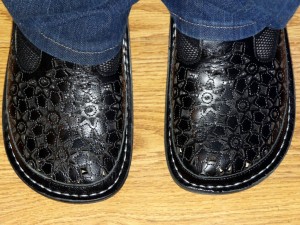 Can shoes make you happy?
I absolutely think so, the right pair certainly can put a spring in your step and a smile on your face.
As someone with an active lifestyle, there are two things I value above all in footwear- durability and comfort… and when I can find these two attributes combined with a super cute and versatile style, my feet do a little happy dance of their own!
From zooming my sons to soccer practice, to gathering eggs, to running errands or just kicking back and relaxing, my Alegria Breezy Dusty Black Shoes have held up to the test, offering refreshing comfort with each step along with eye-catching fashion.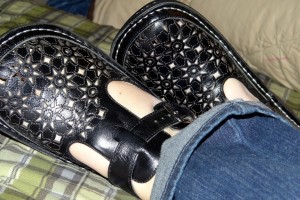 Alegria Breezy Dusty Black Shoes are a clog-style shoe featuring a polyurethane rocker outsole that "rocks" you from heel to toe for less foot stress. The outsole works with the cork and latex memory footbed for better posture. The combination offers superior comfort and prevents that worn achy feeling you get at the end of the day with other shoes.
This black leather shoe also features cut outs designed to look like suns – perfect for spring and summer wear and on cooler days, you can add a light trouser sock (as pictured in first picture at top of post) to create an entirely new fashionable look that will take your straight into fall.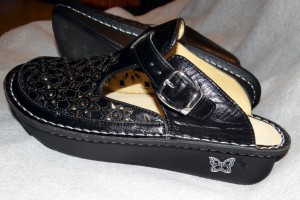 I love all the features and craftsmanship of Alegria shoes and adore the extra details in the design.  In addition to the "sun" cutouts, the Alegria Breezy Dusty Black Shoes also sports a trademark butterfly etching on the heel and a stylish (adjustable) buckle on the side. Be prepared for compliments when you wear a pair of Alegria shoes, I've certainly gotten plenty already!
Alegria has a fabulous line-up for spring from sandals to clogs to a professional line all designed with fun and comfort in mind.  You can check out all the new styles at www.AlegriaShoes.com – the real tough decision will be which ones to choose!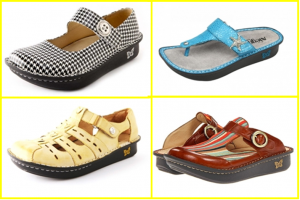 Sampling of styles from Alegria's Spring Shoe Collection.
I know my Alegria Breezy Dusty Black Shoes are going to become one of my favorite travel buddies, too.  Not only will they carry me through a full day of walking with ease, but I can easily pair these shoes up with daytime casual, nighttime dress, or business fashions, making them a truly versatile item in my travel wardrobe… and as someone who enjoys packing light, that makes me double happy!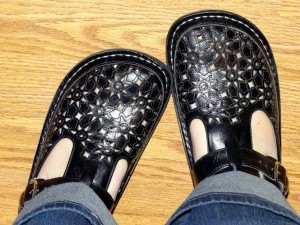 What's in your spring wardrobe?  Do you have a favorite pair of shoes that puts the extra skip in your step? 
Thanks to Alegria for providing a sample to help facilitate this conversation.  All thoughts and opinions are solely that of Rural Mom.