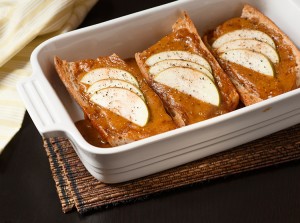 We have a wee little bit of the green apple for you today, coupled with my favorite Irish draft.
Enjoy this recipe from the U.S. Apple Association for St. Patrick's Day or any day you'd like a unique, hearty treat!
Yield: 4 to 6 servings
Ingredients: 
1 baguette, cut into thirds, then each piece cut lengthwise in half (6 pieces total)
2 1/2 tablespoons salted butter
2 1/2 tablespoons all-purpose flour
6 ounces dry stout, such as Guinness
14 ounces extra-sharp cheddar cheese, shredded
1 tablespoon whole grain mustard
1 tablespoon Worcestershire sauce Kosher or sea salt to taste
Freshly ground pepper
1 Granny Smith apple, unpeeled, cored and cut crosswise into 1/8-inch thick slices
Directions:
Turn broiler to high and set a rack about 6 inches from the heating element. Line a baking sheet with aluminum foil, shiny side up. Arrange the baguette pieces, cut side down, on the sheet and broil until lightly toasted, about 2 minutes. Remove from oven, turn the pieces over, and use your fingers to scoop out enough bread to make a channel in the center of each piece. Set baguette pieces aside, still on the tray.
Melt the butter in a large skillet over medium-high heat and cook until bubbling and golden brown. Add flour and whisk it in until the mixture is smooth and chestnut brown. Add the beer and whisk until smooth, then reduce heat to medium and continue stirring until thickened and smooth. Reduce heat to low and add cheese, mustard and Worcestershire, stirring continuously until melted and smooth. Add salt and pepper to taste.
Spoon a generous amount of cheese sauce into each baguette piece. Lay a few overlapping apple slices over the cheese, then transfer to the oven and broil until browned and bubbling, 2 to 4 minutes. Serve hot.
About The U.S. Apple Association
The U.S. Apple Association (USApple) is the national trade association representing all segments of the apple industry. USApple's mission is to provide the means for all segments of the U.S. apple industry to join in appropriate collective efforts to profitably produce and market apples and apple products.