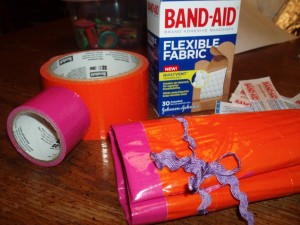 It's hard to recall a month, heck even a week, where I haven't found myself in need of a Band-Aid.  With two rambunctious boys and a farm to run, boo-boos are quite common around here.
But unless I carry them constantly in my pockets, I'm generally at a loss to find one when I'm gardening, traveling, or generally on-the-go.  Not to mention other handy items like antiseptic creams and alcohol wipes.
Thinking of a way to easily carry and identify identify these items when needed to stifle a cut or aid a scraped knee, an idea popped into my mind to modify an easy craft project I made for duct tape crayon roll this past Christmas season.  Certainly I could easily, and inexpensively fashion bright (aka easy to find) and durable first aid kits to put in convenient places like our barn, gardening tool kit, gym bags, and my purse or car.
As such, Duct Tape Mini First Aid Kit Rolls went from idea to actuality.  I hope this idea helps you handle unexpected boo-boos on-the-go, too.
Supplies Needed:
Duct tape (one color may be used, I used two in the following tutorial)
Scissors
Ruler
Ribbon (or similar trim material)
Band-Aids and other items such as Neosporin to place into the kit
Directions:
Measure a 12-inch length of duct tape.  Cut. Repeat three more times, attaching each length of tape to the other on the horizontal long end of the tape, overlapping slightly.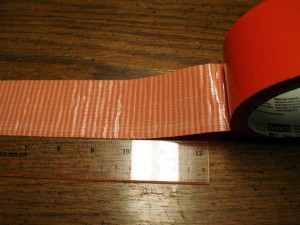 When four lengths of duct tape are secured, attach four strips of equal length (12-inches) of tape on top (sticky side of tape to sticky side of tape.)  There's no need to measure each strip at this point, simply roll the tape along (as pictured) to secure and trim each piece when you reach the end.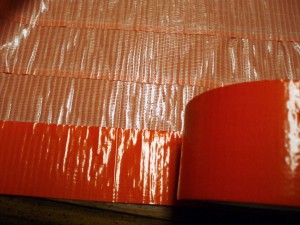 Cut two 14-inch lengths of tape, secure to each other, overlapping as previous completed.
Tip: You can use the previously cut pieces as your guide instead of the ruler.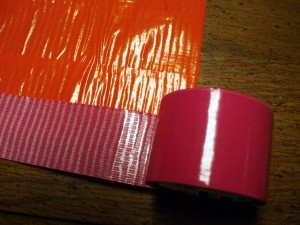 Tip:  If your tape curls, as mine often does with small rolls or near the end of the roll, it can be difficult to work with sticky-side up.  To correct this, simply lay the pieces sticky side down on a clean wood or plastic surface (as pictured.)  As long as you do not press down on them hard, they'll easily lift off when you are finished.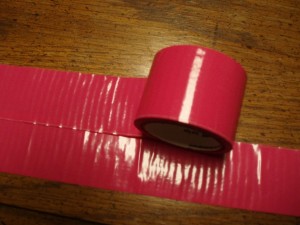 When the two pieces of tape are secured, roll a piece of tape 3-inches from the edge vertically (as pictured.)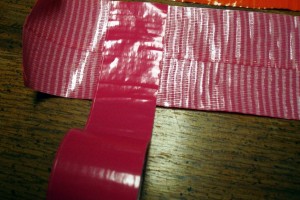 The vertical pieces form the "pocket" that your first aid items will slide into. Add a second vertical piece overlapping the first, if necessary.
Tip: Use your first aid items to gauge how much tape you will need for the "pocket."  Be sure to leave about a one-quarter or half-inch buffer on each side of the item.  This will allow you to put in multiples of the same item, such as Band-Aids or accommodate bulk, such as with antibiotic creams.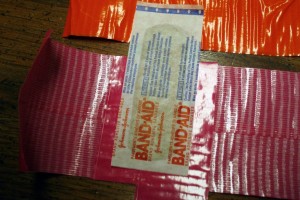 Add additional pockets a desired, leaving at least a half-inch space between the pockets to secure the tape when finished.  For this project, I added three pockets total.
Cut two 8-inch lengths of ribbon.
Line up the edge of the "pocket" piece to the edge of the roll piece initially created (long-wise.)  Secure the pocket piece to the roll piece leaving a one-inch overhang on each side.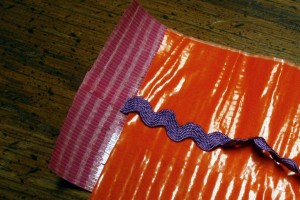 Flip the roll over so that sticky side of the over-hang tape is face up.   Line the ribbon up to the edge of the roll by the over-hang and fold the over-hang down to secure the ribbon.
Secure the ribbon further with a vertically-placed piece of tape, leaving an inch over-hang.  Secure over-hang to the opposite side of the roll.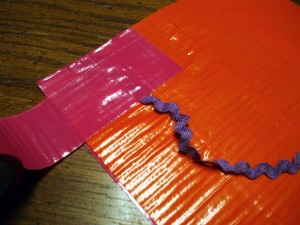 Repeat entire process to secure second piece of ribbon on the other side of the roll.
Cut a piece of tape the length (long-wise) of the roll.  Use tape to secure the bottom of the pocket by sealing folding it over the edge, one-half secured to the front, one-half secured to the back of the roll.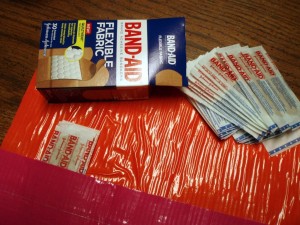 Flip roll to pocket side and viola!  You can now begin to stuff the first aid kit with the items of your choice.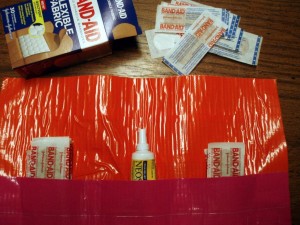 When the pockets are full, simply roll (or fold) the roll (with items to the inside of the roll.)  Then use the lengths of ribbon to secure.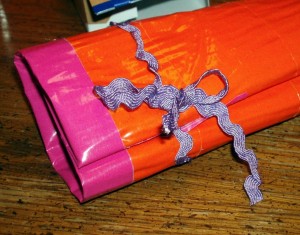 My Duct Tape Mini First Aid Kit Rolls turned out trim enough to fit easily into a purse, glove compartment, or garden pocket.  It's bright enough to be easily recognized and reached for in times of need, and the material is water-resistant, which is a bonus for storing in sheds or out-buildings.