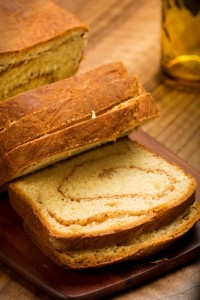 Got a Sweet Tooth? Grab a sweet potato and not only enjoy the sweet taste, but you might even get a little smarter while your at it!
March is Brain Awareness Month, and Allens vegetables is celebrating March as the month of the sweet potato.
Sweet potatoes are one of the top veggies to indulge in to consume not only rich tastes but also carotenoids, antioxidants and Vitamin A – all contributing to brain health, protecting our delicate cells and also helping to sprout new Brain Power neurons. So be smart and change your diet a bit this month, and include some sweet potatoes in your weekly meal plans.
Cinnamon Swirl Sweet Potato Bread
Ingredients
8 to 8 1/2 cups All-purpose flour, divided
1 cup Sugar, divided
1 1/2 tsp. Salt
2 tsp. Cinnamon, divided
2 packages Quick-rise active dry yeast
1 1/2 cups Milk
3/4 cup Butter or margarine, melted, divided
2 Eggs, room temperature
1 can (15 oz.) Princella or Sugary Sam Cut Sweet Potatoes, drained and mashed
1 cup Seedless raisins, divided

Directions
Preheat oven to 375°F.
Combine 3 cups flour, 1/2 cup sugar, salt, 1 teaspoon cinnamon and yeast in large bowl; Stir until blended; set aside. Combine milk and 1/2 cup butter in small saucepan and heat to 120°F over medium-high heat.
Add warm milk mixture, eggs, sweet potatoes and 1/2 cup raisins to flour mixture, and stir until smooth. Stir in enough remaining flour to make a soft dough.
Turn out onto lightly floured surface and knead 10 minutes until smooth and elastic.
Lightly grease bowl. Return dough to bowl, turning once to grease entire surface. Cover and let rise in warm, draft-free place until doubled in bulk, about 30 minutes.
Punch dough down and divide in half. Cover and let rest 10 minutes.
Grease two 9 x 5 inch loaf pans, set aside. Roll out each half of dough on lightly floured surface into 18 x 9 inch rectangle. Brush each with 1 Tablespoon melted butter.
Combine remaining 1/2 cup sugar, 1 teaspoon cinnamon and 1/2 cup raisins. Sprinkle evenly over each rectangle. Roll up rectangles, jelly-roll fashion, beginning at narrow end. Pinch ends to seal and fold under.
Place loaves, seam-side down, in prepared pans. Cover and let rise until doubled in bulk, about 30 minutes.
Brush loaves lightly with remaining 2 Tablespoons melted butter. Bake 10 minutes.
Reduce oven temperature to 350°F and bake 40 to 45 minutes until loaves are golden brown and sound hollow when tapped on bottom. Remove from pans and cool completely on wire racks.
For cinnamon rolls, bake 1 loaf as directed and shape remaining dough into 12 rolls. Bake at 350°F in greased 13 x 9 inch baking pan 20 minutes until lightly browned. Cool on wire rack.
For more sweet potato recipes and information on Allens vegtables, visit http://www.Allens.com