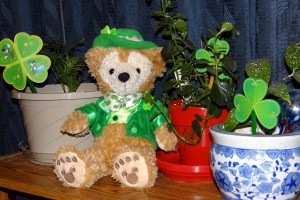 In tribute to our Irish heritage, we tend to make a big deal of St. Patrick's Day celebrations each year, whipping up recipes, crafts, and pulling out decorations inspired by the "green."  As with every holiday, we also find ways to incorporate our other loves and one the we all agree is top o' list is certainly our love of all things Disney.
For St. Patrick's Day, Disney's Spoonful website had made it super easy for me to navigate my way to all sorts of recipes, crafts, activities and even to find trivia, history and tips for creating a magical celebration.
From elaborate to incredibly simple ideas you can whip together in a few seconds, like the cute Mickey's St. Patrick's Day Shamrocks printable page I used to create decorations for planters (pictured above,) I find that visiting Spoonful.com is sure-fire way to find everything I need and then-some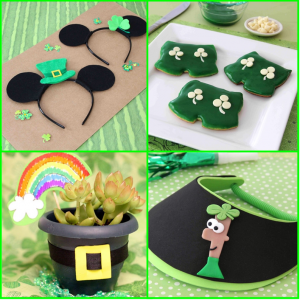 A few of the adorable craft and recipe ideas on Disney's Spoonful.com 
One of the coolest features on Spoonful, is that the site was built with technology that allows for easy viewing across computers, tablets and mobile devices, which is perfect to use for planning when you are on-the-go.
All the projects are easily pinnable on Pinterest, too, which is something I like to do to reference down the road when I find inspiration.  (In fact, I already pinned a lot of the St. Patrick's Day ideas I found on Spoonful on my "All Things Irish" board to remember to use them this week!)
I could rave on and on about the cool crafts and printables I found at Disney's Spoonful, like the St. Patrick's Day Shamrock Maze that had my little guy's Irish eyes a smiling (pictured below,) but it's probably more beneficial to you if I just head you in the right direction:  Visit  to find your fill of clever ideas to fill your St. Patrick's Day with loads of leprechaun fun and pixie dust pizzazz!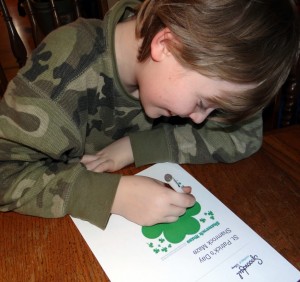 Do you incorporate your love of all things Disney into your holiday celebrations?  Are you making any special crafts or recipes for the upcoming holiday?