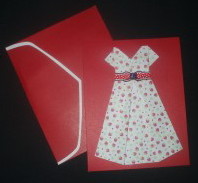 Valentine's Day is a time to show our partners how much we love them. It's a time of flowers, chocolates, and special dates. And last but not least, it's a time for Valentine cards.
You can simple grab a stock greeting card, but if you have a little extra time, creating your own adds a special touch that can hardly be duplicated!
You don't have to be a celebrated artist to make a great Valentine card. Even if you can't draw, paint or even cut out shapes, you can still create a memorable greeting for your love. Here are some ideas:
* Use greeting card software to design a card and print it out on card stock. You could use a ready-made design and verse, but most programs will also allow you to create a card from scratch. You can include clip art, photos, and your own special message.
* Are you a scrapbooker? Use your scrapping skills to create a beautiful Valentine. Find some pretty card stock, add photos and embellishments, and write a thoughtful message. You could use photos of you and your partner throughout the years, pictures from your honeymoon, or favorite candid snapshots.
* Hearts made out of construction paper add a whimsical touch to a handmade Valentine card, and they're really easy to make. Just fold a piece of construction paper in half, draw half a heart with the center at the fold, cut out, and unfold. Glue the hearts onto paper doilies before adding to the card for an endearing look with very little effort.
* Are you brimming with design ideas but unsure what words to use on the card? Quote a poem or some song lyrics. You might even want to include a CD single of the song or a recording of someone (perhaps you) reciting the poem.
* Include some coupons. Not grocery or car wash coupons, but coupons that are good for favors and special nights out when presented to you. You could make coupons for backrubs, dinner and a movie on you, a trip to an event of your significant other's choosing, a walk in the park, and all sorts of other things.
Creating a special Valentine card for the one you love is a sweet and inexpensive way to let him or her know you care.
Whether you simply add a special message to a pre-designed card made with greeting card software or break out the craft supplies and make something totally unique, the thought you put into it will make your Valentine feel truly special.