I learned this simple technique to give frosting "sparkle" and make it look like snow at our community center.  It's so easy to do and I knew I had to share, because if I hadn't learned this frosting snow technique, yet, then likely maybe some of you haven't either… now we will all be in-the-know!
In the following tutorial, I'm using a brownie, rather than a cupcake (because I'm enchanted with my new Kalorik Brownie Maker– that by the way, you can make cupcakes in, too,) but the process is identical and the results will be similar.
All you'll need is a plate, table sugar, the cupcake (or brownie) and white frosting.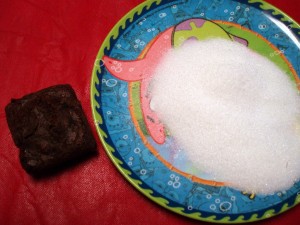 First, pour about a 1/2 cup of sugar onto your plate, which is now your snow-making work surface.  Next add a dollop of frosting to the center of your cupcake.  Do not spread the frosting (see picture below.) 
Turn cupcake frosting side down and gently place it in the middle of sugar.  Applying very gentle pressure, rock the cupcake side-to-side and then around in a slight circular motion.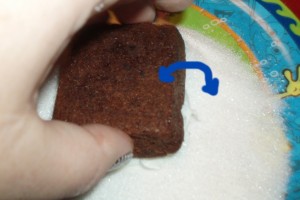 Lift cupcake and you will have a frosting snow surface!  If the frosting is not quite flattened or applied to your preference, simply press down again and repeat rolling motion in sugar until you've achieved your preferred effect.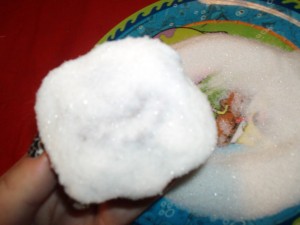 Sides can be gently molded to shape using the back of a spoon (or fingertips.)  If you want to build a snowman or make other shapes, you can simply drop a little frosting into the sugar and work it gently to shape using the back of a spoon or a cake spatula, then add to the top of the cupcake.
Embellish as desired with cupcake toppers or sprinkles.  I added a few cinnamon candies to make a sparkly treat with a little zip.
PS:  If you want more farm fresh recipes ideas, we have plenty!  Visit our NOURISH section to check out what's new in the Rural Mom kitchen.  If you are into HOMESTEADING, GARDENING or looking for some fun DIY, we have that, too.  And of course, there are always GIVEAWAYS (so be sure to check them out.)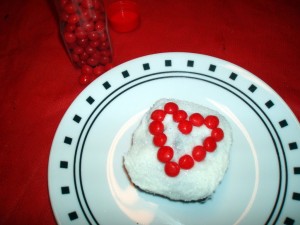 Do you have a special cupcake tip or technique?  Do tell!  I'd love to hear what you have to share!