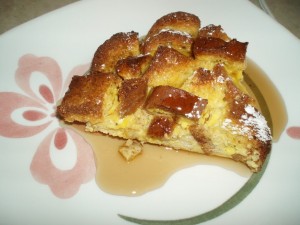 Incorporating gluten free foods into my diet is much easier when I modify recipes my family already enjoys.  This way, I don't have to make a separate meal for myself – and with quality gluten free products, they never spot the difference!
One recipe that's been on our family favorite list for awhile is French Toast Souffle.  I originally picked up the recipe in Cooking Light magazine, then modified to our tastes.
Now, I've modified further by using Udi's Gluten Free Whole Grain Bread.  The taste is still spectacular and certainly more agreeable with my digestive system.
This recipe is best when prepared the evening before, then popped into the oven in the morning when you wish to enjoy it.


Gluten Free French Toast Souffle 
Ingredients:
1 Bag of Udi's Gluten Free Whole Grain Bread
8 ounces of Cream Cheese, softened
8 eggs
1 /12 cups of Milk
1/2 cup of 100% Maple Syrup
1/2 cup of Half and Half
1/2 tsp of Vanilla Extract
Directions:
Lightly coat a 13 x 9 inch baking pan lightly with preferred greasing method (butter, crisco, cooking spray.)
In a medium bowl, beat cream cheese until smooth.  You can use a mixer, I often mix by hand, too.  Add eggs one by one, mixing until smooth after each add.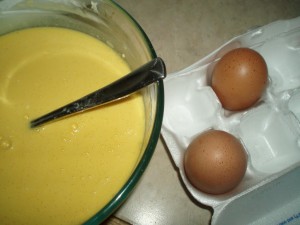 Add milk, half and half, maple syrup and vanilla to mixture.  Mix ingredients until completely smooth.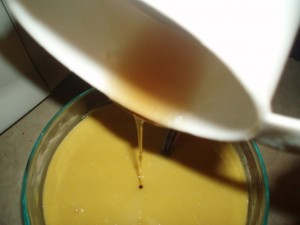 Set mixture to the side.  Cut bread slices into approximately 1 inch cubes until entire loaf is cubed. I typically cut two to three slices at the same time to speed up the process.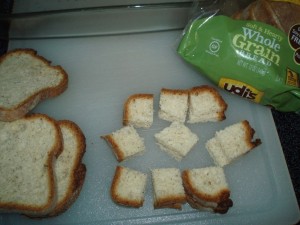 Add cubed bread to the baking dish, spreading out in an even layer across the baking dish.  Pour cream cheese mixture over the top of the bread, evenly covering the bread.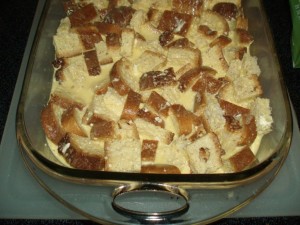 If there are any bread pieces that do not get covered by the cream cheese mixture,  take a fork to press them into the mix until they have a light coating. Cover baking pan and refrigerate overnight (or for a preferred minimum of 8 hours.) 

When ready to bake: 

Remove bread mixture from refrigerator and uncover.  Preheat oven to 375 degrees.
When oven is preheated, bake for 45-50 minutes.  Remove and allow to cool for 10 minutes.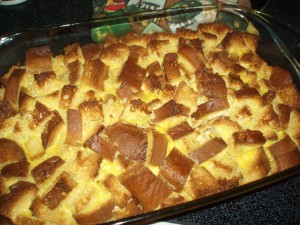 Cut, serve with maple syrup and enjoy!
Tip: Sprinkle powdered sugar or cinnamon sugar on top for a special treat.