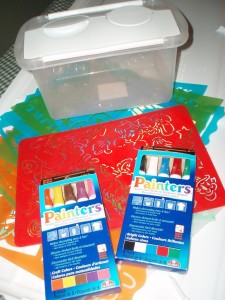 Got Extra Craft Supplies?  Swap 'Em Out!
Craft swaps are a fun way to connect with your fellow crafters. They can also help you find a home for crafts that you have created but do not use, and to add craft items made by others to your collection. But craft swaps are not that easy to find in some areas.
Finding Craft Swaps
Craft swap groups that are looking for new members often place ads in the paper. Advertising rates are usually cheaper in smaller trading post publications, so they are a good place to look as well. Some groups even post flyers in grocery stores, laundromats and other public places, so keep your eyes open for them.
The Internet has made finding craft swaps substantially easier. Lots of local craft swap groups have created online presences, either with their own websites or through groups on sites like Facebook, Yahoo Groups and Meetup. You can often find them by doing a Google search for the term "craft swap," either preceded or followed by your city and state. Or if you have a favorite social networking site, you can search it for craft swap groups in your area.
You can also find craft swaps online that are not limited to a geographical area. Instead of exchanging items in person, members mail them to one another. Most stick to a certain country or region to reduce shipping costs, but if you're interested in international crafts and don't mind the added cost, you may be able to find one that swaps between two countries or worldwide.
Participating in Craft Swaps
Different swaps have different rules, so it's important to learn them before participating. In general, swaps fall into two categories: swaps in which members swap amongst themselves, choosing what they wish to swap for, and swaps in which all items are distributed by random drawing.
In groups where members swap amongst themselves, all items are put on display, either at an event or on a website. You can then browse what's available and try to make deals with other crafters. If you can't make a deal on an item you want with a direct swap, a three-way swap might work out to your advantage. You give your item to one person, she gives her item to another, and that person gives her item to you.
Random swaps are less predictable, but they're also lots of fun. Each item is usually assigned a number, and either the participants draw their own numbers or the organizers hold a drawing. In the case of an online swap, the participants may not know what they're getting until it arrives in the mail.
When participating in online swaps, it's important to ship your items promptly. Most groups have a feedback system, and if you take too long or fail to ship your items, you could be banned from the group. But if you fail to receive your item, you can leave feedback stating that as well. Many groups also have "swap angels," which are crafters who send items to those who have sent things out but received nothing in return.
Participating in a craft swap has lots of benefits. You can find other crafters to share ideas and patterns with, get rid of crafts you don't need, and get new things to use yourself or give as gifts. Whether you swap in person or online, you're sure to make new friends and learn new things.